Department store chain Neiman Marcus is expanding its ecommerce site by offering shipping to more than 100 countries worldwide through a partnership with FiftyOne Global Ecommerce.
Payment methods, currency conversions and shipments will now be streamlined for international shoppers who place an order on Neiman Marcus' Web site. The retailer is encouraging initial transactions via a flat shipping rate through Dec. 10.
"The United States retail and ecommerce markets are very competitive, with less margin for growth in comparison to areas in the world that have not yet had access to specific brands or retailers," said Jennifer Raezer, head of marketing communications at FiftyOne Global Ecommerce, New York.
Neiman Marcus declined to comment directly on this matter.
International appeal
Consumers in more than 100 countries worldwide can now receive items purchased via NeimanMarcus.com.

The retailer is offering flat rate shipping of $19.95 on all international purchases for a limited time to raise awareness for this expansion.
This comes at a key time as consumers around the world begin shopping for holiday gifts.
Through FiftyOne's ecommerce capabilities, consumers can complete online purchases using 60 different local currencies and a payment method of choice.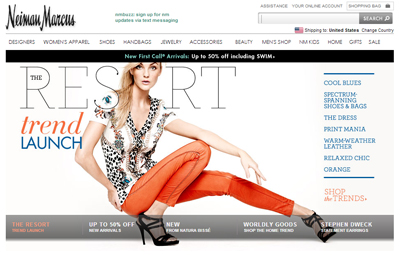 Neiman Marcus' ecommerce site 
Earlier this year, Neiman Marcus announced that it was expanding to the Asian market with a new online shopping and editorial site.
The retailer took a $28 million stake in Glamour Sales Holding, a private ecommerce company that specializes in authorized online flash sales for consumers in China and Japan. The company hosts Neiman Marcus' first ecommerce site in China (see story).
Reasoning retail
Since Neiman Marcus has a solid digital presence in the United States and China, international expansion was the next natural step for the company.
Other luxury retailers are driving ecommerce on a global scale in this way.
For example, British department store Harrods began offering international shipping through its mobile commerce-enabled site last year to reach an international audience (see story).
In addition, department store chain Bloomingdale's looked to reach foreign consumers by offering international shipping to 91 countries in Africa, Asia, Australia, the Caribbean, Europe, the Middle East and South America (see story).
Also, Flash-sale online retailer Gilt Groupe is showing off its international shipping abilities by extending its mobile shopping applications and mobile site to a worldwide audience.
Consumers can access the Gilt.com shopping app from anywhere in the world from iPhone, iPad, iPod Touch and Android devices and shop from the new international mobile site from any smartphone (see story).
"The opportunity for retailers to extend their offering to a new, engaged and eager group of consumers allows brands continue to grow, identify and serve new consumers, regardless of location," Mr. Frische said.
Final Take
Tricia Carr, editorial assistant on Luxury Daily, New York