NEW YORK – Retailers should incorporate innovation into their DNA rather than making advances in the brand experience as a reaction to the marketplace, according to an Interbrand Design Forum executive at the National Retail Federation's Retail's Big Show 2013.
During the "Brand Innovation: What's Next for Your Brand?" session, the executive said that both shoppers and retailers are highly adaptable and today's shoppers not only purchase a product or service, but seek to experience a brand. Retailers that deliver on that experience across physical and digital channels in a compelling way will push through their competitors.
"We aren't going to see the Las Vegasation of retail," said Bill Chidley, senior vice president at Interbrand Design Forum, New York. "Once they get past the veneer and start to get into the brand, it's show business.
"[Rather], show the products, and how the products suit their needs," he said.
At the right place at the right time
Today's shoppers have a mechanical advantage. They have access to retailers that give them a personalized experience.
Amazon, for instance, offers the Windowshop for iPad application. The algorithm behind the shopping app is that it knows what a customer buys and knows what that customer wants to buy.
Retailers need to take the shopping experience into their own hands and provide innovations that suit their customer base's needs.
The retail experience is no longer about what a brand is selling, but what it can offer in terms of the end-to-end experience.
Indeed, retailers need to adapt to consumer behaviors as shoppers adapt to different platforms.
"There is this idea of transporting your brand assets from one medium to another," Mr. Chidley said. "Where is this connective tissue really going to start providing information?
"That is true innovation," he said.
There are many types of innovation that retailers can tap to adapt to their customers.
Innovation can take the form of category invention. Brands can market a product as the first of its kind in a new category to meet a need of their customer base.
Next, they can innovate within the embedded category.
Another form of innovation is advancements in an ecosystem. For example, Apple markets products such as the iPhone, iTunes and iCloud that work together in one ecosystem.
Therefore, it is no longer about what Apple can do to meet shoppers' needs, but what it defines as the next innovation. Consumers gravitate toward the brand to make their lives easier.
Experience is a category of innovation as well.
Retailers can add innovation to the shopping experience so that it becomes an aspirational setting beyond solely a setting in which to interact with products.
The experience then adds value to the product.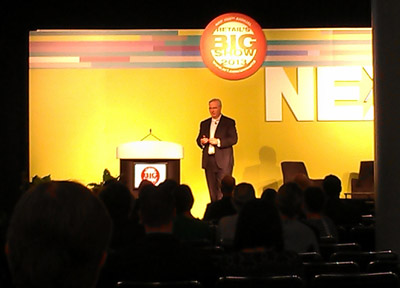 Mr. Chidley
Step by step
There are four steps to assist retailers in putting innovation at the forefront of their retail strategy, per Mr. Chidley. 

First, the best merchants make the best brands. In other word, retailers must understand their business as a complete brand.
Consumers often think of their relationship with a brand as a relationship with an individual. This is where dialogue, often through social media, comes into play.
"We see brands as surrogates that we have for human relationshipa," Mr. Chidley said.
Next, retailers must approach innovation with a clear mission. It is about changing the behavior of shoppers in ways such as getting them to put one more thing in their cart or spend more time in one category.
The third step is seeking and applying shopper insights.
"Mistakes are fundamental – they are a way to get brand clarity and focus," Mr. Chidley said.
Lastly, retailers should have a process that reframes the challenge at hand.
"Innovation for innovation's sake is a loss of expended energy with no purpose," Mr. Chidley said. "We have to have the brand at the center of what we do."
Final Take
Tricia Carr, editorial assistant on Luxury Daily, New York