Implementing mobile strategies such as bar codes or SMS calls-to-action in out-of-home luxury branded ads further immerses consumers than traditional billboards, bus bench posters or telephone booth advertisements.
Additionally, this makes it easier for luxury brands to collect data and conversions to measure the effectiveness of out-of-home ads to a brand's core customer. Consumers stopping to scan a code or text-in to a short code are likely to be true brand loyalists.
"Outdoor, like any other traditional media, is great at generating brand awareness and consideration," said Mike Wehrs, president/CEO and president of Scanbuy, New York.
"However, it typically falls short in engaging the consumer or leading to a conversion," he said. "Mobile provides an immediate tool to move an interested consumer into a more immersive experience and one step closer to purchase."
Bold moves
Mobile can be incorporated in out-of-home ads in many ways.
For instance, some brands use them to offer exclusive videos and content.
Department store chain Bloomingdale's upped its out-of-home advertising strategy by including QR codes and an MMS call to action on phone booth ads to connect consumers with videos and content about new fashion trends (see story).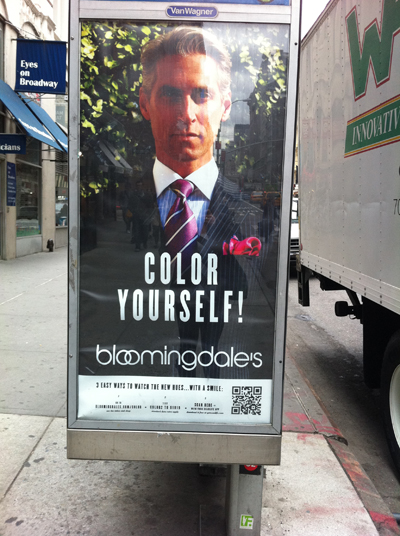 Bloomingdale's mobile incentives on telephone booth ads
The retailer placed ads on telephone booths in New York located near store locations.
Meanwhile, other luxury brands are using QR codes to push new products.
For instance, Audi of America launched its new A7 model with an interactive billboard in Times Square in New York that was supported by mobile elements such as an optimized site, foursquare, QR codes and SMS (see story).
The campaign used SMS and QR codes to drive billboard viewers to Audi's online and mobile properties for more details about the locations featured in the programs and an interactive New York City guidebook.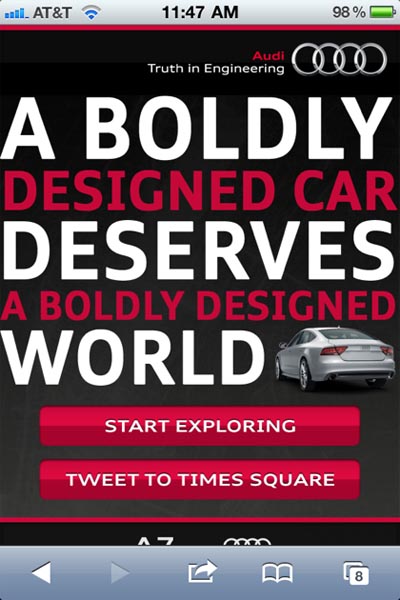 Audi's billboard brought consumers to a mobile site for more information
Implementing these tactics have both real-time and long-term effects.
A consumer can look at content when he or she is waiting for the bus or a cab right then, or sign up to receive information at a later time that reinforces the message.
"QR codes can launch a number of activities in one click depending on what the brand is trying to achieve," Mr. Wehrs said. "A code can launch an opt-in email for exclusive events, a video demonstration of a vehicle's features, an option to make a purchase or simply allow a customer to save the business contact information for a later time. 
"This could be especially relevant when a consumer has time to view the ad and get more content from their device," he said.
Brands can also use mobile to incentivize consumers to go in-store or online for new launches or to receive a free gift with purchase or discount.
Scan and buy
The brand's mobile message in an out-of-home ad should be the entire point of the ad, rather than just an afterthought.
This strategy makes the ad purposeful and attracts the attention of passers-by.
Brands can collect the data that amasses from scans and texts to find out what works for the brand and its customers and possibly use that information to drive consumers in-store or to an online location.
Taking advantage of location-based services such as foursquare, Gowalla or Facebook places can also incentivize consumers to go in-store or check-in to a retail location.
No matter what, mobile offerings force consumers to interact with the brands and could build brand loyalists.
However, since bar  codes and SMS messages are relatively new channels, brands need to be careful about how they use them.
"The relevance of the media is really critical when using codes on outdoor ads – probably more so than any other vehicle," Mr. Wehrs said. "Marketers have to think about the placement of the specific ad and whether a code will be practical for the consumer.
"We have seen best results from commuter placements like bus shelters or train platforms," he said. "Also think about whether the media will be in an area with strong cell service. 
"Frustrating the consumer with a bad experience will prevent them from scanning again – whether it be from your brand or others."
Final Take
Rachel Lamb, associate reporter on Luxury Daily, New York