Ralph Lauren, David Yurman, Estée Lauder, Dom Pérignon, Audemars Piguet, Breitling and other luxury advertisers scored key placements in the inaugural print and online issues of status publication DuJour.
The oversized 312-page publication flaunts a card-stock cover and luxury brand advertisements throughout, ending with a back-cover Hermès ad. Meanwhile, it seems that most advertisers in the issue are getting a double dose of exposure via the print and online editions.
"DuJour is the new paradigm for affluent market engagement – a seamless print and digital experience that is current, intimate and immediate," said Jason Binn, founder/CEO of DuJour, New York. "The first look and last word on style, play, work, culture, health, design, shopping, nightlife and travel, DuJour is a witty, intuitive insider, delivering unparalleled global and local access to readers who covet luxury.
"Capturing the voices of tastemakers, icons and upstarts, DuJour speaks the ultimate word-of-mouth," he said. "Delivered directly to high-net-worth homes and Gilt.com members, DuJour is where luxury lives and informs a lifestyle of uncompromising quality.
"DuJour is proud to showcase the most prestigious and coveted luxury brands in the world covering all aspects of our readers and users lives, encompassing the worlds of fashion, retail, jewelry and watches, real estate, travel, restaurants, beauty, health and fitness, entertainment and culture, highlighted by Hermès, Ralph Lauren, Rolex, Cartier, Audemar Piguet, Dom Pérignon, Graff, Neiman Marcus, Saks Fifth Ave, Casa de Campo, NetJets, Frank Muller, La Mer and Marc Jacobs."
DuJour was founded by Mr. Binn, former Niche Media CEO, in collaboration with Gilt Groupe.
Pretty in print
DuJour targets 3 million of Gilt's ultra-affluent consumers, an audience responsible for spending more than $600 million annually.
The publication will distribute content via its online edition and 250,000 print copies by direct mail with an additional 15,000 copies displayed on newsstands, per the company (see story).

The editorial content is split into sections including Style, Life, Body, Play, Work and Culture. There are features special to each issue as well as city-specific content.

The fall 2012 features include a spotlight on motherhood with model Christy Turlington, a Morocco travel guide and a fall fashion spread with model Crystal Renn.
There are quite a few advertising pages in front of book, but ad content fizzles out within the special features.
Luxury brands such as Ralph Lauren, David Yurman, Estée Lauder, Audemars Piguet, Cartier, La Mer, Marc Jacobs, Saks Fifth Avenue, Dom Pérignon, Michael Kors, MaxMara, Hugo Boss and Graff placed ads in the front of book.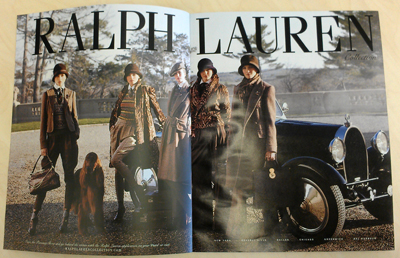 Ralph Lauren front-inside-cover ad 
Advertising continues in the first sections that will likely appear in each book. There are half-page ads from Diane von Furstenberg, Neiman Marcus, Girard-Perregaux, Chopard, Montblanc, John Varvatos, Breitling, NetJets, Bentley Eyewear and Versace.
Diane Von Furstenberg ad 
There is no advertising within the features.
However, the DuJour Cities section at the back of the book contains ads for high-end hospitality and entertainment brands. These include Thompson Hotels, The Peninsula, Liberty Helicopters and Town Real Estate.
This section reports on happenings in top markets such as New York, Los Angeles, Chicago, Miami, Dallas, Las Vegas and San Francisco where 80 percent of the sales of all luxury products and services are located, per Du Jour.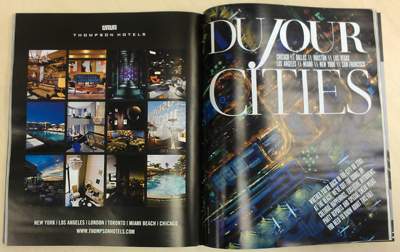 Thompson Hotels ad 
"Just by the sheer fact of being something new, there is built-in anticipation," said Courtney Albert, brand strategist at Parker Avery, Atlanta. "This does not mean that the first run will be an automatic success, but historically this is when a new publication will have a higher amount of both reader and media attention.
"I think that people naturally get excited for the fall and September issues of magazines," she said. "Even if one has switched to digital formats, these printed issues become somewhat of collector items as they become more elaborate and innovative each year.
"Additionally, they serve dual roles – one, serving as a weathervane for future trends and, two, an archive for fashion history," she said.
Digital demand
DuJour is also published as a digital magazine that can be found at http://www.dujour.com.
The online edition lets users browse the issue by scrolling from top to bottom or going to specific sections via the table of contents or section name.
As readers scroll through the publication, they are shown full- and half-page luxury brand ads scattered within the editorial content. It seems that most advertisers from the print edition are also present in the digital publication.
Users can click on an ad to go to the advertiser's Web site.
Also, each time a user returns to the landing page of DuJour's digital edition, it seems that the ads are rearranged. However, the Ralph Lauren ad remains first on the page and is also the first ad in the print edition.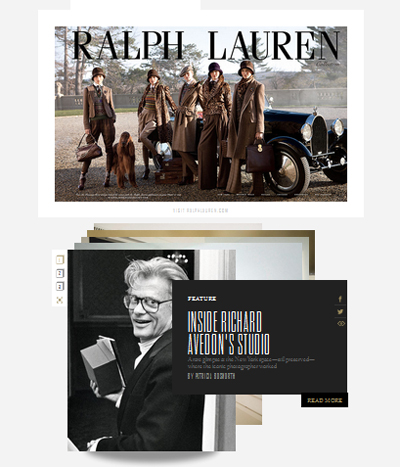 Ralph Lauren digital ad 
Luxury advertisers will likely benefit from placements across both magazine platforms. In print, a luxury brand ad placement can add to the affluent feel of the editorial package, while a digital ad can encourage ecommerce transactions.
It is fair game among advertisers in the inaugural issues of DuJour since there was no change in paper stock or ads of more than two pages. Likely those ads at the very front of the book, on the back cover and placed in key fall fashion editorial will get the most eyes.
"There is an interesting trend occurring of converting the digital periodical to print, which first began with Style.com," Ms. Albert said. "I think this shows that print is still alive - there is a demand and there are consumers who seek it out.
"It is also an effective, lower-cost method of building an audience before launching a full print edition," she said.
Final Take
Tricia Carr, editorial assistant on Luxury Daily, New York