Receive the latest articles for free. Click here to get the Luxury Daily newsletters.
Rebecca Minkoff initiates social conversation via Fashion Week show
By
---
February 11, 2013


U.S. fashion label Rebecca Minkoff put attendees of its New York Fashion Week show Feb. 8 front and center in the social conversation through a live Twitter backdrop.
During the show, a large display of user tweets and images were shown on the background to the catwalk. The brand also made use of all of its social media platforms to engage consumers and promote its show.
"We are trying to get everyone involved," said Jessie Cohen, digital marketing assistant at Rebecca Minkoff, New York. "You can get involved even if you are watching it at home in Ohio.
"Social is such a big part of what our brand does, so it made sense to include in our show," she said.
Generating buzz
Rebecca Minkoff pushed its fashion show on its social platforms before, after and during the presentation.
Before the show, the brand tweeted to followers telling them to "join to conversation" via the #RMFall hashtag.
Tweet
Also, the brand gave out previews on social platforms and showed a Pinterest board titled "Fall 2013."
Pinterest board
During the show, the brand displayed a wall of tweets from consumers who had used the #RMFall hashtag, while the band Wild Cub played and models walked down the runway in the new fall collection.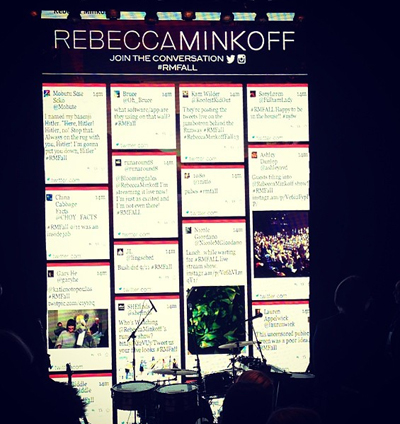 Backdrop (via Mercedes-Benz Fashion Week Instagram)
However, brands should use caution when projecting live social media streams at events since Rebecca Minkoff's feed had a slip up during the show, according to an article on WWD.
The show was also available for consumers to view at home through the brand's Web site. While watching the show, consumers could see a list of the tweets that used the #RMFall hashtag in a steam next to the video.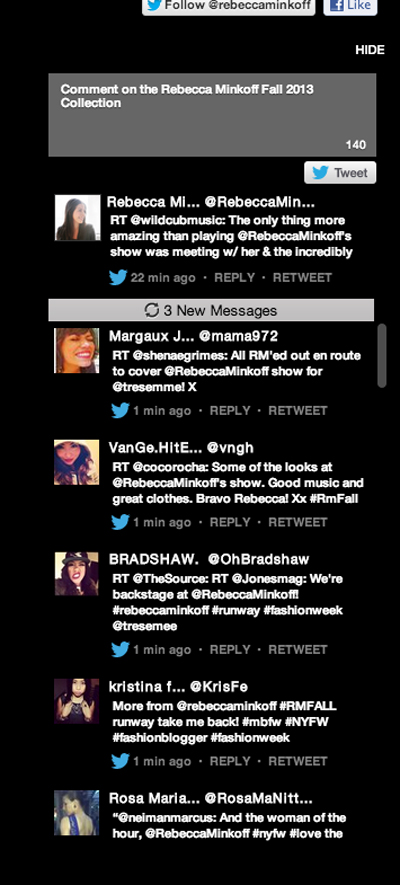 Twitter stream
In addition, the brand released short, looped videos using social networking mobile application Vine and then promoted them via Twitter. The videos showed the catwalk and behind-the-scenes before the show.
Rebecca Minkoff is encouraging the digital conversation to continue by constantly posting behind-the-scenes images and links to view the show on its Web site and social platforms.
Recently, the brand has been driving more social interactions with fans, especially through its revamped Web site.
The brand overhauled its ecommerce site to include a social media aggregator and additional brand content to enhance the overall digital experience for its customers.
The updated Web site is meant to offer a shopping experience that provides context, insight into the brand and lifestyle, per the label (see story).
Social runway
Many fashion marketers are banking on social-generated conversations to get as many consumers involved in Fashion Week shows as possible.
For instance, U.S. apparel and accessories label Michael Kors is bolstering its upcoming New York Fashion Week show by giving consumers complete access through a microsite.
The brand's show takes place at Lincoln Center in New York on Feb. 13 at 10 a.m. ET, but it is letting affluent consumers get the full experience without being present through its All Access, All Angles promotions.
Michael Kors will also be providing additional backstage content and multiple points of view of the show through the microsite (see story).
Indeed, marketers need to have successful strategies on and off the runway for Fashion Week. This includes generating interest and engagement with consumers before and after the actual runway shows
Since the runway shows are short and can only have a limited number of attendees, brands should make use of social media to get the most out of the week (see story).
Rebecca Minkoff looked to set a standard in terms of social interactions as one of the first shows at New York Fashion Week.
"We expect people to be tweeting before, after and during the show to get the buzz going," Ms. Cohen said. "Since we are one of the first shows, it is important to generate excitement."
Like this article? Sign up for a free subscription to Luxury Daily's must-read newsletters. Click here!
Related content:
None Found
Tags: Fashion Week, Jessie Cohen, luxury, luxury marketing, Marketing, Multichannel, New York Fashion Week, Rebecca Minkoff, RMFall, social, social marketing, social media, Twitter
You can
leave a response
, or
trackback
from your own site.