Luxury travel providers should take risks when attempting to reach affluent consumers via print to spark an emotional connection to the brand, experts say.
Many luxury travel brands are revisiting print advertising concurrent with an overhaul in their digital campaigns as the global economy recovers. While digital channels let consumers browse vacation packages and book travel, print advertisements are vital to trigger a passion for a hotel, cruise line or destination and brands should take risks to attract today's affluent traveler.
"Print works well because it legitimizes luxury travel brands," said Robert Taglairino, president of Tag Advertising and co-chair of Black Label Marketing Group, Miami. "It makes fantasies feel real and provides a perfect backdrop for authentic luxury travel experiences.
"Most luxury brands were thrust into online media because of the economy," he said. "Inexpensive media that delivered discounted bookings became a fixture in society because most of the people advising luxury brands on interactive solutions were from the mass market and applied mass-market matrix to luxury brands."
Vacation package
Print advertisements for luxury hotels, cruise lines and destinations should appeal to the emotions of a traveler and offer a means to act on those emotions.
In addition, travel brands should not be conservative in their advertising messages.
"Many advertisers went back to their roots in their print efforts, but it is important to recognize that consumers are tired of playing it safe," Mr. Taglairino said.
"They are tired of limited choices and tired of conservative messaging," he said. "Now is an exciting time to take a fresh approach in luxury travel, while using both new and traditional media platforms."
Rather than focusing on the amenities of a property, luxury hotel brands may want to focus on exclusive experiences and making memories with friends and family.
In addition, emotive print advertisements should be combined with digital efforts to raise the most awareness for a brand.
"Print is where brand storytelling begins," said Heather Dillon, a Los Angeles-based public relations and social media consultant. "Brands need to embrace the power of storytelling to create ads that are fresh, entertaining and engaging."
"Marketers want consumers to have a connection to their ad," she said. "It should represent everything that is luxurious to them which, of course now, is quality over quantity."
Print campaigns have always been essential to multichannel efforts in the luxury industry, but have recently taken a back seat to digital campaigns.
Social media and mobile marketing let a brand reach consumers with limitless options for advertising and promotions, but print advertisements will target luxury consumers that are seeking authenticity and experience.
Crystal Cruises is using this notion in its rebranding effort by embedding mobile-activated digital watermarks in its print advertisements.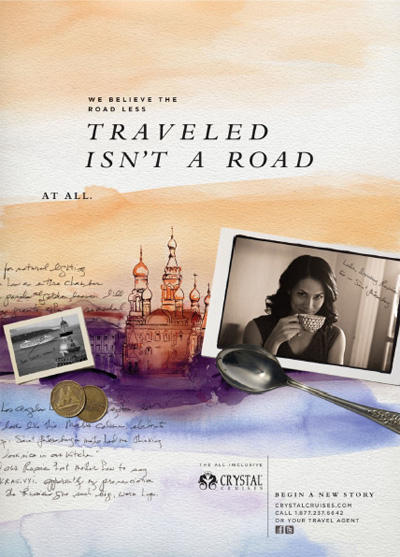 Crystal Cruises ad with watercolor painting
Crystal asked eight watercolor artists to create images for its print campaign that highlight branded storytelling in select destinations (see story).
In addition, safari and exotic travel are trends in that luxury brands could incorporate into print advertisements.
In fact, the top reason that affluent consumers travel is to seek authentic experience in a new destination, according to the 2012 Virtuoso Luxe Report (see story).
"Luxury consumers are all about experiences and luxury travel brands can capitalize on that by offering sensory experiences through these publications," Ms. Dillon said.
Stay for a while
Print advertisements can have a large reach when placed in the correct travel and lifestyle publications.
In fact, luxury hotels, cruises and destination advertisers are coming back to publications they could not afford a few years ago.
Departures, Travel + Leisure, and Condé Nast Traveler are top publications that consistently offer results for luxury travel marketers.
These magazines attract the correct demographics and appeal to lifestyle interests that relate to the affluent traveler, per Tag Advertising's Mr. Taglairino.
In addition, advertisers could place ads in lifestyle publications that concentrate on spa, golf, culinary, adventure, shopping, marine, culture and other experiences that a brand can offer.
"The media that serves the affluent community is as diverse as the consumers who read it," Mr. Taglairino said.
"Ads are most successful when they are in environments that reflect the lifestyle interests of the reader and the essence of the brand in the ad," he said.
Travel brands should create a lifestyle association by advertising in ultra-luxury publications, per Ms. Dillon.
As consumers continue to value the content of these publications, they will also continue to purchase from advertisers because they feel they can trust on what they read inside.
Robb Report, Elite Traveler, Financial Times How To Spend It and ForbesLife are examples of meaningful luxury lifestyle publications.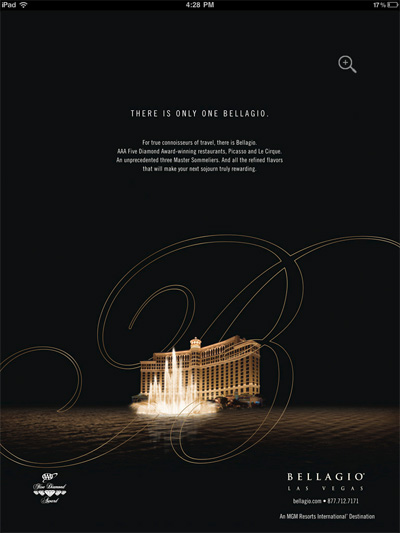 Bellagio print ad in Robb Report 
In fact, Robb Report looked to entice summer travel via hospitality, private jet and lifestyle in its May issue with advertisers such as Patek Philippe, Ritz-Carlton, IWC, Inspirato, Sea Island, Net Jets, XOJets and Jet Suite. The ads are coupled with editorial and content on lifestyle brands to round out the experience (see story).
"Luxury travel brands are not confined to just travel magazines today," Ms. Dillon said. "Luxury lifestyle magazines are still an important part of integrated marketing communications, particularly in reaching high-net-worth consumers."