High-end retail chain Saks Fifth Avenue sent its fall fashion catalog last week via direct mail, pushing apparel, accessories, beauty and its expanded shoe salon through in-house photography.
The retailer's 166-page fall catalog shows images of its fall product range in addition to brand happenings such as the expansion of its 10022-Shoe floor, Fashion's Night Out and its Key to the Cure charity effort. Saks is going up against high-end retailers this fall such as Bergdorf Goodman and Bloomingdale's that also use direct mail to target their affluent consumer lists.
"Direct mail continues to be a highly-effective medium to reach the affluent luxury consumer, especially for brands like Saks that maintain a very narrowly targeted list of customers that value the brands Saks carries and do business with the company," said Pam Danziger, president of Unity Marketing, Stephens, PA.
"As a tactile medium, the catalog can communicate the touch and feel of Saks fashion goods better than online displays," she said. "It also is highly effective to drive shoppers both to the store and online to shop and place orders.
"The catalog complements, rather than competes, with Saks online and mobile efforts."
Ms. Danziger is not affiliated with Saks, but agreed to comment as an industry expert.
Saks did not respond before press deadline.
Mail competition
The fall catalog, which is also available online, contains 14 fashion spreads. Each page contains product information and price.
The first spread focuses on fall fashion trends named by Saks including Decorative Fabrics, Officer Outerwear, Fitted Shearling, Super Stitches, Peplum, Luxe Structured Bag, Unpredictable Leather, Neon Fur, Sleeved Slim Dress, Masculine/Feminine, '80s Excess and Pointy-Toe Pumps.
For instance, the first image shows the Eclectic Elegance pump trend with a Louis Vuitton jacket.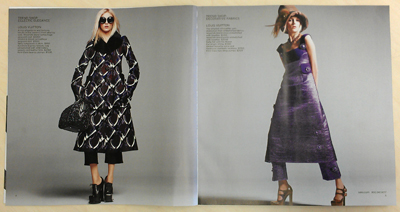 Trends spread 
Another fashion spread is dedicated to Jimmy Choo shoes and accessories. Models are shown on motorcycles against a black background.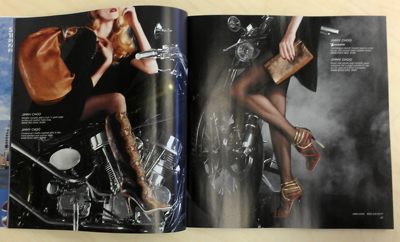 Jimmy Choo spread 
Labels such as Versace, Burberry London and John Hardy are shown in a Mexican-themed spread shot at the St. Regis, Mexico City.
Mexico City spread 
The last spread is a beauty spread, which contains one extra-thick page for Chanel's new Coco Noir fragrance. The ultra-glossy page is mostly black and contains a scent sample on the front.
Beauty spread 
Meanwhile, department store Bergdorf Goodman uses direct mail catalogs to push apparel and accessories each season, but the magalog includes editorial content as well as in-house fashion spreads.
The most recent Bergdorf magalog was its fall mailer that pushed its 111th anniversary designer collection as well as display the usual array of luxury brand advertisements and New York-centric editorial content (see story).
Saks' catalog seems to have purely transactional goals, while Bergdorf's direct mail strategy immerses consumers into the brand lifestyle and contains luxury advertisers.
However, Saks' in-house fashion spreads could help consumers see the brand as an authority on fall fashion, which could help it gain trust from its consumer list.
"Older, richer consumers tend to prefer printed catalogs rather than digital ones," said Al Ries, chairman of focusing consultancy Ries & Ries, Roswell, GA. "Saks obviously thinks that its prospects are older and richer and, therefore, catalogs are the best way to reach them.
"The new Saks catalog is more visual than most department store catalogs," he said. "Saks apparently thinks that its dramatic, visual approach is a better way to attract attention from its target market."
Calling all shoe-lovers
Saks put a special section in its fall catalog to show off the new offerings in its revamped 10022-Shoe floor.

Unlike the rest of the catalog, the pages do not have a glossy finish. Shoes by designers such as Valentino, Gucci, Manolo Blahnik, Prada, Yves Saint Laurent and Christian Louboutin are shown on models' feet against the New York skyline.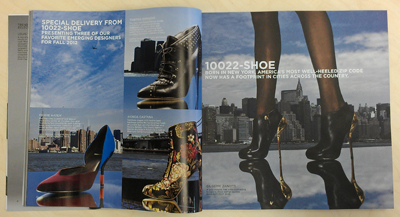 10022-Shoe spread 
In addition, the letter at the front of the catalog says, "We've just unveiled an incredible expansion of our 10022-Shoe salon – so big it has its own zip code. In fact, we've added 10,022 square feet of shoes including emerging contemporary designers such as Alejandro Ingelmo, Aquazzura and 3.1 Phillip Lim among many others."
Saks is also pushing the revamped shoe floor through an all-encompassing digital campaign that includes email, digital, social and mobile efforts.
The retailer sent out two email campaigns dedicated to its fall shoe collections and shoes to wear to Fashion Weeks in international cities. Saks seems to be encouraging foot traffic to its 10022-Shoe department at its flagship store in New York and digital transactions via its social channels and Web site as well, with an Instagram contest, blog content and social imagery (see story).
"Saks' shoe focus is on statement pieces and being able to envision them in the lifestyle of the purchaser, right down to the backdrop of each scenario that those shoes were photographed," said Dalia Strum, president of Dalia Inc., New York. "Shoes have become conversation pieces and look-changers, and they has become a door-opener for marketers to excite consumers about their next purchase.
"There is something to be said about disconnecting from technology and the over-saturation of marketing emails for a few minutes to browse through a tangible catalog," she said. "The creativity and time spent to create them could sometimes be considered a piece of art.
"Saks' catalogs are able to convey new trends, hot colors of the season and how these looks can be styled and by putting full looks together, it helps the consumer actually visualize these items in their closet."
Final Take
Tricia Carr, editorial assistant on Luxury Daily, New York