Marketers including Alexander McQueen, Fendi, Rebecca Taylor and Furla are taking advantage of watermarked print advertisements that encourage mobile commerce.
Using technology from Digimarc, select marketers in Condé Nast's W magazine Trends supplement are allowing their products shown on print pages to be bought via mobile. Enabling mobile touch points on print ads is a path that many marketers are taking to modernize the traditional advertising medium.
"Simply put, readers can finally scan and shop while they peruse all the featured fashions in the supplement," said Ed Knudson, executive vice president of sales and marketing for Digimarc, Portland, OR. "Since digital watermarks are imperceptible, it is finally easy to include more than one unique mobile experience on a page without negatively affecting the design.
"When planning its special W Trends supplement, W wanted to extend the reader experience by making it shoppable, giving readers the ability to easily purchase items they liked in the supplement," he said.
Now trending
The Trends supplement details the upcoming fashion and beauty trends for the fall in six categories: Join the Ranks, Black Magic, Geek Chic, Apres-Ski, Extravagant Evening and Eye-Catching.
Join the Ranks shows military-inspired apparel in earth colors such as army green and khaki and accessories while Black Magic is textured materials such as velvet and felt that resemble a romantic air.
Meanwhile, Geek Chic has school looks such as plaid and Mary Jane shoes and Apres-Ski has sporty outdoors-wear such as parkas and turtlenecks.
Extravagant Eveningwear has apparel and accessories in deep jewel tones and gold and the Eye-Catching trends include eyeshadow, lip color and fragrances.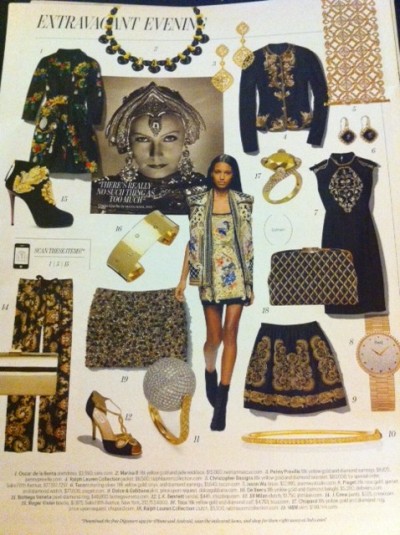 Eveningwear section
Brands with products in the trends include Furla, Oscar de la Renta, Graff, Louis Vuitton, Harry Winston, Jason Wu,  Bottega Veneta, Prada, Jimmy Choo, Dolce & Gabbana, Ralph Lauren, Piaget, Philip Stein, Roger Viver, Marc Jacobs and Audemars Piguet.
When consumers download the Digimarc application, they can look on each page to see which items they can scan.
Post-scan, a mobile-optimized site allows consumers to instantly buy the products seen on the print page.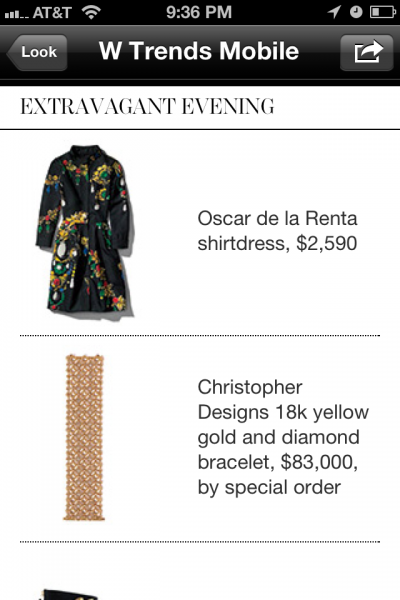 Mobile commerce sites
Consumers can buy through the Saks Fifth Avenue mobile site or share the products via Facebook, Twitter and email.
Making a mark
Print is a traditional medium typically used by luxury brands. However, some marketers are using a combination of mobile and print to modernize the latter.
QR codes are probably the most well-recognized way to do this, but other tactics such as water-marked ads are quickly flying under the radar.
For example, Starwood Hotels & Resorts incorporated watermarks by Digimarc in print ads that displayed new content and editorial in the April issue of Saveur magazine. The ad revealed content about Starwood's Hawaii properties (see story).
Also, brands including De Beers, Waterford and Clarisonic used watermarked print ads in the May issue of Brides magazine to give brides-to-be access to mobile-optimized content and the opportunity to participate in a contest based on the title's re-launch (see story).
Watermarks are invisible in ads but detectable through a smartphone's camera. This subtle marketing effort could be more appealing to luxury marketers that care more about ad aesthetics than mainstream marketers.
Also, there can be more than one watermark per page, so ads are not limited, per Mr. Knudson.
"The main purpose really depends on the customer or publication," Mr. Knudson said. "For W, the primary goal is to drive sales by making its printed supplement shoppable.
"So many consumers rely on mobile devices to keep them informed and aware, and this is another way to provide that," he said. "In the future, we see our technology expanding into retails stores and advertising, including audio and video."
Final Take
Rachel Lamb, associate reporter on Luxury Daily, New York