Department store chain Saks Fifth Avenue revamped its SaksFirst loyalty program to offer cardholders additional benefits and include its Off 5th outlet stores.
Saks is dropping a new campaign to push SaksFirst via catalogs, newspapers, magazines and other outlets. Also, the retailer's flagship store in New York will host a "5 Days of Firsts" program beginning Jan. 28 to raise awareness for the new benefits for its cardholders.
"[The marketing strategy is] to drive customer loyalty and increase customer growth," said Kathleen Ruiz, senior vice president of vendor and store marketing and public relations at Saks Fifth Avenue, New York.
Loyal customers
Under the new SaksFirst program, store cardholders are automatically enrolled for free, earn points toward a gift card with their first purchase, receive free shipping on in-store and online purchases, are invited to attend more special events and receive more private benefits.

Also, purchases at Off 5th store now count toward the program. Free shipping applies to purchases at the outlet stores as well.
Saks is raising awareness for the updates to the loyalty program through an ad campaign and week-long event series at its New  York flagship store.
The "Love at First Swipe" campaign comprises a new logo and illustrations by Mats Gustafson. It will be placed in catalogs, newspapers and magazines, per Saks.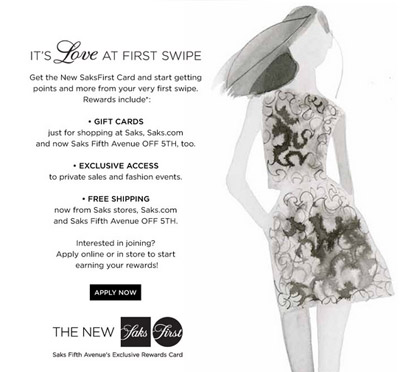 Email sent Jan. 14 
In addition, the "5 Days of Firsts" program at Saks' 611 Fifth Avenue location offers cardholders in-store experiences each day.
Customers who sign up for a SaksFirst card will receive a $25 gift card all week. Also, the first 500 customers who show their Saks card at the store Jan. 28 will receive a $100 gift card.
On Jan. 29, consumers can access an offer via Facebook to receive a complimentary yogurt at in-store eatery SnAKS on the 5th floor.
On Jan. 30, cardholders will get same-day free delivery in Manhattan on orders placed before 3 p.m.
Cardholders will receive 1,000 SaksFirst bonus points with their first purchase on Jan. 31 and they will receive double points on beauty purchases Feb. 1.
The program enhancements and the immediate promotion will likely drive sign-ups and engagement at its launch, per David Langton, global marketing manager and luxury specialist at ICLP, London.
"The trick is maintaining the momentum and program differentiation in the long-term to build greater customer loyalty and advocacy, and therefore, has to be part of a much wider customer relationship and engagement strategy," Mr. Langton said.
Competition is on
Luxury retailers often add benefits to their rewards programs due to the changing needs of their customers.
For instance, department store chain Nordstrom strengthened its customer relationships with a redesigned fashion rewards program that it launched last year that puts more control in the hands of the shopper.
The new program gives all Nordstrom cardholders access to tailoring services and the ability to accumulate reward points more quickly. Additionally, the amount of points needed to be promoted to a higher status level was decreased (see story).
Rewards programs offered in the luxury sector are often similar, so the greater the diversity of benefits, the better.
"Although many retail loyalty programs are similar, Saks perhaps could have looked to differentiate their proposition by considering more innovative benefits and rewards," Mr. Langton said. "This may include advance product line or sale previews, free parking, free alterations, access to by-appointment or personal shopping services, or even more instantaneous or customizable rewards.
"In addition, and perhaps more importantly, retail brands should be taking a more holistic view about how their customers are interacting and engaging with them via their program or their brand, and not solely focused on transactions," he said. "According to research by Bain and Co., customers who engage with brands via social channels spend 20-40 percent more.
"Moreover, those people who spread the word about brands are a significant catalyst for growth and should be recognized — not just those who buy."
Another point to consider is the involvement of the aspirational customer. Saks likely achieved this by adding Off 5th to its rewards program, per Paula Rosenblum, managing partner at RSR, Miami, FL.
However, personalization for existing members should be another aspect to consider.
"Frankly, the rest of the new stuff is somewhat unimpressive to me," Ms. Rosenblum said.
"But, I do know many people shop at Saks precisely for the rewards," she said. "Hopefully, [Saks] will use the data it gathers from new members to create more personalized offerings."
Final Take
Tricia Carr, editorial assistant on Luxury Daily, New York