Since SMS is an entirely opt-in environment, luxury automakers that employ this tactic can interact with affluent consumers in a personalized and high-touch environment. Since affluent consumers probably are not willing to buy a car through a mobile device, SMS should be used to build loyalty and relationships.
Marketers including Jaguar, BMW and Audi have used SMS to market to consumers. This is an opportunity to divulge brand information, multimedia content and relay brand promotions.
"For luxury automakers, SMS/MMS is the perfect tool for communication with customers and prospects," said James Citron, CEO of Mogreet, Venice, CA. "There is no app to download, no codes to scan, no data required by the end user and when you consider that 74 percent of Americans have sent or received a text, this platform is, hands down, the best way for brands to reach their core and secondary audiences.
"The integration by luxury automotive brands of valuable content, multimedia and utility-based messaging is resulting in customers moving through the consideration and purchase cycles faster, providing a higher ROI on automakers' marketing spend and a more engaged, long-term customer for the brand," he said.
Driving loyalty
One big benefit of SMS/MMS for the automotive industry is the ability to build a mobile database featuring a captive and intent-driven audience, Mr. Citron said.
Also, the consumer who opts in will be easier and more willing to move into purchase consideration with more information and special promotions.
For example, Jaguar regularly sends out SMS messages with new offers that drive in-dealer and online traffic.
After consumers opt-in, consumers visit an optimized site where they are able to find local dealers to test-drive Jaguar models, twirl their fingers on a model to view the model in a 360-degree rotation, change the color of the car, watch videos and sign up to receive more information via email and direct mail (see story).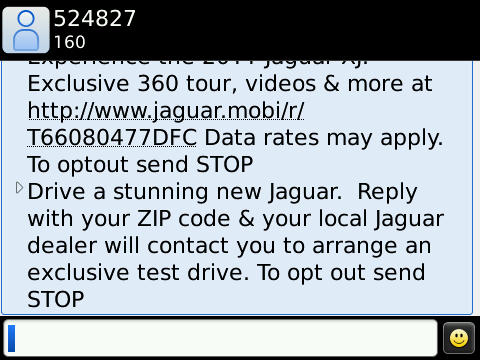 Jaguar's SMS messaging
Also, SMS is the only push-mobile technology that enables marketers to start a conversation via mobile without relying on customer-initiated action, according to Cezar Kolodziej, president/CEO of Iris Mobile, Chicago.
Luxury automakers can easily push promotions in real-time to consumers who have expressed interest in the brand and opted-in through the campaign.
For example, German automaker BMW personalized MMS messages to alert customers to buy snow tires during winter months.
BMW sent a customized message to 1,200 customers reminding them to buy winter tires. The automaker saw a 30 percent conversion rate and an estimated $500,000 in revenue with this one campaign (see story).
However, the main objective behind SMS should be to manage customer loyalty. Brands can capitalize on their relationships through text messaging because it builds a one-on-one relationship with affluent consumers.
"I'm not convinced you can sell a car via text message, but you can certainly remind customers about servicing schedules and manage their expectations with short timely updates," said Gary Bury, managing director of mediaburst, London. "Product updates and launch events are also perfect occasions to text potential and existing customers."
Mobile mishaps
Brands ultimately need to decide what the No. 1 reason behind any campaign should be before they start sending messages.
SMS does not have to be a campaign in and of itself. In fact, automakers are using SMS as part of an overall campaign.
For example, the Audi A7 was marketed by the automaker through an interactive billboard in New York's Times Square that was supported through mobile elements such as an optimized site, foursquare, QR codes and SMS (see story).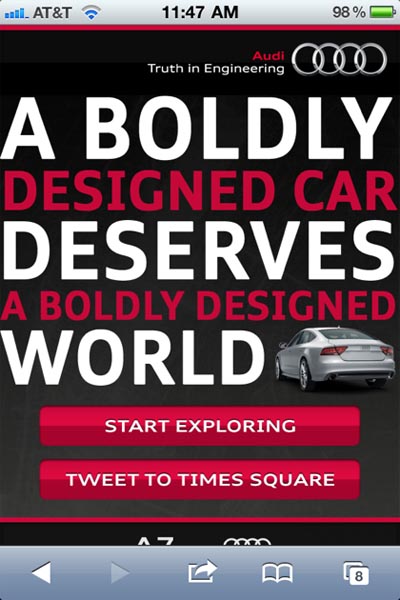 Audi A7 mobile efforts
Also, Jaguar integrated SMS into its TV commercials (see story).
One big mistake that marketers make with SMS is that they do not communicate with consumers about interests, desires or needs. And, in fact, automakers can use SMS to learn more about their customers and send more relevant information.
"Purchasing a car, especially a luxury vehicle, is often a process rather than an impulse," said Jeff Hasen, chief marketing office of Hipcricket, Kirkland, WA. "Wise automakers are using messaging to provide relevant information to consumers — interest rates in their local area, for instance — and seeking an opt-in.
"The nurturing that comes with permission-based marketing leads to sales," he said.
Furthermore, sending out generic information that is not personalized is a huge mistake. Brands should take this opportunity to get as relevant as possible.
"Using mobile messaging, which is a very personal channel, to communicate non-value added generic content is a very big mistake," Iris' Mr. Kolodziej said. "Nobody gets irritated if they receive an email every day from a brand they really like because emails can easily be dismissed.
"However, receiving a mobile message from the same brand without a strong value proposition that is relevant in the moment to the consumer will often cause the customer to disengage," he said. "Mobile messaging is not a part of a seamless brand conversation. We now live in a world where customer interactions are fluid.
"Our approach to marketing needs to be the same and this includes messaging."
Final Take
Rachel Lamb, associate reporter on Luxury Daily, New York