Companies such as Google, AOL, Return Path and Microsoft have founded a technology group dedicated to reducing the threat of email spam, called "phishing."
Retailers and other brands that routinely use email marketing are consistently threatened by spammers masquerading as labels to harvest information from unknowing customers. However, DMARC – Domain-based Message Authentication, Reporting and Conformance – includes big-name brands working together to protect consumers and brands through an email authentication service.
"This is especially dangerous for luxury retailers and brands, whose lifeblood is email marketing," said Sam Masiello, general manager of anti-phishing services at Return Path, Broomfield, CO.
"Brands can better authenticate and monitor the emails that they send out to consumers," he said. "When dealing with fraudulent activity, you can lose the brand loyalty because consumers do not know whether or not the message they get from you is malicious.
"It's a big piece of the reputation aspect from a user's perspective."
Return Path did not disclose clients using DMARC, but admitted that it helps to protect approximately 70 of the world's well-known brands in financial services, hospitality services, online gaming, retail and social networking from fraudulent activity online.
Phish fry
Perhaps the biggest problem that luxury retailers have with fake emails is that their reputations are damaged.
Since email lists are totally opt-in, consumers may think that a brand is trying to trick them when they see a message sent by a spammer. Eventually, they likely will not click on emails at all.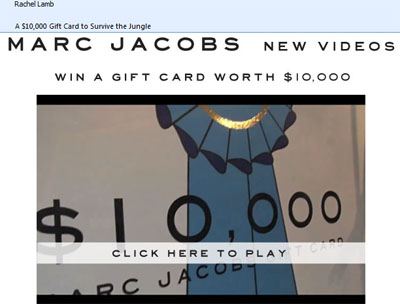 Authentic email from Marc Jacobs
What DMARC is doing is allowing brands to authenticate their messages with the ISP server so that it monitors email activity and adds more visibility into how the attacks are occurring.
In doing so, brands will be able to see potential correlations between phishing, loss of revenue on campaigns, the frequency of scamming and how to stop it.
Make a mark
DMARC will also allow companies to make informed policy decisions as to whether or not legitimate mail is authenticated or how to send the policy protection to the ISP.
For example, if a brand that has a normal email layout and a message saying that it is from that company but does not have that layout, the ISP could stop that email from being sent out, per Mr. Masiello.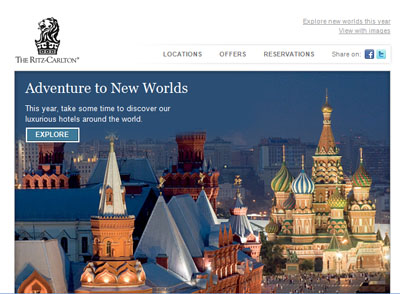 Authentic email from Ritz-Carlton
One of the main components of a luxury brand is its reputation. Unfortunately, there are scammers set out to destroy them.
"It only takes a moment to damage a brand reputation," Mr. Masiello said.
The fact is, many people assume that only financial services companies have trouble with fraudulent activity in emails, but it effects many kinds of brands.
Many luxury marketers – from designers such as Marc Jacobs to Gucci, automakers including BMW and Mercedes-Benz and hotel chains such as Mandarin Oriental and Ritz-Carlton – are using email marketing.
Kiehl's email
"There is abuse happening across online retail, social media and anywhere else people are spending money and time," Mr. Masiello said. "All types and sizes of brands are potential targets for phishing.
"Email is still heavily relied upon for luxury marketers, and this is another way to help secure that channel," he said.
Final Take
Rachel Lamb, associate reporter on Luxury Daily, New York