Starwood Hotels & Resorts' St. Regis is leveraging The New Grand Tour world travel program by offering consumers a limited-edition tote bag designed by Jason Wu that is the first accessory designed exclusively for the brand.
The Grand Tourista Bag retails for $1,995 and will be available for purchase through both brands in early December. Mr. Wu has worked with St. Regis previously as an official brand connoisseur likely to strengthen the parallels between high-fashion and luxury travel.
"Having designed the Grand Tourista Bag began largely from a conversation about how luxury travel and travelers are changing, a trend I think is evident in today's grand tour, an idea that the itinerary of today's new jet-set generation includes not only the traditional cities like Florence, Rome and London, but new must-see destinations like Abu Dhabi, Doha, Bal Harbour and Shenzhen, which not coincidentally is where we are growing our portfolio," said Paul James, global brand leader at St. Regis Hotels & Resorts, New York.
"Jason Wu, who is also a St. Regis Connoisseur, has created a travel bag that caters to the need of our global guests, who are traveling for business as much as they are pleasure, and need the tools to stay connected – iPhone, iPod, iPad, camera, MacBook Pro," he said. :The Grand Tourista Bag speaks to the way that they travel the world, functional and stylish and above all else, timeless."
In the bag
The Grand Tourista Bag was available for pre-order beginning Nov. 15 on Moda Operandi.
St. Regis also plans to launch a new brand retail site at http://stregis.com/boutique. The bag will be available there and at http://www.jasonwustudio.com in early December.
In addition, the bag is meant to celebrate the branded notion of the new grand tour and help St. Regis reach a new generation of travelers.
The original grand tour was taken by affluent travelers through Europe to collect experiences and cultivate knowledge, per St. Regis.
St. Regis created its own take on the historic journey that includes destinations in which new brand hotels are located. These include Aspen, CO; Bal Harbour, FL; Florence; Doha, Qatar; Abu Dhabi; Mauritius; and Sanya Yalong Bay, Shenzhen and Tianjin, all in China.
St. Regis' Grand Tour packages offer a culinary experience and special gift to showcase each destination.
Meanwhile, the Grand Tourista shoulder tote bag comes in a black and white houndstooth pattern on structured canvas with calf leather black trimming.
Grand Tourista Bag 
The interior has two pockets lined in viscose/silk grain in the Jason Wu signature grey color. These pockets are meant for tablets, e-books and a passport.
St. Regis hallmarks are embossed on the interior leather trim that nod to the New York flagship hotel.
In fact, the brand held an invitation-only launch event Nov. 14 at its New York property where the first Tourista bag was on display.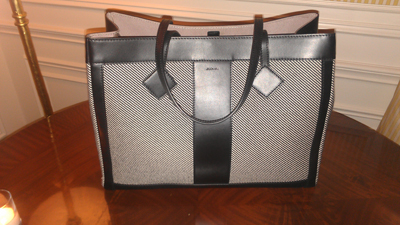 Grand Tourista Bag at launch event 
"Affluent travelers are not very difficult to figure out since the love for travel, fashion and exclusive opportunities are always a large part of this lifestyle," said D.M. Banks, director at DMB Public Relations, New York. "When a company such as St. Regis and Starwood understand this mentality, partnerships such as this one are destined for success.
"The travel bag itself not only looks very stylish, but all parties involved in this partnership also paid careful attention to the details so that it is also practical for today's fashionable traveler," he said.
Travel ambassador
St. Regis named Jason Wu as its second brand connoisseur last year.
With this title, Mr. Wu shares his travel tips and secrets and his inspirations from different cities and resorts around the world, including the six new St. Regis properties that opened in 2011.
St. Regis includes editorial content from Mr. Wu on its Web site.
The relationship also involves Mr. Wu attending St. Regis events and hosting events at the hotel properties.
Mr. Wu has been connected to the St. Regis ever since he hosted his first fashion show there during the 2010 Spring/Summer Fashion Week (see story).
"You see more of this in recent years by fashion designers being involved with personalized suites and other furnishing, textiles and accessories within hotels," Mr. Banks said.
"With the target demographic of luxury hotels generally being very focused to fashion and fashionable travel accessories, there looks to be only an increase in these types of partnerships," he said. "There is obviously a mutual appreciation for each other's brand.
"Beyond this, both brand's clientele are very much aligned, making the partnership mutually beneficial."
Final Take
Tricia Carr, editorial assistant on Luxury Daily, New York