Starwood Hotels & Resorts is showing off its South American properties through an iPad application that provides consumers with a description of the hotel and the location to get a sense of the area before booking a trip.
Starwood, which has nine brands including the St. Regis and The Luxury Collection, showcases all of its South American properties through the Starwood South America app. An app like this can be beneficial for affluent travelers who want to be assured they will have a luxury experience before booking a stay.
"Luxury travelers are experienced travelers," said Tiffany Dowd, luxury hotel inspector and president of Luxe Social Media, Boston.
"While many may use luxury travel agents or book directly, having an app like this can greatly influence a savvy traveler's final decision on where to go," she said. "Luxury travelers still like to research destinations and hotels on their own."
Ms. Dowd is not affiliated with Starwood, but agreed to comment as an industry expert.
Starwood was unable to comment directly before press deadline.
Starwood South America app is available for free for iPads in the App Store.
Find a location
The Starwood South America app offers details on Starwood properties in Argentina, Chile and Uruguay.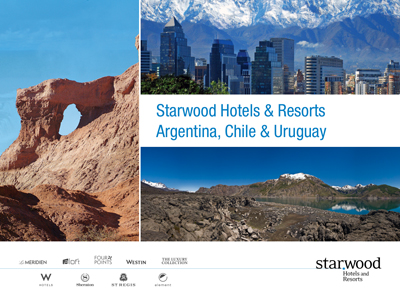 Main page
Consumers can scroll through the app to see an overview of all of the properties, which are listed by location.
Each location has its own page that provides information, images and a map. The locations are Buenos Aires; Pilar, Argentina; Mar del Plata, Argentina; Córdoba, Argentina; Mendoza, Argentina; San Miguel de Tucumán, Argentina; Salta, Argentina; Misiones, Argentina; Santiago, Chile; Viña del Mar, Chile; Los Ángeles, Chile; Villarrica, Chile; Montevideo, Uruguay and Colonia del Sacramento, Uruguay.
Buenos Aires information
The app includes five reasons why consumers should choose each property on each hotel's main page.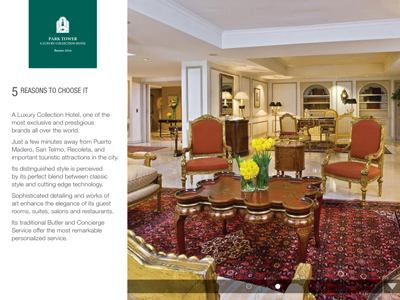 Park Tower overview
From this page, consumers can scroll down to see more information such as an area map, destination information, room dimensions, images, links to the property's Web site and Facebook page, a fact sheet with a hotel overview and an email address to make a reservation.
Property information
Finding new getaways
Today, luxury travelers are becoming more adventurous in terms of destinations and activities.

Luxury hotels should cater to today's younger, more adventurous affluent traveler who is seeking exotic locations and packages for an immersive experience in another culture.
Many luxury hotels are offering more culture-focused packages that allow guests to celebrate and experience the local flavor while staying at a luxury property.
With this trend increasing across global markets, more hotels should aim to please this adventurous group (see story).
Since these affluent travelers are becoming more adventurous in location choices, many travelers are likely interested in South American travel.
Starwood is likely to benefit from showing off its South American properties through the app.
"South America is a hot-spot for luxury travelers with so many unique hotels now on their radar," Ms. Dowd said.
"A comprehensive and beautifully visual app such as this one can be attractive for those looking for stylish and new destinations," she said.
Final take
Erin Shea, editorial assistant on Luxury Daily, New York