High-end technology accessories company Strut is leaning towards print and digital marketing efforts to push its new line of iPad cases that double as charging ports.
The brand is placing ads in luxury-focused magazines such as Robb Report for its marketing, coupled with digital ads and social media efforts for its LaunchPort product. The cases make charging iPads and iPhones easier through fewer cumbersome wires, per the brand.
"We're looking to push our products through various high-end channels that cater to high-net-worth individuals," said James Peterson, vice president of sales for Strut LaunchPort, San Diego.
"There is nothing else that offers inductive charging for the iPad with the build quality of Strut brand products," he said. "Robb Report definitely has the audience that we're after."
Product launch
The LaunchPort system is a case that also charges iPads. This technology includes the case that mates with a wireless pedestal that charges the iPad when it is docked.
The cases are hand-crafted from jewelry-grade stainless steel and are triple-chrome-plated. They will retail at $1,250.
Strut is looking to sell through jewelry stores and luxury boutiques in addition to high-end retail stores. They will break later this month at the New York International Gift Fair.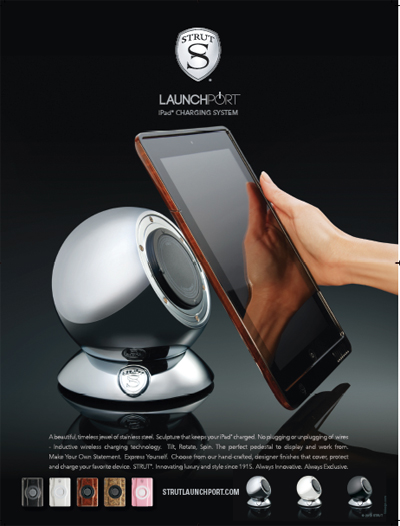 LaunchPort print ad
LaunchPort ads will bow in September issues of luxury-focused magazines.
The ads feature an iPad in a LaunchPort case about to be charged on the pedestal. It also has other case options including leopard, walnut, pink sparkle and carbon fiber.
In addition to the print ads, LaunchPort will be marketing on its Web site and via various social media channels.
These will likely launch after the product breaks at the gift fair.
Print marketing
Many luxury marketers are using social media and other Web efforts this season. This is especially true for brands that want to create buzz about new products.
On the other hand, other luxury marketers are using print ads to push their products.
More specifically, quite a few luxury marketers are using Robb Report to do so.
For example, KEF source speakers took out real estate in the tablet edition of the Robb Report. In the ad, users can customize the colors of the Blade speakers and connect to the brand's mobile site (see story).
Also, while some marketers go for a modern and interactive approach to advertising in Robb Report's Best of the Best issue for the iPad, classic brands including Chanel, Louis Vuitton, Hublot, Hermès, Roger Dubuis, the Bellagio, McLaren and Lamborghini are going for a more tactile approach in the print version (see story).
LaunchPort chose Robb Report because of its high-net-worth audience and relationship with luxury brands.
"There is a strong affiliation with Robb Report and luxury brands," Mr. Peterson said. "If you want to learn about premium cigars or cars or fine wine, it's the magazine of choice, so I feel like we fit in there."
Final Take
Rachel Lamb, associate reporter on Luxury Daily, New York