Precision-crystal maker Swarovski is linking its in-store, digital and mobile properties through a campaign for its spring/summer Tropical Paradise collection that includes a new mobile application and microsite.
One part of the campaign is in-store mobile touch points that are accessible through the new iOS and Android app. Meanwhile, the mobile app and microsite feature a jewelry styling guide, films and engaging monthly activities.
"The strategy is to bring the collection to life and create an engaging experience for consumers to drive them to our boutiques," said Yelena Leshchinsky, head of communication and social media at Swarovski's consumer goods business in Männedorf, Switzerland. "Offering an augmented reality experience at our boutique windows is an experience-based incentive for consumers to interact with Swarovski at the point of sale.
"The goal is to bring together a large audience who will download the app, inviting us to reach out again," she said. "We intend to keep the app running over multiple seasons to maintain a consistent and continuous relationship with our consumers, offering content and experiences that enhance the brand interaction, and that keep Swarovski top of mind for all things style and gifting.
"Ultimately, the goal is to have consumers showing up at boutiques because of something they've seen in the app."
Making connections
The Swarovski Mobile app is available for free on the App Store and Google Play.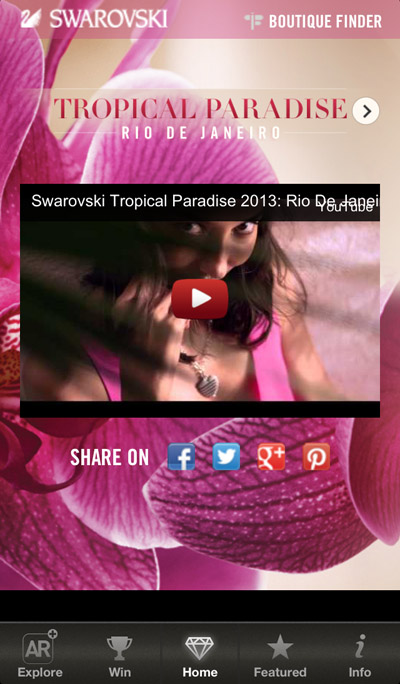 App homepage 
One of the parts of the app is the augmented reality tool that consumers can access via in-store touch points on window displays and inside Swarovski boutiques.
Consumers must find the "AR" symbols when visiting Swarovski locations to access videos and styling tips. This content can be downloaded and shared via the app.
The app will also feature a global contest. It will be adapted for local consumers in the United States and Britain with unique prizes that relate to local campaigns, such as the year-long Passport to Sparkle campaign in the U.S.
App users around the world can enter to win one of five statement items from the Tropical Paradise collection. The contest will run on a monthly basis.
Additional campaign content such as videos and the style guide are available on the mobile app and a microsite at http://swarovski.com/tropicalparadise.
The app and microsite are offered in English, French, German, Japanese, Korean, Portuguese, Simplified Chinese and Spanish.
Swarovski is showing videos on the homepage of the app and microsite. This content is meant to highlight the mood and the spirit of the collection, per Swarovski.
Also, a shoppable style guide called "Style Yourself" shows consumers three items in the collection and when it is appropriate to wear them. The brand will switch up the three items each month.
Occasions include business, blind date, brunch, opera, girls night out, weekend, shopping trip, lunch and dinner date.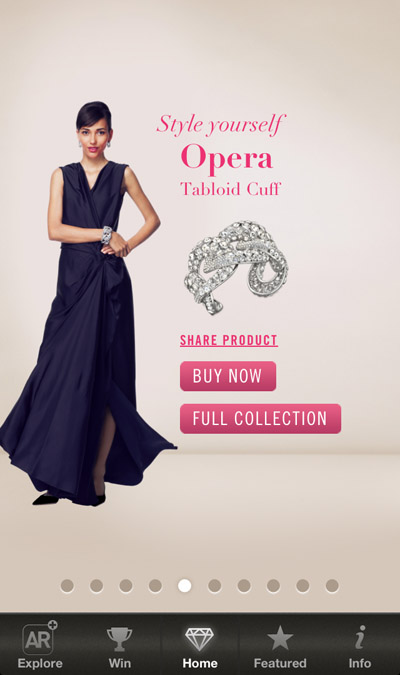 Style Yourself 
Lastly, the app will host a different activity each month.
The first activity called "From Rio with Love" centers on Valentine's Day. Consumers can create a personalized movie poster for a romantic comedy via Facebook Connect by selecting a partner from their Facebook friends and coming up with a tagline and critic reviews.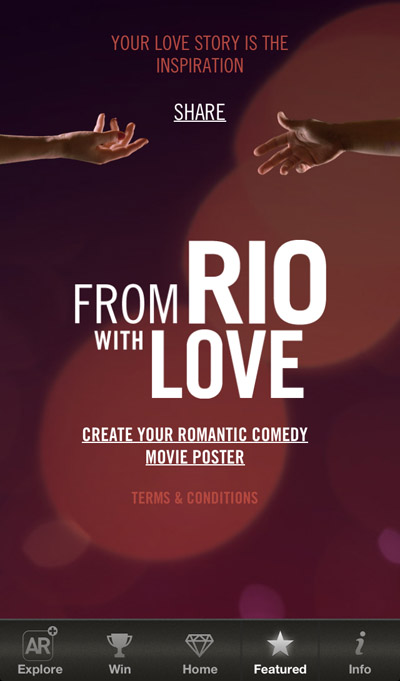 From Rio with Love 
Swarovski is raising awareness for the digital, mobile and in-store campaign via its social media channels, in-store Swarovski Crystal Society Magazine, its online magazine and its newsletter.
Welcome to paradise
The Tropical Paradise campaign seems to align with the theme of Swarovski's year-long U.S. campaign called Passport to Sparkle.

The Tropical Paradise campaign takes the brand's global audience on a journey to Latin America, per Swarovski.
Each month a new destination will be featured that served as inspiration for the jewelry and accessories in the collection. The campaign runs Feb. 4 through June 30.
Meanwhile, Swarovski is hosting its year-long U.S. campaign that centers on travel and aims to build relationships with customers and reward loyalty.
The "Passport to Sparkle" campaign is housed on a microsite where consumers can browse a full explanation of the program, view a video introduction to fictional model Emma du Monde and read her travel blog.
Those who wish to participate in the campaign must visit a Swarovski boutique to pick up their own Passport to Sparkle and register it in the store so that they can earn gifts, monthly prizes and the chance to win a trip for two to Rio de Janeiro, Brazil.
The digital portion of the campaign lets consumers follow Ms. du Monde on a year-long modeling shoot via her blog on the microsite.
The model will stop at Rio de Janeiro Jan. 28-March 3, the Amazon March 4-31, the Mexican Temples April 1-28, Acapulco April 24-June 2 and Miami June 3-July 27. More destinations will be announced later this year (see story).
The Swarovski Mobile app fills in U.S.-based consumers on the campaign and includes a boutique finder so that they can pick up a passport.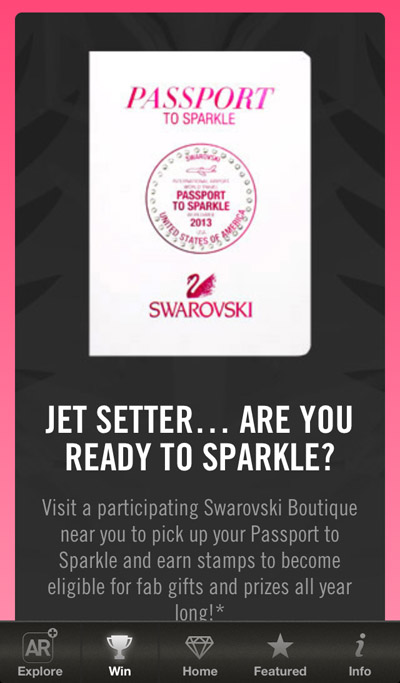 App 
Similar to the Passport to Sparkle campaign, the push for the Tropical Paradise collection will help Swarovski reach its target audience of women ages 25-44.
"As with most of our digital campaigns, we are reaching out to new consumers as well as existing fans of the brand," Ms. Leshchinsky said.
"Mobile is where our consumer spends her time," she said. "Based on learnings from our fall/winter 2012 campaign, with so many participants reaching us through mobile, we have built that touch point into all of our digital activities going forward.
"There is a microsite experience as well, but the full program lives in the mobile app, Swarovski Mobile," she said.
Final Take
Tricia Carr, editorial assistant on Luxury Daily, New York