The Luxury Collection's Chatwal hotel in New York is now offering five unique bespoke city experiences through Virtuoso's Beyond Times Square package.
Each offering is designed to bring guests face-to-face with atypical New York experiences. This partnership could help The Chatwal get an edge over competitors that do not offer bespoke encounters.
"To complete the luxury experience at The Chatwal, we wanted to provide exclusive and private tours to our discerning clientele that would suit a frequent guest as well as a first-time visitor," said Joel Freyberg, general manager of The Chatwal, New York.
"These private tours create an exclusive, one-of-a-kind and unforgettable experience that exceeds expectations – all very important factors to the affluent consumers," he said. "The flexibility to customize tours to personal interests and needs is also important.
"This program features unique viewpoints or areas of New York with knowledgeable and in-the-know guides, providing the five-star quality and service that our affluent consumers expect."
Starwood Hotels & Resorts owns The Luxury Collection.
Bite of the Big Apple
There are five bespoke city experiences offered at The Chatwal through Beyond Times Square.
The Hell's Kitchen experience allows consumers to hear stories about the neighborhood's beginnings in the Irish mob while eating from its eclectic cuisines such as an 80-year-old Greek bakery and tamales from a Mexican restaurant. The cost for two is $397.
Consumers can also engage in the Central Park experience where they can go on a private horse and carriage ride and finish the afternoon with a chilled bottle of Champagne and truffles followed by a gourmet picnic. This package is $547 for two people.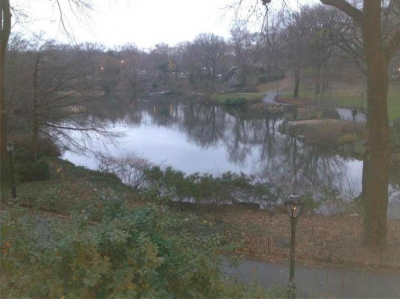 Central Park
Another experience is in Red Hook, Brooklyn. This package for two includes a visit a local winemaker crafting wines from nearby Long Island and a chocolatier with imported cocoa beans and chocolate rum and Key Lime pie. It is $897.
There is also the Brooklyn Bridge experience, where they can cross the bridge accompanied by an expert guide for $487.
The fifth experience is jazz-club hopping. Consumers will start out at The Chatwal's The Lamb's Club's Wednesday evening Jazz on the Mezzanine series and then take a private car service uptown to Harlem. This experience is $1947 for two people.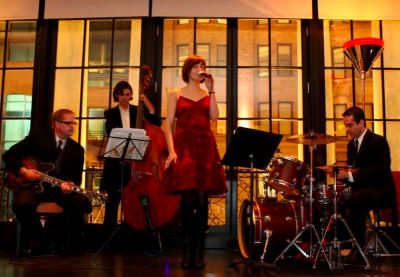 Jazz on the Mezzanine at The Lamb's Club
Consumers can make reservations by calling The Chatwal, emailing or by going online at http://www.thechatwalny.com.
The Chatwal plans on marketing the Beyond Times Square partnership via email, print and online media outlets.
"The Concierge program is one of the key components that set Starwood's Luxury Collection properties apart," Mr. Freyberg said. "Having these unique private tours available to The Chatwal Concierge team gives them more options to provide our guests with extraordinary memorable New York experiences."
Local flavor
Many luxury hotel properties are leveraging their locations to offer exclusive packages that can only be found at that one location.
"When someone is looking for a hotel, they are considering the environment with equal weight as the property itself," said Taylor Rains, account coordinator at Rawle Murdy Associates, Charleston, SC.
"Within the luxury market, creative location-specific marketing is sometimes the only element that distinguishes one property from the next," he said. "Luxury offerings tend to maintain relative consistency across brands and it is those unique and engaging extras that often act as the final push to acquiring a new guest."
For example, Four Seasons Hotel London at Park Lane created a one-time package dedicated to the British Emmy-award-winning television drama "Downton Abbey" that lets guests take a private tour of the show's setting at Highclere Castle.
Consumers can book the two-night Destination Downton Abbey package available Sept. 26-28 to get a behind-the-scenes look at the making of the TV series and have lunch at a Four Seasons property in Hampshire during their stay. The package coincides with the season-three premiere of Downton Abbey in September (see story).
In addition, the Ritz-Carlton, Dove Mountain hotel in Marana, AZ, is raising awareness for its property's leisure spaces and local flavor to business travelers by installing 12 group packages that highlight its desert location, on-site restaurants, spa and golf club.
The hotel is incorporating travel trends such as the farm-to-table movement and localized experiences in its new group options let attendees go outdoors, take part in cooking classes, compete in golf challenges and relax by the pool. Groups can also incorporate charity into their experiences by competing to build desert mountain bikes and donating them to a local children's home (see story).
Since The Chatwal is offering more than one package, it could entice consumers to come back to the hotel repeated times. Also, it appeals to both travel experts and novices.
"When it comes to the movies, it's often said that New York is less of a setting and more of a character," Mr. Rains said. "People flock to the city every day to experience that uniqueness and vibrancy.
"The Chatwal's Beyond Times Square package is a strategic step toward embracing the city's character," he said. "Anyone can visit the tourist-heavy spots of New York.
"What people really want is to experience the real flavor of the city."
Final Take
Rachel Lamb, associate reporter on Luxury Daily, New York