Travel accessories brand Tumi is bolstering its Case Studies digital campaign by promoting a new line designed by U.S. fashion designer Anna Sui through digital promotions, store windows and a kick-off event.
Case Studies is an online video series that offers packing tips from individuals whose lifestyles revolve around traveling. The brand is flaunting its new Anna Sui products through the Case Studies series. 
"The partnership benefits both brands by truly speaking to each brand's DNA," said Alan Krantzler, senior vice president of brand management at Tumi, New York.
"Both companies value inspiring design," he said. "Tumi helps extend Anna Sui's reach into travel accessories."
Tips for travelers
The Tumi Case Studies series focuses on frequent travelers who share travel tips through short videos shown on Tumi's YouTube channel.
The series is available on Tumi's Facebook page along with the travel tips. The brand is also using its Twitter account to promote Case Studies with the hashtag #TumiCaseStudies.
In addition, Tumi promoted Case Studies with Anna Sui and the new line through a screening event on Jan. 8.
The video begins by showing the backstage of an Anna Sui fashion show as Ms. Sui explains how she packs for trips. Her travel schedule is shown as well.
Anna Sui for Tumi
Ms. Sui is then shown packing up one of the Anna Sui for Tumi suitcases as she continues to describe her travel style and share her travel tips.
Next, Ms. Sui explains her design inspiration behind the line as she continues to pack up her Tumi luggage.
Tumi Case Studies Anna Sui
The video featuring Ms. Sui along with the other videos are available on the brand's Facebook page in the Case Studies application.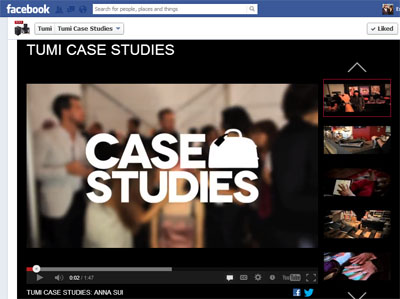 Tumi Case Studies Facebook tab
In addition, Tumi decorated its store windows worldwide with the Anna Sui for Tumi collection beginning Jan. 9.
The brand also flaunted the new collection in an email blast that was sent to its customer list.
The email showed off some of the luggage in the collection. A click-through on the email led consumers to Tumi's Web site where the Anna Sui collection can be purchased.
Anna Sui email
Expert travelers
The Case Studies campaign began in 2012 with travel tips from DJ Vice. His travel tips include choosing a room with a double bed so that the second can be used as a closet and leaving room for gifts that are picked up along the way (see story).
Now, Tumi has 12 videos in the series.
Case Studies seems to humanize the brand by aligning multiple personalities with it, which could help Tumi gain more loyal followers and customers.
The collaboration could also help the Anna Sui brand to further its reach as well.
"Tumi continues to look for innovative ways to connect with women in an emotional way and also inject some whimsy into their travels," said Mr. Krantzler said "Ms. Sui's keen eye for color and prints helps us do just that.
"Ms. Sui is also constantly looking for ways to connect with women in different categories," he said. "Tumi extends her reach into travel accessories."
Final take
Erin Shea, editorial assistant on Luxury Daily, New York