Not only is the average consumer's attention span decreasing, but marketers are becoming overwhelmed with the ever-growing choices made available to them to reach customers.
Nowadays, it is all about engagement. However, with new services such as Vine coming into the pipeline, marketers are given less time to work with to capture the attention of consumers.
"There are three primary keys to ensure consumer engagement and success," said Mandy Lewis, director at Acquity Group, Chicago. "Keep it simple. Mobile and social sites that quickly communicate simple and compelling value to consumers have much higher success rates.
"Use clear navigation, ample white space, easy-to-find search, readable text and minimal scrolling," she said. "Also, be context-aware and target interactions around users' typical engagement patterns and situational awareness.
"Finally, design without threads. Create a consistent user experience across many devices. Maintain visual consistency with other digital touch points. Users interact with a variety of devices and screen sizes, so the design should not differ from one device to another."
Maximum interaction
There are many different channels marketers can use to drive consumer engagement and build relationships.
Facebook, Twitter, Pinterest and Instagram were big drivers last year. The social media sites, along with newest darling, Vine, are becoming a big hit amongst marketers.
Take Twitter, for example.
Companies have 140 characters or less to get their message across. And not just any message, but something that will capture the attention of new and existing customers.
Then there is Vine, a social-mobile application owned by Twitter that lets users film and share short looping videos.
Brands are using Vine to promote products. However, with only six seconds to do so, the video has to be intriguing enough to drive views.
"With so many choices out there, performance is the easiest way to stand out," Ms. Lewis said. "Users have no tolerance for slow performance.
"Content must be prioritized and streamlined for quick scanning," she said. "Images must be compressed and kept small. The mobile landscape continues to mature and users are gaining comfort with content beyond 140 characters, mobile-only interactions targeting and personalization of messages, and push versus pull experiences.
"But we need to always remember speed is king."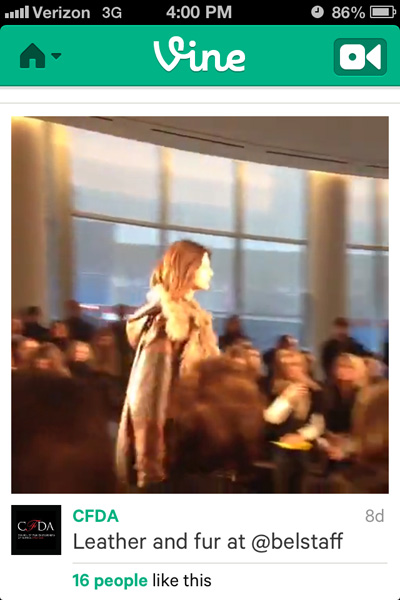 Vine 
Capturing attention
Many industry experts believe that mobile and social have impacted consumer tolerance – or rather the impatience with messaging and filtering information consumers can or cannot use.
"I think any technologies that speed up our lives and help us get things done faster do affect our attention spans and our patience, both positively and negatively," said Vanessa Horwell, chief visibility officer of ThinkInk, Miami Beach, FL. "Although our technology attention deficit disorder may seem acute in the United States, I don't think it's as dramatic as it's made out to be.
"Look at South Korea, for example," she said. "It's one of the most technologically-advanced and wired countries in the world. Its capital, Seoul, is the world's most-wired city, with 95 percent of households having high speed Internet and Wi-Fi is omnipresent.
"However, South Koreans are among the hardest- and longest-working people in the world and their children consistently rank near the top in terms of grades. You can't do that if you're not paying attention, so clearly there's more to it than just technology."
It can take some time for marketers to catch up to the early adopters of a particular technology.
When it comes to leveraging mobile, adoption by marketers has varied from region to region.
According to Ms. Horwell, mobile marketing matured quickly in Asia, where the developed economies of the "Asian Tigers" and Japan have massive high-speed Internet infrastructures, and device penetration is among the highest in the world.
Moreover, Britain was also out of the gate early on, to the point that now there is Wi-Fi throughout the London Underground system and it is about to be available in taxicabs.
With the vast majority of Americans having adopted some mobile device over the past few years, U.S. marketers have quickly caught up, with most planning to beef up their mobile budgets significantly through 2013.
With social, and especially with a tool such as Vine, the question for marketers is how to effectively use the social-mobile app to engage consumers.
"Certainly, Vine - and its copycats - offer an entry point to engaging consumers, but in the current state, I don't see it as being that useful for the bulk of marketers except for very specific forms of messaging because it's so difficult to get a coherent message across in six-seconds," Ms. Horwell said.
"Think of how long it took us to adapt to using 140 characters to communicate," she said. "There are the early adopters, but it's going to take a while for six-second videos to establish their foothold as credible marketing tools."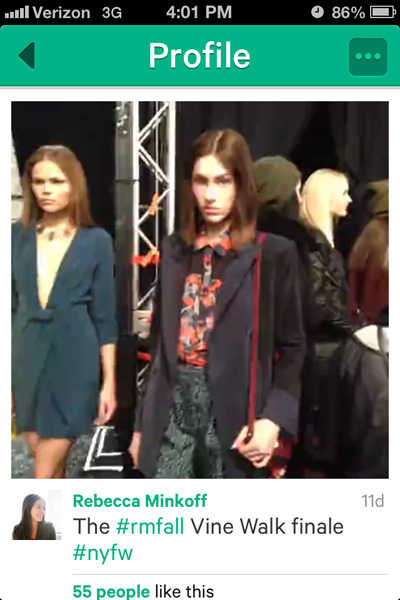 Rebecca Minkoff Vine 
Mocial
Mobile and social are the perfect partners.
Social apps are among the most downloaded tools to mobile devices.
As mobile adoption continues to spread throughout the world's emerging economies, it will drive social's growth even further because you can share any experience you have with anyone at anytime from anywhere.
Regardless of how niche-oriented a platform may be, marketers will try to leverage it somehow.
Now is the time for marketers to figure out which social media and mobile apps work for them, and how they can implement them into their day-to-day efforts to entice consumers.
"In the end though, we have to ask ourselves how much more connectedness and social interactivity do we need?" Ms. Horwell said. "Mobile and social make a beautiful couple but only to the point until they become a hindrance in our lives, which brings us back to the first question.
"I think this year will be about perfecting the mobile-social paradigm, rather than trying to create new ones," she said. "We're already seeing investment move away from social startups and to enterprise and, of course, mobile.
"So long as mobile and social remain useful and add value to our lives, they'll keep growing, with social playing a supporting role to mobile, which, as it continues to help us perform more and more of our daily tasks, will be firmly entrenched as the protagonist for the foreseeable future."
Moving forward 
The decreasing consumer attention span is part of a much larger problem within the online ecosystem, per Dave Levy, executive vice president and cofounder of SocialVibe, Los Angeles.
This is exacerbated by the mobile experience, which is centered on moments of consumption.
"The type of attention that brands and marketers get from consumers and what they do with that attention is even more important," Mr. Levy said. "Everything comes down to those few fleeting moments where what you choose to do can make or break your success.
"Marketers and advertisers want consumers leaning forward, actively engaged and wanting more. How is this done? It's certainly not [done] with banner ads," he said. "We want our advertisers' creative to get the consumer to touch, tap, swipe or draw within the first few seconds."
According to Mr. Levy, marketers and advertisers need to get the consumer to physically connect with their message immediately otherwise they will lose them.
"The biggest opportunity and potential concern is how major premium publishers begin to distribute and monetize their content in a mobile and tablet environment," Mr. Levy said.
"While premium publishers like Newsweek and Time quickly flocked into the app ecosystem, monetization is still a major issue for folks with high production costs," he said. "All you have to do is look at [News Corp.'s failed iPad app-only news publication] The Daily experiment as evidence.
"However, I'm hopeful that new ad models like engagement advertising and native advertising will help bridge the gap."
Final Take
Rimma Kats is associate editor on Mobile Marketer, New York