Brands continue to up their digital advertising budgets, according to the Interactive Advertising Bureau.
Internet ad revenues reached $11.6 billion in the first quarter of 2014, compared to $9.6 billion from the year-ago period. While the sharp rise is not all that surprising, the increasingly effective nature of digital ads indicates that revenues will keep climbing at double digit intervals.
"Digital advertising is so much more targeted," said Milton Pedraza, CEO of The Luxury Institute, New York. "You can now target people so much more finely than you could a few years ago.
"Relatively speaking, the cost is very competitive," he said. "There's a tremendous amount of online media that you can tap into.
"It's just a revolution, a transformation, in advertising."
Mr. Pedraza is not affiliated with the IAB, but agreed to comment as an industry expert.
The Interactive Advertising Burea was unable to comment. The IAB is comprised of more than 600 media and technology companies that account for selling 86 percent of online advertising in the United States.
Spending spree
Consumers are increasingly dependent on their smartphones, which gives marketers countless opportunities to reach them throughout their daily routines.
Also, since brands continually engage with consumers through social media and other platforms, they can expect a high level of campaign recognition when targeting ads.
Many luxury brands are finding interesting ways to increase click-throughs and post-ad engagement.
For instance, Jaguar of North America leveraged its ongoing British Villains campaign with mobile advertisements on The New York Times, The Wall Street Journal and other publications.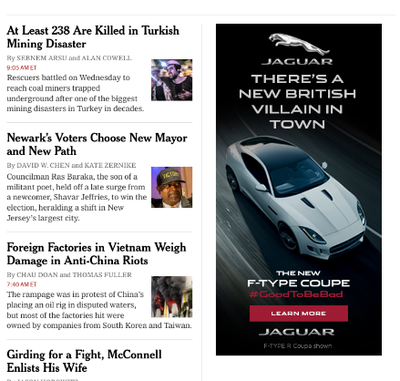 Jaguar ad
While the ad had a takeover feature displaying a helicopter chase on desktop Web sites, the mobile version was more mundane. The brand has been amassing content for the British Villains campaign for several months and interested readers were able to access the archive with a click-through (see story).
A chief focus for brands crafting digital ads is how to maximize click-throughs. For mobile users, ecommerce and content heavy landing pages can deter engagement.
One promising development is the incorporation of mobile wallet incentives. By providing a scannable mobile wallet option, brands do not have to worry about consumers disenchanted with the landing page and can increase the chance that those on-the-go return to the brand for engagement.
Mobile seems to be heading in the direction of facilitating in-store activity rather than directly generating sales.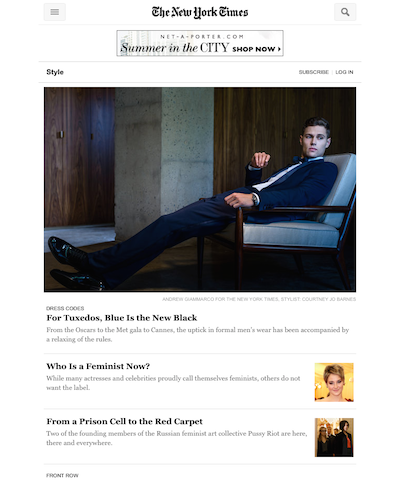 Net-A-Porter ad
Brands and retailers should use mobile to guide the consumer journey instead of viewing revenue as the central metric, according to a top analyst from Forrester Research at the Mcommerce Summit: State of Mobile Commerce 2014.
Companies win and lose consumer loyalty during "mobile moments," those brief occasions when powerful impressions can be made. Understanding the step-by-step journey of a consumer as she engages with a company helps to uncover where, when and why these mobile moments emerge (see story).
Finding the right balance
As content continues to proliferate online, consumers are increasingly hard-pressed to distinguish between credible sources and those masquerading as credible, according to a panel at ad:tech San Francisco.
The "Trusted versus Branded in a Content Saturated World" session discussed the importance of locating credible sources and avoiding an overtly self-promotional style. While user reviews are often touted as a beacon for consumers, the panel concluded that independent expert content still holds the most sway (see story).
Indeed, as brands develop larger social media communities, bringing in expert content and deploying expertly crafted ads will be key to maintaining interest.
On the other side of the marketing sphere, print will likely continue to decline.
"Print, while still effective, is over-indexed, especially with luxury brands that are spending a lot more than they should," Mr. Pedraza said.
Final Take
Joe McCarthy, editorial assistant on Luxury Daily, New York