To push its new D3 product range, Viking Range Corp. has opted for a print brochure to complement a multichannel campaign.
The D3 brochure spans the full product line including freestanding ranges, built-in cooking products, refrigerators and freezers, ventilation and dishwashers. The brochure will be distributed through suppliers, stores and distributors, as well as requests over the phone and online.
"Viking created the ultra-premium appliance category and offers the broadest product line with the most design options available," said Cary New, media relations manager at Viking Range Corp., Atlanta. "This print brochure is just one piece of many marketing tools that have been created to launch a new product line, Viking D3.
"The Viking D3 brochure describes the customization options that are available, and also showcases some of the design options in a series of inspirational photographs," she said. "Both online and print channels are still very important for Viking marketing and the launch of Viking D3.
"We know that our customers reference brochures as one of their top resources when making a purchase decision, so we are always sure to incorporate print materials into our approach."
Heating up
Each product segment has its own section in the brochure.
The introductory pages have a short blurb on one page with a full-page, colored image on the other. In addition, each line is pictured with food that could be cooked in that product.
The first section is for the freestanding ranges. There are three of them: the gas self-clean range, the dual fuel range and the electric range.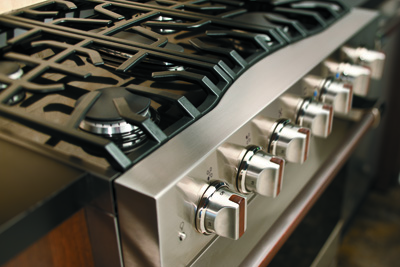 D3 free-standing range
The three are lined up next to one another on the page with the tagline, "Easy on the eyes. Easier on the cook."
The next segment is built-in cooking. These products include electric cooktops, gas cooktops, electric single and double ovens, microwaves and electric warming drawers.
Microwave page of the brochure
Built-in cooking products can be used for fitting into already-existing counter space or cabinetry, according to Viking.
The ventilation products consist of chimney wall hoods and rear downdrafts. The "silent and efficient" operation of these products helps to keep odors and temperatures under control, per Viking.
The next product is the freestanding, French-door bottom-mount refrigerator/freezer, and following are the D3 dishwashers that boast their silence and easy loadability.
The last segment of the brochure emphasizes customization including wood inserts and finishes for a tailored look.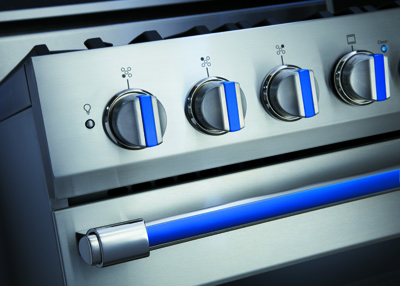 Customization features
"Viking D3 is the first and only line of major appliances offering knobs and handles which can be customized with colors and wood finishes to match any décor and the print brochure captures the beauty and uniqueness of those options," Ms. New said. "The options are endless, with wood inserts and clear acrylic inserts that can be stained or painted for an infinite number of design possibilities to meet any homeowner's wishes."
Range of options
The print brochure is just one of the ways that Viking is pushing its new D3 line.
In the next few weeks, consumers will be able to customize D3 products with color finishings and wood trim options on the Viking Web site.
In addition, Viking is using Pinterest, Facebook and Twitter to educate consumers on the new Viking 3D line.
Posts featuring products will be released one or two times per week on Facebook and a hashtag campaign #VikingD3 will be consistently updated, per Mr. New.
In addition, consumers can pin the D3 line with the "Pin It" feature on each product page.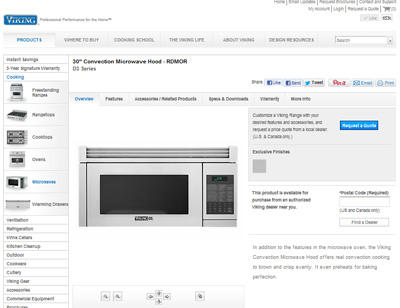 Viking page with social media functionality
A consistent and multichannel campaign will likely help Viking spread the reach of its product line to consumers who live on many media.
"We always plan new product launches with a surround-sound approach to collateral, including print materials, online support, in-store, direct-to-consumer communications and multichannel  advertising," Ms. New said.
"The Viking D3 brochure will be distributed through our normal channels as well as through consumer requests to Viking via phone or digital requests," she said. "In addition to the print piece, the Viking D3 full product line brochure is also available via download on the Web site, allowing everyone to explore the complete D3 product line in the format that works best for them."
Final Take
Rachel Lamb, associate reporter on Luxury Daily, New York