Condè Nast's Architectural Digest's April issue is up 47 percent in advertising pages as compared to last year, and jumped 23 percent in ad pages in the first quarter of this year compared to the same time in 2011.
The April issue has 86.7 ad pages and boasts marketers including Ralph Lauren Home, Chanel, Jenn-Air, Ritz-Carlton, David Yurman, Brunschwig & Fils, Bulgari and Lexus. April's theme is "Designer's Own Homes," a marketplace unique to Architectural Digest.
"The Architectural Digest advertiser is focused on quality, not quantity," said Giulio Capua, vice president and publisher of Architectural Digest, New York. "They are savvy enough to know that print delivers a captive audience and targeted demographics in a way that allows for effective branding and calculable results.
Architectural Digest has a ratebase circulation of 800,000. Its readership's median household income is $97,123.
Quality and quantity
Architectural Digest strives to sell a lifestyle, so many of its advertisers are for not just furniture and design but also bags, jewelry and apparel.
The inside front-cover ad of the latest issue is a four-page spread by Ralph Lauren Home. It features a neutral-colored bedroom and outdoor patio area set against a desert background.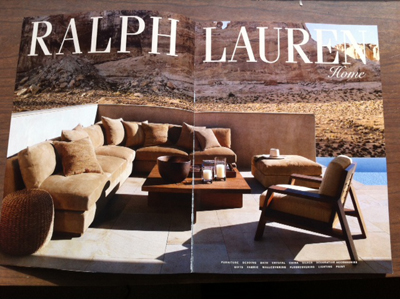 Ralph Lauren Home
Another ad is for Chanel fine jewelry. The label is marketing its 1932 collection, which is celebrating its 80th anniversary this month.
Bulgari continues the push of its products with an advertisement starring a lion and brand ambassador Kirsten Dunst wearing jewelry and a bag.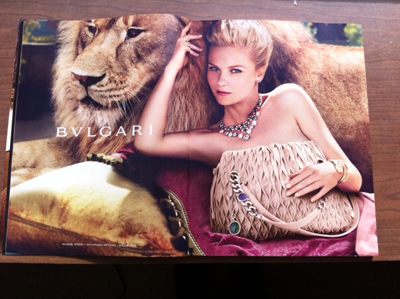 Bulgari ad
The Lexus GS 2013 also makes an appearance as part of the Toyota Corp.-owned automaker's vigorous marketing strategy.
"Magazines are still sacred, they are not going anywhere," said Paul Farkas, CEO/founder of Social.TV, New York. "They offer distinctive leading industry point of views that keep challenging their peers and readership-at-large.
"Each issue requires the editorial bar to be raised and luxury brands understand that it's about the status of being aligned with message, not the medium, that will form an aspirational audience," he said.
Cracking the code
Even though print is not likely to go anywhere anytime soon, some marketers are stepping up their print ads to make them more interactive.
For example, long-time Architectural Digest partner Jenn-Air included a removable card of its double wall oven that readers could use as an augmented reality device to hold up in their kitchens to judge how brand products would look.
The Jenn-Air campaign had a QR code on the back, which showed a video of the double wall oven.
The ad included a call-to-action to download the Jenn-Air mobile application, which has augmented reality components (see story).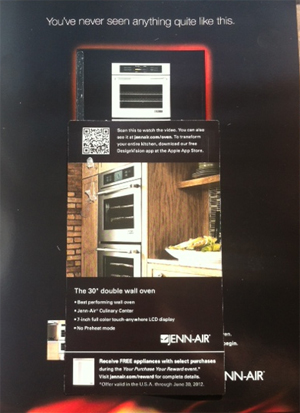 Jenn-Air ad
Other marketers including Belgard, Karastan and Liebherr are using QR codes and other mobile calls-to-action in their ads.
"Several of our advertisers have had success with QR codes in their advertising, especially in the luxury home goods category," Architectural Digest's Mr. Capua said.
"Because these items are highly-considered purchases, consumers will spend more time than average on the research process," he said. "QR codes deliver the information that consumers are seeking directly to them, at a time when they are most likely to buy."
Final Take
Rachel Lamb, associate reporter on Luxury Daily, New York