Audi of America is leveraging its second-time sponsorship of the 64th Primetime Emmy Awards through a collaboration with U.S. label Derek Lam that will put the brand front and center during live behind-the-scenes online footage.
The automaker is collaborating with Derek Lam to design the space that will host presenters and award recipients during the show. In addition, Audi is pushing its S and RS models through commercials that air during the Emmy Awards telecast Sept. 23 at 7 p.m. Eastern Time.
"This year marks the second year of Audi's sponsorship of the Emmy Awards and it was important for the brand to expand its partnership through exciting new platforms," said Andrew Lipman, general manager of communications for Audi of America, Herndon, VA.
"Audi's focus on performance and style makes the brand a perfect fit for television's most important night, and this year you will see several new elements that truly bring these features to life," he said.
"It is important for Audi to reach the audience of the EmmyAwards because this awards show not only celebrates performance, but is one of the pinnacle events in the entertainment industry, a space which the Audi brand has been expanding its presence within during the past few years through partnerships like these."
Show must go on
Audi of America is entering its second consecutive year as the official automotive partner of the Academy of Television Arts & Sciences.

In addition to its commercials, the S and RS models will be on display at events leading up to the awards show.
Also, some television actors will be transported in Audi A8L vehicles to the awards show and related events.
New this year, Audi is the official sponsor of the Green Room at the Emmy Awards.
The room was revealed yesterday during the Emmy Awards Red Carpet rollout. It incorporates characteristics of both brands into its design, per Audi.
Green Room
Audi will get additional exposure through "Backstage Live" presented by Audi, a second-screen broadcast on Emmys.com and ABC.com.
The Audi Green Room will be shown as the backdrop when fans tune in to watch live behind-the-scenes footage. Also, the digital space will offer content related to the nominees, social media activities and Red Carpet fashion features.
Meanwhile, Audi is supporting Television Academy events leading up to the 2012 Emmy Awards such as the Governors Ball preview Aug. 22, the13th Annual Primetime Emmy Celebrity Tee-off Sept. 10, the Primetime Creative Arts Emmy Awards Sept. 15, the Red Carpet rollout event Sept. 19 and the Performers Nominee Reception Sept. 21.
Audi also hosted its annual Pre-Emmy Awards party Sept. 16.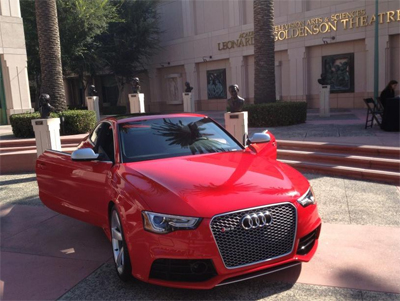 Audi RS 5 at Academy of Television Arts & Sciences Foundation
"I believe this sponsorship provides many opportunities for customer interaction," said Karen Kreamer, president of K2 Brand Consulting, Overland Park, KS. "The sponsorship includes traditional advertising, social media, product placement, design collaboration and hospitality.
"It is a very layered and coordinated execution designed to showcase the Audi brand in a very exciting and theatrical way," she said. "Most sponsorship strategies are based on building the business and building the brand.
"Audi's sponsorship of the Emmy Awards provides Audi an opportunity to reach a clearly-defined customer segment in a very targeted way."
Primetime sponsor
Luxury brands might choose awards-show sponsorships to align with celebrities and popular entertainment.

For instance, French jeweler Chopard used its partnership with the 65th Cannes International Film Festival to push new products, celebrate its legacy and connect with consumers through cultural icons.
Chopard's tribute to Marilyn Monroe, which included unpublished photographs and a jewelry collection, debuted at the festival. The jeweler pushed its efforts through social media, a dedicated Web site and various set-ups at the festival (see story).
Meanwhile, a more prevalent way that luxury marketers align with celebrities is through brand spokespeople.
For example, Jaguar is using musician Lana Del Ray as the spokesperson for its new F-Type model.
The allure of Jaguar is in large part due to its duality, a unique blend of authenticity and modernity, two values that Jaguar believes are shared with Ms. Del Ray and her professional achievements, per the automaker (see story).
"Clearly, Audi had metrics in place from the previous year and determined that the Emmy sponsorship met key benchmarks for success," Ms. Kreamer said. "Broadening the sponsorship allows Audi to create a brand experience that will make an impression on the market.
"The sponsorship should allow consumers to connect the dots between the Emmy event and the Audi brand in a way that is exciting, relevant and meaningful," she said.
Final Take
Tricia Carr, editorial assistant on Luxury Daily, New York