Department store chain Bloomingdale's asked consumers to help style blogger Danielle Bernstein for Fashion Week live on Instagram to encourage comments and participation with the retailer on the photo-sharing social media platform.
During the event on Feb. 5, fans could vote on items of clothing as Bloomingdale's posted photos, contributing to We Wore What blogger Ms. Bernstein's final look. Through this event, Bloomingdale's was able to encourage participation and comments from its followers on social media, and generate traffic due to the blogger's following.
"With New York Fashion Week taking place just blocks from our 59th Street flagship, we wanted to bring the excitement of one of fashion's biggest events to all of our fans and followers in an innovative, exciting, and interactive way," said Anne Keating,senior vice president of public relations, special events, and corporate philanthropy at Bloomingdale's. "The live styling activation invited both access and, more importantly, participation from our fans along with Danielle's.
"Our followers are passionate about our brand, and highly engaged with all of our social media channels," she said. "They were equally excited about the opportunity to dress Danielle for an event where fashion takes center stage in pieces from the world's best closet, Bloomingdale's."
Interactive content
Bloomingdale's announced its event on both Instagram and Facebook to generate traffic to the event from followers of both accounts.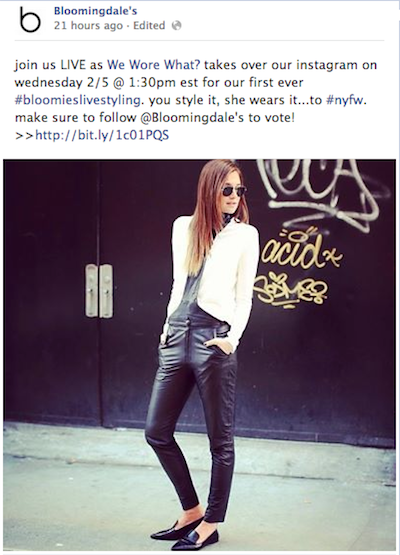 Facebook post from Bloomingdale's
Ms. Bernstein, who blogs as We Wore What, has approximately 375,000 followers on Instagram to Bloomingdale's 96,000. She posted a photo of herself at Bloomingdale's right before the event on her Instagram, directing her fans to Bloomingdale's account.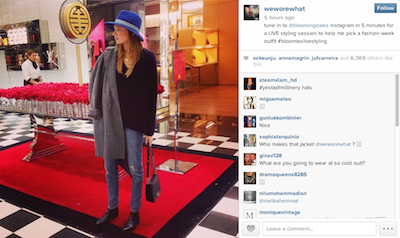 Instagram post from WeWoreWhat 
Right before the event, Bloomingdale's posted that it would start in a few minutes. Fans responded by posting about how excited they were.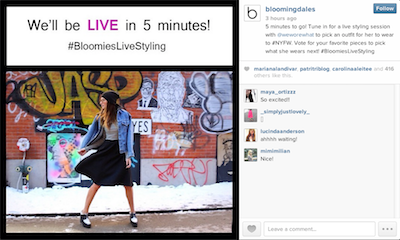 Instagram post from Bloomingdale's
The event began with a photo of Ms. Bernstein in a dressing room wearing a robe, telling fans she was a blank slate.
Then Bloomingdale's asked fans to choose a pair of pants for the blogger. Once they voted, the two most popular pairs went head to head with a video of Ms. Bernstein trying on each.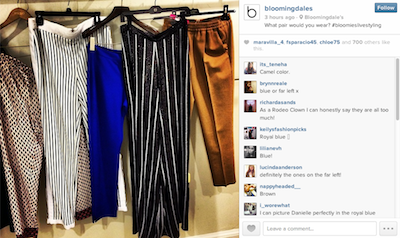 Instagram post from Bloomingdale's
The stripes being the winner, Bloomingdale's moved on to tops, and then a coat, giving consumers a choice of two.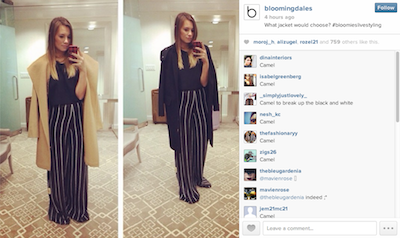 Video still
The retailer then posted an image while it was preparing  the final look.
The event ended with a video of Ms. Bernstein thanking participants for helping her choose an outfit for fashion week. With the video, Bloomingdale's told fans to tune in to see her wear the outfit live at Fashion Week.
Bloomingdale's used the branded hashtag #BloomiesLiveStyling throughout its posts for continuity.
Popular platform
Bloomingdale's has previously used Instagram to engage with its consumers.
For instance, the department store chain let fans determine the best selfie shot from its #BloomieSelfie Instagram contest to increase participation and spread awareness of the campaign.
The #BloomieSelfie contest asked fans to submit a selfie that details a favorite beauty or styling tip that enhances their snapshot. By aggregating a diverse range of interpretations, the retailer not only boosts the reputation of its social media pages, but also gets a clean insight into what consumers want (see story).
Instagram is growing, and fashion brands are finding ways to increase engagement on the platform.
For example, Italy's Salvatore Ferragamo teamed up with fashion bloggers on a photo series featuring the label's apparel and accessories.
The week-long Ferragamo Essentials series will be posted across Ferragamo's Twitter and Instagram accounts, as well as on the photographers' blogs. Partnering with these bloggers gives Ferragamo new audiences, helping the brand spread awareness (see story).
This campaign presents Bloomingdale's as a retailer that listens to its consumers, and will help the brand tailor its communications on the social platform in the future.
"Instagram is the perfect platform for real-time visual communication through photos and video, quicker than Facebook and more visual than Twitter," said Brian Honigman, New York-based content marketing consultant and social media marketer.
"The campaign received a decent amount of engagement in terms of comments on each Instagram photo helping Bloomingdale's choose which outfit pieces to go with," he said. "It wasn't a smashing success, but an excellent experiment to see what type of activities work to drive likes, views, follows and comments on Instagram for the brand.
"It was smart of Bloomingdale's to include a Instagram fashion influencer like @weworewhat to help drive more visibility to the campaign. Maybe, they needed to include more Instagram influencers to drive more engagement.
"The value this campaign brings to consumers after it is over is that it shows that Bloomingdale's is trying to actively include its audience in conversation, events and more, which will hopefully drive more long-term engagement from their fans in the future."
Final Take
Sarah Jones, editorial assistant on Luxury Daily, New York