Leather goods manufacturer Brahmin chose real New York residents for its Holiday 2011 Style Guide, aiming to effectively capture the essence of the brand in every day life.
The Brahmin catalog uses six women and one man who are novelists, fashion bloggers, attorneys and charity activists to demonstrate the branded lifestyle. This is the first time that Brahmin used real people and not a single model for its catalog.
"We're almost 30 years old, but in the last several years we've embarked on a research campaign to take us to the next level because so many people are discovering us," said Jim Bunn, chief marketing officer at Brahmin, Fairhaven, MA.
"Our customers are all over the United States and they have different fashion appetites for bags," he said. "They are different ethnicities and ages and it was fun to do the muses because we wanted to reflect and talk to our consumers and growing customer base in a more direct way so that there was something in there for everybody."
Cross over
The Brahmin holiday catalog is in a rectangular shape with glossy images and thick paper stock for the covers.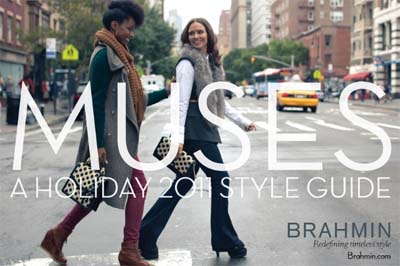 Brahmin holiday 2011 catalog
The first two pages introduce the muses and the strategy behind the catalog.
The images are shot on the streets of New York. To fully showcase the versatility of the line, the same bags are repeated throughout the catalog, but with different women in varying outfits and lifestyles.
"We really wanted to show the whole breakfast-to-boardroom idea," Mr. Bunn said.
Each two-page spread shows individual, close-up shots of the bag, while the opposite page shows them being used by the muses.

Brahmin holiday catalog
Brahmin's holiday collection varies from lacquered to anaconda to leather and comes in a variety of shapes and sizes.
The collection hinges on traditional leather but also takes risks on ostrich and anaconda skin and the close-up images of the bags allow consumers to see unique details of the products such as texture and stitching.
"I think that direct mail brings a certain tactile element to marketing that other channels do not," said Bob Traino, consultant of membership marketing and social media outreach at the Direct Marketing Association, Washington.
"Often when you're selling luxury products, the tactile element that direct mail can deliver is what's needed to engage people more," he said. "Mail can enhance the luxury experience depending on the quality of the paper stock or printing, which is the real segmented nature of direct mail."
A musing technique
Brahmin's idea of using New York women is actually a popular method.
For example, department store chain Barneys New York used up-and-coming design students, models, actors and musicians to promote new inventory for its Co-Op line and emphasize the collection's urban, edgy spirit (see story).
Brahmin does plan to use New York muses in its future catalogs, but in varying ways, per Brahmin's Mr. Bunn.
"[Making a catalog] with real people and not actresses brings a very accessible feel to it," the DMA's Mr. Traino said. "I love the notion of shooting it on actual New York streets that brings a New York flavor which makes it more authentic.
"Authenticity is a real part of a luxury brand," he said.
However, the pièce de résistance in the Brahmin catalog is the Web call-to-action found on the back of the catalog, which gives consumers free shipping at checkout.
Many luxury brands are offering free shipping during the holiday season to increase transactions on multiple channels.
Brahmin could have chosen this strategy because it has started to place a certain emphasis on direct mail.

Brahmin holiday catalog
"We have a burgeoning mailing list, and what's interesting is that some brands are cutting back on direct mail but we're heavily investing in catalog," Brahmin's Mr. Bunn said. "We believe that it takes a bag and truly shows how it is born and how it is in a setting.
"We've had such a great response from our catalogs – when it hits, our service center goes through the roof," he said. "We do have the catalog on other channels such as online and mobile, but that's to target a different type of consumer."
Final Take
Rachel Lamb, associate reporter on Luxury Daily, New York