Italian jeweler Bulgari is strengthening its multichannel B.zero1 campaign with a banner advertisement on Condé Nast-owned Vanity Fair's mobile-optimized Web site.
A click-through on Bulgari's ad leads to its mobile-optimized site where consumers can learn more about the B.zero1 products and find the nearest retail location. The jeweler will likely capture its target consumers' attention with the ad on Vanity Fair since the publication has a high number of affluent readers.
"Vanity Fair targets high-end customers, making it a very attractive inventory for brands such as Bulgari," said Doug Stovall, executive vice president of sales and services at Hipcricket, Seattle.
"However, Condé Nast has other properties that attract high-end customers such as Golf Digest that should not be ignored," he said.
"It is important to reach the right customers with the right ad that resonates with their preferences, and picking the right publishers is key to success."
Mr. Stovall is not affiliated with Bulgari, but agreed to comment as an industry expert.
Bulgari was unable to comment directly. The jeweler is owned by LVMH Louis Vuitton Moët Hennessy.
Extending the reach
This mobile ad comes as an extension of Bulgari's multichannel efforts for its B.zero1 products.
The B.zero1 collection starts at $2,000.
The jeweler hosted an event April 10 at the Bulgari Hotel in Milan to celebrate the collection and launch the campaign.
Bulgari has been posting images and videos across Facebook, Twitter, Google+ and Instagram to show off the B.zero1 pieces to keep its followers engaged with the campaign (see story).
The new mobile ad shows the B.zero1 gold ring along with the jeweler's name and the B.zero1 logo.
A click-through on the ad leads to Bulgari's mobile site, where the landing page shows off the B.zero1 products. Consumers are able to discover the collection or view Bulgari's Facebook page.
Consumers can also see Bulgari's other featured products by swiping left or right.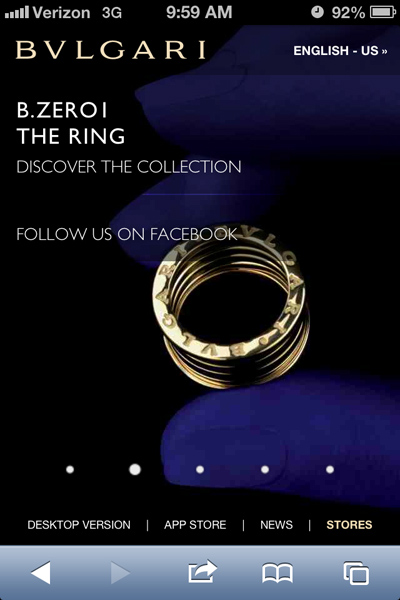 Bulgari mobile site
By clicking on "Discover the Collection," consumers can view the four styles of the B.zero1 jewelry. The choices are gold, diamonds, ceramic and marble.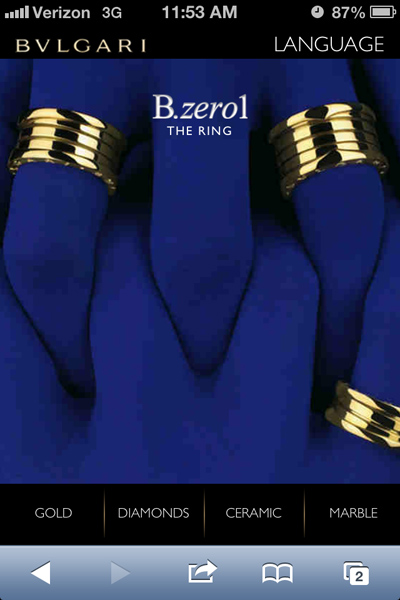 B.zero1 collection on mobile site
Once consumers have selected a certain material, the mobile site allows them to swipe to view the different styles in that material and locate the nearest Bulgari retail location.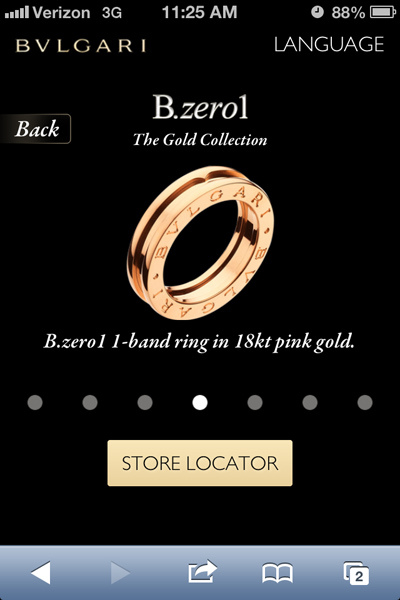 Gold B.zero1 product
Bulgari is likely aiming to keep its B.zero1 campaign top of mind with consumers by adding this mobile component.
"A recent study by [marketing research company] Warc found that mobile advertising adds real value to cross-media campaigns with the main strength being in reminding people of the advertising they have already seen in other media and making them think about the brand again," Mr. Stovall said.
Calling on consumers
Although the mobile ad and Web site show off the B.zero1 collection, the banner ad could have driven more consumers to click if it had additional content.
Since marketers have a limited amount of space to reach consumers through mobile ads, the message should be clear and simple with constant updates. They should only keep crucial information to not overwhelm or confuse consumers.
A call to action may not be absolutely necessary, but marketers should make their mobile ads appealing enough so that consumers want to find out more, experts say (see story).
"Ad creative and messaging can have a major impact on the effectiveness of a mobile advertising campaign, which is why it is important that ads are constantly tested and refreshed," Mr. Stovall said.
Overall, luxury marketers should provide a strong call to action to persuade viewers or offer them incentives, create a sense of urgency and context and keep the message simple when creating mobile ads, he said.
"Bulgari kept this creative simple, but with science and testing, they should be able to determine if this creative is the right one for this campaign or not."
Final take
Erin Shea, editorial assistant on Luxury Daily, New York