British fashion label Burberry is reaching commuters and tourists at New York's iconic Grand Central Terminal by placing out-of-home advertisements inside the train station that show a look from its spring/summer 2012 menswear collection.
The brand has placed an image of actor Eddie Redmayne in a navy suit holding a rain jacket and umbrella on large digital screens that are approximately 10 feet above the floor of the station's main concourse. The ad panes flash between a few different marketers, with Burberry being the only luxury brand currently featured, and appear between train track entrances.
"People from all walks of life travel through Grand Central Terminal every day and in that mix of people are target customers for luxury products," said Brad Porter, CEO of B.E. Porter, Beverly Hills, CA.
"Grand Central Terminal is a high-traffic venue for probably upwards of 750,000 daily regulars who travel to work as well as an attraction for tourists that come to New York from around the world," he said.
"Plus, we are all luxury consumers to some varying degree as we are drawn to particular products that become must-haves for us."
Mr. Porter is not affiliated with Burberry, but agreed to comment as an industry expert.
Burberry declined comment for this article.
In transit
Burberry is showing digital images from its spring/summer 2012 campaign in Grand Central Terminal.
The images show the brand name on the left and brand ambassador and actor Mr. Redmayne offset to the right.
Mr. Redmayne is featured in the latest installation of the Burberry campaign released in March that focuses on men's tailoring.
In this image, the actor wears a dark blue Burberry suit and clutching a briefcase, umbrella and signature Burberry trench coat (see story).
Menswear campaign image 
Grand Central Terminal is a high-traffic venue has the potential to reach all types of consumers on a daily basis.
The brand could be using this placement to appear as an essentially New York brand despite its British roots.
Grand Central Terminal is also a popular tourist destination and could reach many aspirational consumers.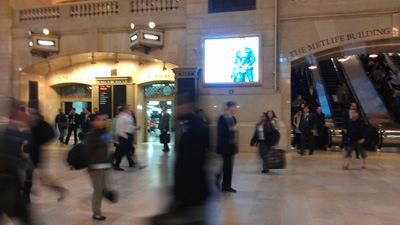 Burberry ad in Grand Central Terminal 
Out-of-home ads should be added to a multichannel campaign to reach consumers away from home where they spend 70 percent of their waking hours, per Nicole Hayes, communications director of the Outdoor Advertising Association of America, Washington.
"Grand Central is a busy commuter corridor and high-impact, creative out-of-home ads can hold the attention of upscale shoppers on the path to purchase," Ms. Hayes said.
"The strategy was probably to target the appropriate demographic away from the home and work and expose the brand to a wider and possibly new audience," she said.
Home run
Burberry is putting a lot of focus on out-of-home advertising efforts.
For example, the label began its large-scale event series in Taiwan last month that ignites its global campaign focused on fashion, weather and the combination of physical and digital channels that could redefine the brand experience going forward.
Burberry chief creative officer Christopher Bailey designed a cylindrical event space that brought the Burberry brand to life.
Film, musical performance and weather was the focus of the out-of-home experience (see story).
Burberry could be strengthening its multichannel campaigns with a channel not used often by affluent labels.
"Outdoor advertising is more efficient compared to other traditional media," B.E. Porter's Mr. Porter said. "In fact, many sustain their outdoor ad spend during an economy in recession due to its high return-on-investment.
"We are spending more time than ever outside of the home, waiting, working, shopping, commuting – all activities in environments that are changing and becoming increasingly engaging and pervasive," he said. "Burberry has been a leader in using innovative technologies in reaching their target audiences recently and has set the bar high."
Final Take
Tricia Carr, editorial assistant on Luxury Daily, New York