Receive the latest articles for free. Click here to get the Luxury Daily newsletters.
Cartier's high-jewelry video inspires by exploring brand journey
By
---
October 17, 2013


French jeweler Cartier is exploring its high-jewelry collection through an immersive social video that takes enthusiasts on an animated adventure meant to symbolize the brand's creative journey.
While viewing the video for "Odyssée de Cartier – Parcours d'un Style," consumers traverse different elements of Cartier's history and encounter many of its inspirations. Brands such as Cartier with a rich history can use their identity to inspire and engage consumers.
"Cartier's heritage is deeply rooted in the great treasures and artifacts of the past," said Amanda Rue, strategist at Carrot Creative, New York.
"The video tells seven distinct stories representing the inspirations of this new high-jewelry collection, while reinforcing the brand's history of timeless creations," she said. "There is something that feels familiar but also unnervingly groundbreaking.
"Cartier's dedication to an unusual sense of style and grandeur comes to life through this whimsical video."
Ms. Rue is not affiliated with Cartier, but agreed to comment as an industry expert.
Cartier was unable to comment before press deadline.
Journey of style
Cartier is promoting its Odyssée de Cartier – Parcours d'un Style collection through an email campaign that brings consumers directly to the two-minute video. The email includes a photograph of the opening scene of Cartier's video.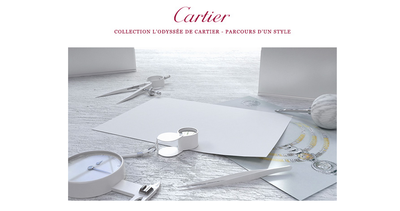 Cartier's Odyssée de Cartier – Parcours d'un Style email
Part of the jeweler's high-jewelry collection Odyssée de Cartier, the Parcours d'un Style comprises seven sub-collections. Each piece is a reinterpreted vision of signature Cartier jewelry and the inspiration behind it.
Parcours d'un Style includes well-known Cartier motifs such as the orchid, Tutti Frutti and the panther along with pieces inspired by the Orient and India. New inspirations include Africa and city architecture.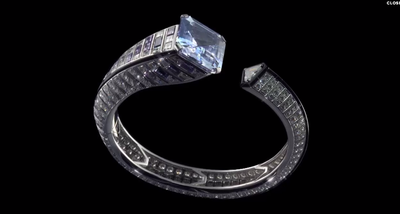 Cartier bracelet from the Precious Lines and Architecture collection
The video on Cartier's Web site begins with a shot of an artist's work table. All objects in the frame are a dull white or a shade of grey, except for the yellow used in the sketch of a necklace.
In the center of the work table, a sheet of paper suddenly spirals downward to reveal a tunnel. When through the tunnel, a small forest of white trees with gold leaves appears against a black sky.
The video pauses on a tree for a moment before the leaves and branches morph into an African mask. Once fully morphed into the mask, it separates to reveal a necklace, seen in the artist's sketch.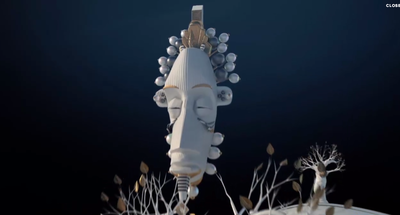 Cartier's African inspiration, video still
Next, the video zooms in on the necklace's pendant stone. The shot transitions to a reflective pool in the shape of an 8-point star within a garden.
The following shot takes the consumer over the reflective pool's garden to reveal India's Taj Mahal framed by two trees with colored gems in red, green and blue as leaves. The door opens and the consumers view a serpent bracelet from the Indian Influences and Tutti Frutti collection.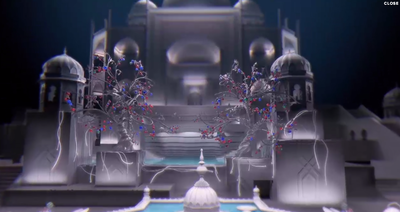 Cartier's Indian inspiration, video still
Cartier's Parcours d'un Style video then shows the effects of a diamond kaleidoscope to display a Cartier and the Orient bracelet. The video continues to show different inspirational worlds through the slow build-up of an animated cityscape meant to represent the geometric lines of Cartier's architecture-inspired pieces.
A Chinese dragon, born from a geometric bracelet in the previous scene, flies above the animated clouds until its eye gives way to a bracelet from the China: Strength and Finesse collection. The bracelet becomes an Earth that is the used as the dot of the "i" in Cartier's logo.

L'Odyssée de Cartier – Parcours d'un style video
Consumers that want to learn more about the featured pieces in the Parcours d'un Style video can scroll down to view the collections in their entirety. Each individual piece is accompanied by a brief description and small blurb regarding the inspiration.
Traversing the Cartier world
Cartier continues to engage consumers in creative ways that showcase brand heritage.
For example, Cartier expanded the reach of its publication, Art magazine, to a wider audience through a new iPad application that allows readers to experience the issue with interactive features.
Cartier's free iPad app features the jeweler's 34th edition of Art magazine, a publication that explores different ways to perceive art and the art of living. Branded magazines allow brands to reach loyalists with engaging content that reveals new dimensions (see story).
Additionally, the jeweler sought to raise consumer emotions for its newly revamped Paris Nouvelle Vague collection through a series of short films that give a different sensation for each product.
The seven, 60-second films each give an emotion and attitude to a ring in the French jeweler's new collection. Showing products through video can help draw emotional connections from consumers (see story).
Cartier maintains a relevant position by pairing heritage with contemporary sensibilities.
"The video effectively tells the story of the new collection in a way that is true to the Cartier brand," Ms. Rue said.
"It reinforces the longstanding heritage while evolving to a modern aesthetic," she said.
Final Take
Jen King, editorial assistant on Luxury Daily, New York

Like this article? Sign up for a free subscription to Luxury Daily's must-read newsletters. Click here!
Related content:
Cartier captures adventurous Parisian spirit in exuberant narrative
,
Cartier romances consumers with proposal video
,
Tags: Amanda Rue, Carrot Creative, Cartier, Internet, Jewelry, luxury, luxury daily, luxury marketing
You can
leave a response
, or
trackback
from your own site.