Rolex, Chanel, Christian Dior, Chopard, Audemars Piguet, Patek Philippe and other luxury brands are targeting readers of the latest weekend edition of Financial Times through ad placements in the over-sized "How To Spend It" glossy magazine supplement.
The supplement touches on affluent lifestyle topics such as food, fashion, art, design, travel, home and gadgets. Luxury advertisers seem to enhance the high-end lifestyle focus of the magazine by pushing the same types of products and services featured in editorial features that encourage indulgence in fashion and travel.
"The tone of the editorial is inspirational and sophisticated," said Julia Carrick, founder and publisher of FT's FHow To Spend It, London. "As part of FT, How To Spend It also has a reputation for intelligence and independence and we get constant feedback from research that it is a magazine readers put their trust in."
Ad spend
The 70-page How To Spend It supplement accompanied the Oct. 6-7 edition of FT Weekend.
The "Escape Artists" cover story centers on artist residency programs that are attracting affluent travelers. The story by David Kaufman includes imagery and a discussion on the attractiveness of the venues.
Other features include secret culinary spots in Hong Kong, a snow-covered dark fashion spread, Joseph Walsh furniture designs and luxury travel in Okinawa, Japan.
Jewelry advertisers seem to dominate the issue.
Rolex took the first two-page spread that starts on the front inside cover while Patek Philippe placed its ad on the back cover.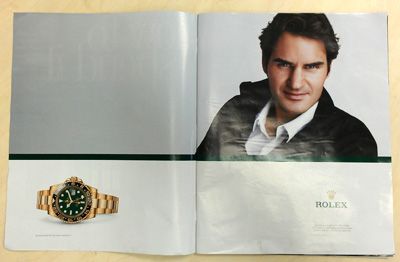 Rolex ad 
The second ad in the book displays Chanel's J12 Automatic ceramic timepiece.
Dior appears in front of book with a two-page spread for its Miss Dior handbag line.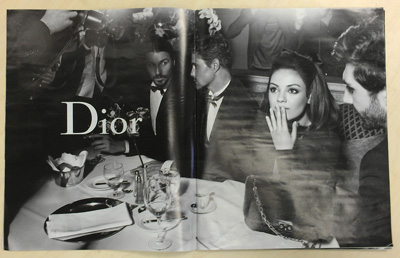 Dior ad
Chopard, Audemars Piguet, Christie's, Ulysse Nardin, Piaget, Graff, Boodles, Cool Diamonds, MB&F and Urwerk are also present in the supplement to push jewelry and timepieces.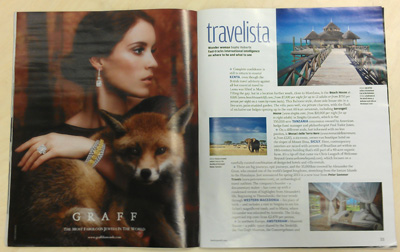 Graff ad 
Additional advertisers include Credit Suisse, Mandarin Oriental Hotel Group, Shangri-La Hotels and Resorts, Yco Yacht and The Macallan.
Supplement income
Luxury marketers often use glossy supplements included with newspapers and consumer magazines to reach affluent consumers.

For example, Louis Vuitton, Cartier, Hermès, Ralph Lauren, Ermenegildo Zegna, Dolce & Gabbana, Burberry and Salvatore Ferragamo are targeting the 60 percent male audience of WSJ. Magazine's October men's style issue.
This issue is the largest men's issue to date – in terms of pages and ad pages – with an 11 percent ad page increase year over year compared to the first men's issue last October. It was delivered Sept. 29 with the Wall Street Journal newspaper (see story).
In addition, Condé Nast's high-society magazine Tatler released its annual Schools Guide boasting advertisers such as Ralph Lauren, Burberry and Giorgio Armani that helped to boost the magazine's sales 14 percent (see story).
Also, Alexander McQueen, Fendi, Rebecca Taylor and Furla took advantage of watermarked print ads that encouraged mobile commerce in Condé Nast's W magazine Trends supplement.
The supplement detailed the upcoming fashion and beauty trends for the fall in six categories: Join the Ranks, Black Magic, Geek Chic, Apres-Ski, Extravagant Evening and Eye-Catching (see story).
Print marketing in supplements can help luxury brands stand out by being present in the "extras" that a publication is giving its readers.
In the case of many supplements similar to How To Spend It, the large format of the publication can help luxury brands display campaign images more effectively.
"When a publication of all things financial offers a lifestyle-oriented supplement, it is sure to get noticed," said Elizabeth DeMaso, managing partner at Brenes Co., New York. "It is a natural fit and FT makes a direct appeal with the title 'How to Spend It.'"
"It is a work hard, play hard audience who appreciates the finer things and is willing to pay for them," she said.
"The visual juxtaposition of FT's matte, business format against the supplement's colorful, glossy format really highlights the audience's own dichotomy."
Final Take
Tricia Carr, editorial assistant on Luxury Daily, New York