Jeweler David Yurman is focusing on intricate details behind two of its signature timepieces as part of a "Look Closer" campaign that spans print and Internet marketing.
The campaign focuses on up-close images of the watches so that consumers can see what goes into making them. The effort showcases The Classic Women's and The Classic Men's timepieces.
"Explaining the processing about manufacturing products adds value to a luxury brand because it provides behind-the-scenes experiences that consumers have not been privy to in typical marketing strategies," said Dalia Strum, president of Dalia Inc., New York. "This provides fresh context for the evolution of their products through storytelling narratives.
"This [strategy] helps brands sell products because it provides valuable content to engage with their direct target market," she said. "This helps to create a transparency between the brand and their clientele, which increases the value of the relationship."
Ms. Strum is not affiliated with David Yurman, but agreed to comment as an industry expert.
David Yurman was not able to comment before press deadline.
The Women's Classic watch is made with 18-karat gold, hand-cut diamonds and a mother-of-pearl dial.
The Men's Classic watch is an automatic movement with a custom deployant.
Close for comfort
The point of the campaign is that a watch can tell more than just time, per David Yurman.
This could be the motivation behind the close-ups that the campaign displays.
The "Look Closer" campaign is best showed on the brand's Web site.
At http://www.davidyurman.com, consumers can see a link to the Classic Women's timepiece and an invitation to "look closer."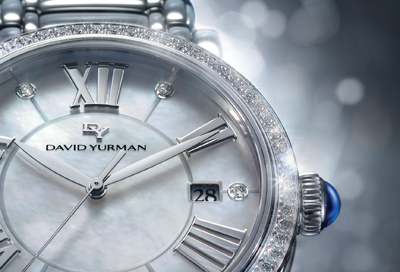 Classic Women's
Clicking on this link leads consumers to a video of the women's timepiece and chance to view each piece of the timepiece including the diamonds, the dial, the bracelet and the reveal of the entire watch.
Choosing one of the section launches a slow-moving video where consumers can see the section in full detail.
Consumers can also click on the men's classic timepiece, where consumers can see the watch's detailed movement, dial and deployant.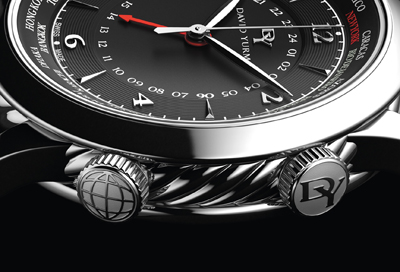 Classic Men's timepiece
This is probably as close as consumers can get to seeing a David Yurman timepiece without actually touching one. Showing the intricacies of the timepieces can prompt consumers to visit a boutique or retailer to get a better view.
David Yurman's Look Closer campaign is also in luxury-focused publications including Vanity Fair and Veranda that include calls-to-action to "look closer" on the brand's Web site.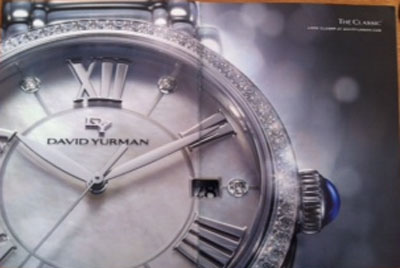 David Yurman ad in Veranda
Eyeing the competition
High-end brands are using video more frequently to showcase fine stitching, hand-craftsmanship and other aspects of pure luxury to showcase the materials that make up their products.
Some experts say that this acts as a bonding experience with consumers and the brand.
"As consumers start to connect with the brand's philosophy, or beliefs behind the brand, they start to build an emotional connection to the brand," Ms. Strum said. "This creates the evolution of brand loyalty, which helps in the generation of future sales for the brand."
Luxury brands typically demonstrate the fine qualities of products when consumers come into a branded store.
Therefore, marketers must do this online in case that consumers are not able or willing to come to a bricks-and-mortar location.
Luxury brands are also using video more frequently to demonstrate the elements of their brand because it uses almost all of the senses and can be accessed through Internet, tablet and mobile devices.
"Video has become the most successful form of expression in the shortest amount of time, especially when it comes to detail and creativity," Ms. Strum said.
"'A picture is worth a thousand words' proves to be more relevant everyday as we spend more time communicating through images, and video can be worth a full-fledged conversation," she said.
Final Take
Rachel Lamb, associate reporter on Luxury Daily, New York