Four Seasons Hotels and Resorts is targeting couples in its fourth-quarter multichannel campaign after the response from an international brand survey indicated that the hotel company's guests are seeking more adults-only travel.
The brand is enticing bookings from affluent couples through adult-oriented packages at many of its properties as well as a social media push on Facebook, Twitter, Instagram and its online magazine. Though couples-only getaways have been around for quite some time, Four Seasons' "Ignite the Spark" campaign seems to rekindle the trend with a 360-degree approach.
"Multiple channels provide our guests and potential guests with additional opportunities to interact with the brand," said Laura Fairweather, manager of corporate public relations at Four Seasons Hotels & Resorts, Toronto.
"This particular campaign, for example, also provides guests with the opportunity to book their next getaway from not only our Web site, but our Countdown to Romance Facebook app as well as from Four Seasons Magazine, which features a quiz so couples can easily decide where to travel to next."
"As we head into the hustle and bustle of the holiday season, we have created promotional offers like Ignite the Spark that allow couples to reconnect on a getaway, and enjoy a promotional credit to put towards dinner or a trip to the spa, and create lasting memories."
Survey says
Four Seasons polled 400 guests for its "Spark" survey and found that nearly half of them want an adults-only environment when traveling with their partner.
Also, 75 percent of guests want to be the "romantic hero." These consumers said that they would want a hotel to help them create a romantic surprise.
More than half of those polled said that a beach was their preferred romantic setting while more than one-third said that dinner in a special setting creates romance.
The survey also found that couples are traveling. Fifty-four percent of respondents said that travel is the best way to "keep the spark alive."
Meanwhile, 44 percent have a trip planned within the next two months and 70 percent are taking a trip within the next six months.
Four Seasons Beverly Hills 
Per the results of this study, Four Seasons updated its property policies and added Ignite the Spark packages at select hotels through Dec. 15.
Some Four Seasons hotels now feature adults-only floors, pool times and spa times as well as a staff member called the Experience Manager to assist couples during their stay.
Ignite the Spark packages include services such as complimentary cocktail service, a hotel dinner credit, a spa day for two and "Spark the Conversation" cards to help couples rediscover each other.
Four Seasons is also offering couples a "Stay Longer" package so that they can earn a complimentary night after a set number of paid nights.
Online romance
True to form, Four Seasons is extending its Ignite the Spark campaign to its digital channels.
Four Seasons Magazine is posting campaign-themed content in "The Spark" section.
Features include aphrodisiacs around the world, sample questions to start a conversation and a quiz to discover couples' ideal travel destination. There will also be links so that couples can book their next trip.

In addition, Four Seasons is hosting a "Countdown to Romance" Facebook application.
On the app, couples can create their own vacation countdown and get reminders on their Facebook Timeline that are tailored to the destination and the couple's interests.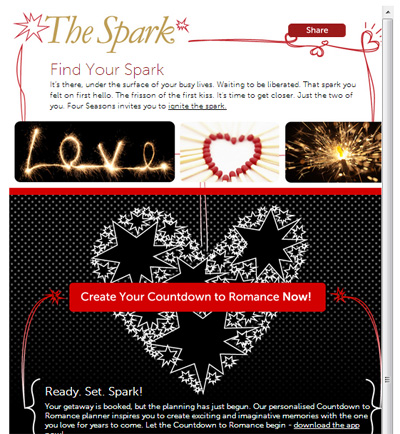 Countdown to Romance Facebook app 
Four Seasons properties are also sharing the app and promoting their in-house Ignite the Spark packages on own Facebook pages.
The brand is also adding Instagram to the campaign. Guests can post Instagram images while on their couples trip with the hashtag #IgniteTheSpark for a chance to win a Four Seasons gift card.
"With the continued growth in family travel, couples arriving at a hotel or resort seeking romance could easily feel marginalized," said Karen Weiner Escalera, president of KWE Partners, Miami. "This program very effectively addresses the romance market saying we understand your needs and are addressing them with everything from special spaces and promotions to gifts for selecting us for your romantic getaway.
"The travel industry has offered romance packages for many years, but what Four Seasons is doing here takes the marketing initiative to a new level with an entire program," she said. "With holiday gift giving less than 90 days out followed by Valentine's Day, the timing is impeccable."
Final Take
Tricia Carr, editorial assistant on Luxury Daily, New York