Land Rover gifted its social media followers with an online magazine that presents brand history and consumer stories to coincide with the British automaker's 64th birthday.
The auto brand celebrated its birthday globally on April 30 where its North America sector marked the day by releasing a digital magazine called 64 Reasons to Love Land Rover. The automaker chose to market via social media, a channel that it claims its fans prefer.
"To celebrate our 64th birthday, we wanted to provide a gift to our fans, enthusiasts and owners to say thank-you for their continued loyalty," said Kim Kyaw, digital marketing and social media manager at Land Rover North America, Mahwah, NJ.
"It was about creating content that our fans not only like, but also want to engage with and share with others," she said.
"We hope that efforts such as 64 Reasons to Love Land Rover will bring our brand to life and highlight our luxurious and capable products to ultimately create conversation, build advocacy and strengthen loyalty."
64 candles
Land Rover curated the content of its 64 Reasons magazine from its archives and fan-submitted stories.
The automaker asked its social media followers to submit photos and personal stories of why they love Land Rover.
In addition, the automaker featured content that illustrated its heritage throughout April leading up to its birthday.
The magazine is presented on the Issuu online magazine platform at http://issuu.com/landroverusa/docs/64reasons. Users can click on the magazine to initiate full-page view.
Each of the 64 Reasons featured in the magazine are numbered with block text.
The first reason is 'Innovation' and is presented with a drawing of an original Land Rover vehicle.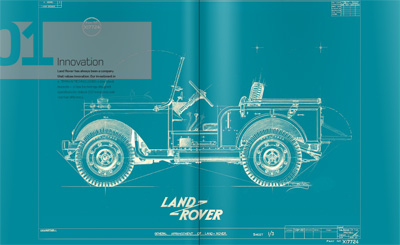 Magazine page 
A user-submitted story is reason 21. The page shows a picture taken from the right side of a Land Rover vehicle and the background features a couple with a surfboard in the ocean.
The page reads, "A perfect day, in a perfect place – with the perfect vehicle."
Magazine page 
The magazine is being marketed via Land Rover North America's social media channels such as Facebook, Twitter and Google+.
For example, the automaker posted a link to the magazine on its Facebook page April 30 with the text, "Our gift to you is an exclusive digital magazine featuring some of your stories and photos titled 64 Reasons To Love Land Rover."
"Our fans and owners have an inclination towards digital channels, so we thought this was an efficient and unique way to put together a special celebration for the brand's 64th birthday," Ms. Kyaw said.
Tumbling around
Land Rover's strategy seems to increase its social media footprint, which the brand has been doing in quite a few ways recently.
For example, the automaker live-tweeted from the Land Rover 25th Anniversary event April 3 during the New York Auto Show to give consumers behind-the-scenes access.
Land Rover also updated its followers about happenings at the auto show via Facebook (see story).
In addition, Land Rover North America created a Tumblr account that showcased five groups of photos from photographers around the United States who were given access to Land Rover and Range Rover vehicles (see story).
Meanwhile, Land Rover has used magazine-style marketing in the past to engage to its customers and create a sense of community.
The automaker channels its personality and voice to create a lifestyle while simultaneously pushing new branded models through its Onelife magazine for the iPad (see story).
"We strive to create content that brings the Land Rover brand to life in ways that are creative, inspiring and aspirational," Ms. Kyaw said. "Sixty-four Reasons To Love Land Rover reflects the different sides of Land Rover and in turn how our consumers see themselves reflected in our brand.
"Land Rover has such a rich heritage that makes up a large part of our brand DNA," she said. "We try to not only remember our roots and where we started from, but to also look to the future of where the brand is headed."
Final Take
Tricia Carr, editorial assistant on Luxury Daily, New York