Toyota Corp.'s Lexus is engaging Sports Illustrated readers by letting them interact with an ES advertisement with their iPad to add movement to the static page.
The automaker is using CinePrint technology in this effort so that when users put the Lexus ES print ad over their iPad while playing a video found on the tablet version of the magazine, there are light and sound effects on the print ad. Lexus has been pushing the ES through quite a few marketing channels, likely to reach a new generation of consumers who are looking to purchase their first luxury car model.
"To build upon our entirely new ES campaign, we created an ad that would generate even more excitement among our younger, more progressive ES target," said Nancy Hubbell, prestige communications manager for Lexus, Torrance, CA. "We wanted to replicate our entirely new ES by fusing design and technology.
"Our ES target audience is constantly looking to experience new, creative ideas and innovations," she said. "Our ES print ad brings an interactive layer to a traditionally static medium and is the perfect example of how Lexus brings innovation, not only in its vehicle designs, but to its marketing campaigns as well.
Sports and cars
The Oct. 15 issue of Sports Illustrated contains an ad for the 2013 ES that looks similar to the brand's typical print placements.

However, the ad tells users to find a video on the iPad edition of Sports Illustrated to "watch this page come to life."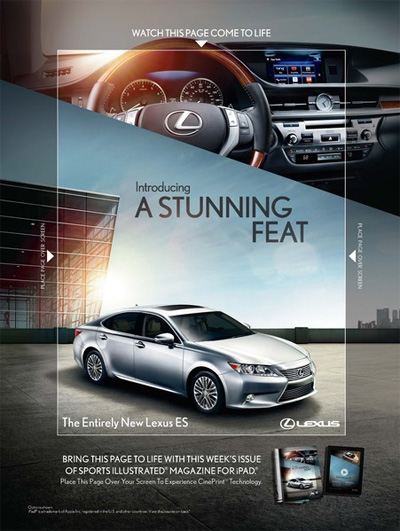 Lexus ad 
Users can also access the video from the iPad version of the magazine or at http://lexus.com/stunning.
Then, users must place the iPad underneath the page to add moving lights and music.
The sky flashes and pulsates with bright light coming from the iPad.
The video makes the car move through an engine revving sound and movement in the ground and wheels.
Also, the video explains the Lexus Enform system and the vehicle's design and technology.
Lexus Sports Illustrated ad demonstration
"Mobile and tablet ads are a strong medium that bring a luxury brand and its messaging to life in a way that static print ads cannot," said Jasmin Kung Bhukkarat, marketing consultant at 5th Finger, San Francisco.
"However, with mobile connectivity in print ads, a brand can deepen the level of engagement beyond what a standalone print or mobile ad can offer by having the consumer create that interactive experience through their direct participation," she said.
"It requires the consumer to 'activate the ad' using both mediums to bring it to life."
Driving the ES
Lexus is pushing the 2013 ES model through many marketing channels.

The automaker is broadening the push of its top-selling sedan with a multichannel campaign centered on the 2013 ES in which it will reach consumers via television, print, digital and outdoor advertising (see story).
Also, Lexus is building brand awareness among young consumers through an integrated campaign with Zynga's Draw Something mobile application that allows users to play with the ES model's colors and Lexus-themed words (see story).
Additionally, the automaker is pushing the 2013 ES model's updated technology and style through a Facebook app and additional social media promotions to let users vote for their favorite startup projects that the automaker will support with a monetary donation (see story).
The latest print-to-tablet effort will likely give the ES campaign a larger reach to Lexus' young target consumers through word of mouth.
"There is something about augmented reality that makes users exclaim, 'wow,'" said Shuli Lowy, client services and marketing manager at Ping Mobile, Beverly Hills, CA. "While almost all viewers have seen an interactive or multimedia Lexus ad before, they do not expect to see it when looking a static image.
"The surprise creates an almost magical effect and an indelible experience in the consumer's mind," she said. "The user will not only engage with the brand with added fascination and interest, but will be more likely to share the experience with his or her friends and family."
Final Take
Tricia Carr, editorial assistant on Luxury Daily, New York