Toyota Corp.'s Lexus International is creating a luxury experience space Aug. 30 in Tokyo's Aoyama district for brand loyalists to interact with the automaker and each other.
The "Intersect by Lexus" space lets Lexus owners relax and interact with the brand and similar lifestyle brands in myriad ways. Fostering a space that transcends a typical showroom allows consumers to engage with the brand in new ways.
"[This luxury space] creates a community and a connection to the brand," Lauren Fix, automotive expert and author of "Lauren Fix's Guide to Loving Your Car," Lancaster, NY.
"It will definitely help the Lexus brand," she said. 
Lauren Fix is not affiliated with Lexus, but agreed to comment as an industry expert.
Lexus International was unable to comment by press deadline.
Sit back and Lexus
Intersect by Lexus gives consumers the chance to experience the brand without actually driving the vehicle.
The building will have two floors and will showcase design, art, fashion, culture, film, music and technology.
The first floor features a café and an exhibition space for car culture and lifestyles called the Garage.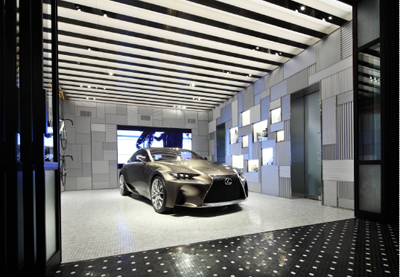 The Garage
The second floor includes a "Crafted for Lexus" shop containing lifestyle items produced by carefully selected companies and a library lounge serving modern, Tokyo-themed foods.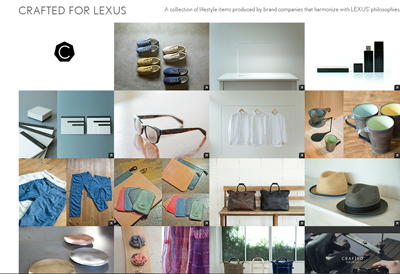 Crafted for Lexus
Food director Daichi Tajima will head the bistro.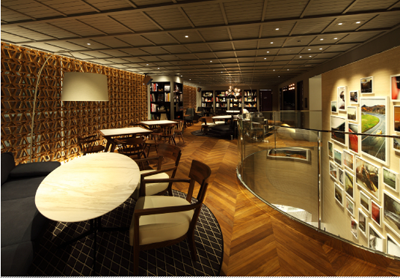 Intersection by Lexus the Bistro
Brands that have teamed up with Lexus include Japanese shoe maker blue over, Japanese furniture brand Bsize and Japanese fashion designer orslow.
In addition to functioning as a place for consumers to unwind and interact, the building will also host events.
The Tokyo Aoyama district space and future Intersect by Lexus locations planned for select cosmopolitan cities, such as New York and Dubai, are developed by Masamichi Katayama, the interior designer and founder of the interior design firm Wonderwall.
A Web site describes in-depth the process of creating the space. It can be viewed at: http://www.lexus-int.com/intersect/tokyo.
The luxury spaces are are apart of Lexus' Amazing in Motion endeavors that launched May 1.
On all ports
Lexus has previously recognized the importance of immersing consumers in a holistic brand experience before.
For instance, Lexus expanded its presence at the United States Golf Association beyond the golf course into the surrounding area with a range of activities. With this move, Lexus provided both U.S. Open attendees and golf fans unable to attend an engaging, golf-centered experience (see story).
Other automakers have recognized how branded environments promote an enduring consumer base.
"Lexus is taking a page from Audi's play book," Ms. Fix said.
"Audi has had boutiques around the world for years," she said.
Final Take
Joe McCarthy, editorial assistant on Luxury Daily, New York