Social-mobile fashion application Pinxter is adding additional features in order to help brands survey consumer opinions and push mcommerce with branded images.
Through the Pinxter app, users can vote on whether they like the featured looks from brands and click through to shop on mcommerce sites. By asking for consumer feedback through a presence in this app, the labels could gain a valuable perspective on their products and advertising images.
"The brands that are featured in the app are part of our brand fan page testing," said Sergei Dubograev, cofounder/CEO of Pinxter, Washington. "The products chosen were either products that were popular within the app or brands that Pinxter users asked for.
"These brand pages include direct links to mobile sites for users to be able to make a purchase" he said.
Yes or no
The Pinxter app allows consumers to upload images of products and get instant feedback from other users. The app has the potential to help luxury brands better understand their consumers' opinions on apparel and accessories (see story).
Under the "Brands" section of the app, users can vote "Yes" or "No" on looks and products from certain brands.
Louis Vuitton and Chanel are among the test brands currently being used in the app.
A Louis Vuitton image is appears in the brand section for consumers to vote on. The brand's image shows off two women standing next to multiple classic Louis Vuitton luggage.
Below the image, the app asks, "Do you like these looks?" Next to the question is the brand's logo and a pink shopping cart icon.
Selecting either yes or no will allow consumers to vote on another image.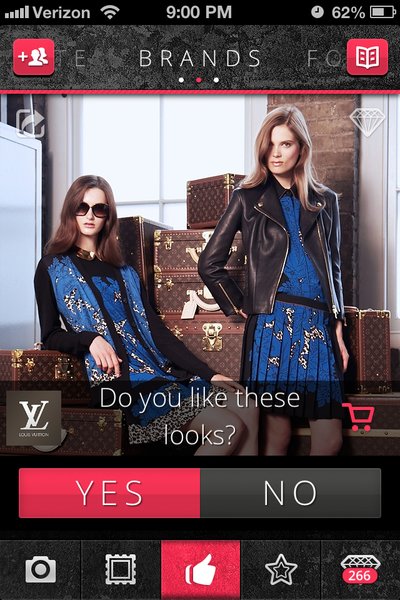 Louis Vuitton look
In addition, users can click through on the shopping cart or the brand's icon to be taken to Louis Vuitton's mcommerce site where products can be purchased.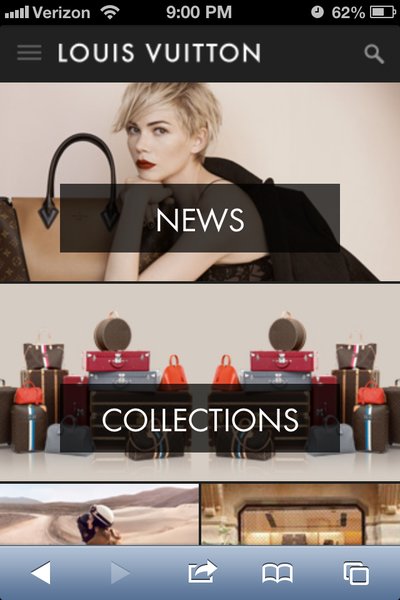 Louis Vuitton's mobile site
Chanel is featured in another branded image that shows off a classic handbag in multiple colors.
The brand logo is in the one corner, but there is no pink shopping cart, which indicates no mcommerce link.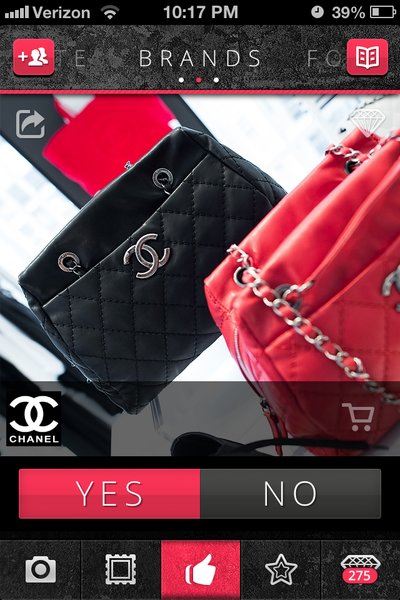 Chanel look
To view the voting results from an image, users can go back into their voting history through a button on the top right corner.
The Louis Vuitton image has 65 yes responses and 38 no responses, while the Chanel image has 48 yes responses and 16 no responses.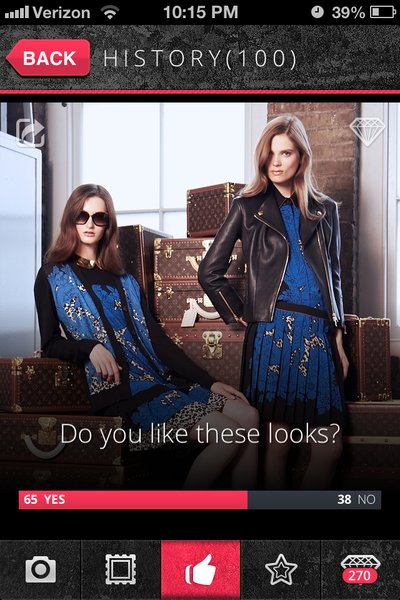 Louis Vuitton results
More to come
Since the app has recently launched, there are only a handful of brands featured as test brands.
In the future, Pinxter plans to become more conducive to brands that offer mcommerce. Soon, brands will be able to create their own profiles through the app, which will allow them to guide consumers directly to their mcommerce sites and see additional data from user responses to images.
For users, the app will allow them to search by hashtag and brand name to view certain images, which will help them find the products they liked and possibly discover new products and brands.
"We have the following features in the works so that users can not only follow their favorite brands, but eventually be able to search hashtags based on their responses to be inspired with brands they already love and brands they don't know yet," Mr. Dubograev said.
Final take
Erin Shea, editorial assistant on Luxury Daily, New York