Hermes is still fighting against what it sees as unfriendly advances from LVMH Moët Hennessy Louis Vuitton and has recently been allowed to sell shares to a private holding company rather than publicly. Therefore, experts believe that an acquisition by LVMH is not inevitable. 
Although giant conglomerate LVMH chairman Bernard Arnault has claimed that he is not interested in taking full control over Hermès, the family-owned saddler and leather goods manufacturer does not see the conglomerate's growing stakes as friendly. This recent development is a step for Hermès, whose holding company owns more than 50 percent of the shares.
"If anyone understands the benefit of collaboration, it's Bernard Arnault," said Milton Pedraza, CEO of the Luxury Institute, New York. "He understands that in order for a brand to thrive, you need to cooperate with all parties.
"He is very persistent, but he understands that even if he never gets Hermès completely, he will still benefit from being a shareholder," he said. "I don't think that he is trying to completely take it over and a takeover is not inevitable. 
"He is financially savvy and understands that even his worst-case scenario, being just a shareholder in Hermes, will still benefit him financially."
Luxury shark
LVMH has been circling Hermès for a few years.
At the end of May, French newspaper Le Figaro ran an article in which Hermès representatives called on LVMH to decrease its stake in the brand by 50 percent, which did not happen.
Instead, LVMH revealed that it had increased its stake in Hermès to 21.4 percent in July from its 20.2 percent stake in December.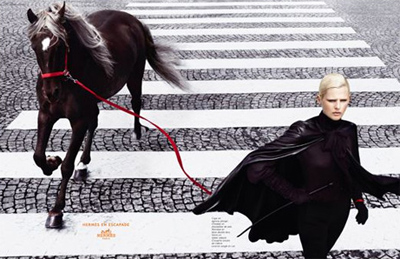 Hermès
Yesterday, Hermès released a press release that stated:
"Paris , 15 September 2011 – The Hermès family Group notes the Court of Appeal's decision confirming the exemption granted by the AMF from the requirement to submit a public offer for the creation of a majority-owned family holding company.
"The creation of this company, which will take place in the next few weeks, will strengthen the independence of the Hermès Group over the long term, as well as supporting the continuation of its strategy of creativity and excellence in its craftsmanship and observance of its values."
Legally, Hermès can just stand its ground and Mr. Arnault could benefit financially from it, or it could collaborate with the successful conglomerate and both could benefit.
Furthermore, it is highly unlikely that the brand would suffer if the Hermes family members decided to collaborate with LVMH given its collection of majorly successful multiple luxury houses.
The most recent big acquisition was the buy of Italian jeweler Bulgari in March (see story).
Rachel Weisz for Bulgari
However, Hermès is not making this easy for LVMH. The family is doing all that it can to protect itself.
"If anything, it is a winning battle [for Hermès] for now," said Chris Ramey, president of Affluent Insights, Miami.
"Today's court ruling and subsequent new holding company will protect Hermès," he said.
Dire desire
Hermès' desire to remain a family-owned brand is clear.
Although, one has to wonder if it would be so terrible if the brand were acquired.
"Mr. Arnault, like Francois Pinault [founder of luxury conglomerate PPR] is a very savvy man," Luxury Institute's Mr. Pedraza said.
"Frankly, for the good of the French luxury industry, it might be a good idea [for Hermès] to cooperate," he said. "Mr. Arnault is an innovator, just as Hermès is an innovator in luxury, and it could benefit from LVMH's council."
Additionally, LVMH brands such as Louis Vuitton, Bulgari and Christian Dior are customer-centric in the 21st century, where Hermes is customer-centric in the 20th century, per Mr. Pedraza.
LVMH owns Christian Dior
"I do not think that [LVMH] could help Hermès make better products or anything like that," Mr. Pedraza said.
"However, it could turn them into a more friendly brand," he said.
Final Take
Rachel Lamb, associate reporter on Luxury Daily, New York