U.S. fashion house Michael Kors is encouraging consumers to fill their downtime on a just-for-fun microsite that asks users how they want to celebrate the holidays while the label subtly pushes ecommerce.
The microsite asks users to finish the statement, "Celebrate With…" Michael Kors is incorporating an ecommerce push into the microsite through offering specific products that correspond to submitted words and letting users view the entire selection of gift items via a pop-up page.
"This strategy is all about focused and actionable messaging, since celebration is targeted as a prime keyword for the holiday season," said Paul Farkas, co-founder and CEO of ULN Ultra Lifestyle Network, New York. "Users will hear it for the umpteenth time in the upcoming month and their internal voices will synch brand messaging, perhaps proceeding to share, shop and gift.
"In today's blitz of multiplatform marketing, microsites are a good investment in buzz-building beyond the content mix that user-fans are beginning to become accustomed," he said. "This levels-up fill-in-the-blank social update engagement phishing with a quick fix of glamorous gamification.
"It embraces exceptional design opportunities in wrapping semi-personalized user captioning with festive imagery, largely including brand product and shoppable campaign imagery, and nudges users toward that headquartered site after a couple minutes of play. Pluses here for Michael Kors thinking ahead for dirty talk."
Mr. Farkas is not affiliated with Michael Kors, but agreed to comment as an industry expert.
Michael Kors was not available for comment before press deadline.
Fill in the blank
The #CelebrateWith digital campaign encompasses Twitter, Facebook, YouTube, Instagram, China's Weibo and the microsite at http://celebratewith.michaelkors.com.
The campaign spotlights Michael Kors as the ultimate gifting destination, per the label. Users are asked to share what they are celebrating with this holiday season via the #CelebrateWith hashtag or fill-in-the-blank microsite.
The site was custom-designed by the label. It displays images at random that are related to each word submitted by users.
Michael Kors image
The result is an e-card that shows what each user would like to "Celebrate With." The images can be shared via email, Facebook, Twitter, Pinterest and Tumblr via the microsite.
For instance, if a user types "Champagne," an image of a chilled Champagne bottle appears.
Champagne image
At times, the images are Michael Kors campaign creative or products.
The name of the item appears at the top left-hand corner of the screen if a product is shown. Users can click on the name of the item to purchase it via the Michael Kors ecommerce site.
Product image
Some timely words will reveal certain images. For example, if a user enters popular romance novel title "Fifty Shades of Grey," the site will show the Michael Kors envelop clutch in grey.
Fifty Shades image
Also, users who enter the word "Deal" will reveal a free shipping code and users who enter "Support" will see a link to the Red Cross for Hurricane Sandy relief site.
The microsite hosts a contest as well. Users can enter to win one of approximately 30 Michael Kors holiday gifts through the "Your Chance to Win" button on the microsite's toolbar by entering their name, email address and country of residence.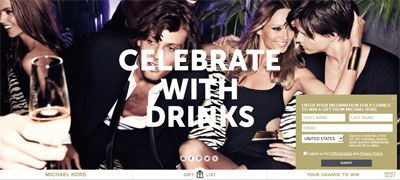 Contest entry
Consequently, the possible prizes are featured in a holiday shopping guide accessible on the microsite through the "Gift List" button. Users can click to purchase each item.
Items featured include the Michael Kors classic aviator, Hamilton travel bag and Uptown Astor Crossbody bag.
Gift list
On Facebook, Michael Kors will share fan responses to the #CelebrateWith campaign from all social networks.
The label will also showcase its holiday product line targeted by demographic. Advertising and content will align with merchandise delivery dates.
"I think the strategy is for Michael Kors to get its audience excited for the holidays and the possibility of gifts this season," said Lauren Formalarie, senior social analyst and account manager at Say it Social, Wilmington, NC.
"There is something thrilling about getting gifts, no matter what your age is, so I think by using very visually-stimulating examples related to keywords people put on their Celebrate With Web page, it is giving customers ideas of what they may want to ask Santa for, and even including a link for some of them on the Web site, just so they can know exactly where to find it."
Hauling for the holidays
Needless to say the majority of luxury marketers are looking to stand out on the digital channel this holiday season. A variety of tactics have emerged.
Luxury brands seemed to be pushing ahead of retailers in the holiday shopping season by staying top of mind through themed email campaigns timed for the weeks leading up to the U.S. Thanksgiving holiday.
Michael Kors, Jimmy Choo, Diane von Furstenberg, Hugo Boss, Ralph Lauren and other luxury brands sent out holiday email campaigns in November likely to catch shoppers as they began to plan their holiday spending, while retailers Neiman Marcus, Saks Fifth Avenue, Barneys New York and Harrods were close behind.
Emails that capture the most attention are those that are personalized to the audience and take advantage of social sharing functions (see story).
Also, French fashion house Louis Vuitton is engaging consumers in a digital holiday experience on its Web site that is centered on symbols of luck and encourages users to create their own gift wish list.
The "Share Your Luck" campaign lets users spin a wheel of fortune and view gift items that correspond to each wheel spoke (see story).
In addition, U.S. lifestyle label Ralph Lauren showed off its holiday 2012 collection through attention-grabbing header, banner and side bar advertisements on the New York Times Web site.
The ads placed Nov. 27 featured select 2012 Ralph Lauren holiday items in a video and image gallery. A click-through on the banner ad took users to the Ralph Lauren Holiday 2012 Web site to see the collection or locate a store (see story).
"I think the Celebrate With campaign will do well because it is something different," Ms. Formalarie said. "It stands out from other traditional campaigns – it is interactive, fun and has a surprise element built in.
"Having the Michael Kors name to back up any campaign, whether socially-driven or not, gives it an initial boost, but when it combines creativity with social media instead of using the traditional contact forms and static pages, it stands out among the others," she said.
Final Take
Tricia Carr, editorial assistant on Luxury Daily, New York