High-end retail chain Neiman Marcus hosted a chat with Armani Beauty and encouraged consumer purchases by offering a free gift if an item was added to the shopping cart directly from the chat window.
The retailer's Armani Beauty chat let consumers ask their personal questions to the label's experts June 28 noon-2 p.m. Eastern Time. Consumers who participated in the chat where given advice along with links to purchase Armani Beauty products.
"As the focus of social media marketing efforts evolve from mindshare to market share, many brands are looking for ways to close the gap between social discovery and a purchase decision," said Kevin Tate, chief marketing officer of ShopIgniter, Portland, OR.
"In creating a program like the beauty chat, I think Neiman Marcus is looking to bring an authentic, expert voice into the product discovery experience in a way that is valuable to the shopper and also leads its social customers to a purchase decision," he said. "Arguably, much of Neiman Marcus' brand value is linked to its luxurious in-store experience and the quality of its in-store team.
"In addition to selling more products through a program like this, Neiman Marcus may find that these kinds of social discovery and shopping experiences allow it to effectively scale its unique brand experience beyond bricks-and-mortar and into the social Web."
Neiman Marcus did not respond before press deadline.
Girl talk 
Neiman Marcus gives its consumers the ability to chat online with in-house "beauty advisors" Monday-Friday, 10 a.m.–6 p.m. Eastern Time, but on June 28 Armani Beauty experts were also available to chat in the afternoon.
The retailer spread the word about the Armani Beauty chat via its Facebook page and the Armani section of its beauty Web site.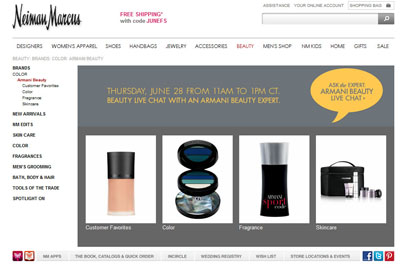 Armani Beauty section of NeimanMarcus.com 
Consumers who clicked to chat from the Web site or Facebook were told to enter their names, email addresses and type of advice they were looking for in a pop-up chat window. To chat with an Armani Beauty expert, users could choose that option from the drop-down menu.
When the chat began, the Armani Beauty expert introduced herself or himself by name in the chat window. Users could ask any beauty-related question.
Chat window 
Each time the Armani Beauty experts answered, they asked more specifically what the user was looking for or named a certain product to use to achieve a look with a link to purchase.
For example, if a user wanted summer-appropriate color options, the expert asked for clarification of eye or lip color.
Then, the expert would give a link to buy a product such as Eyes to Kill eye shadow in light blue or gold.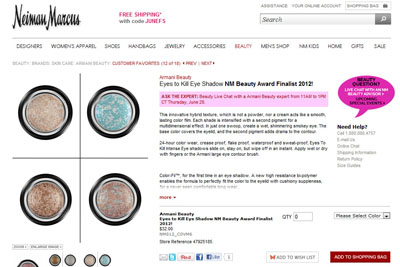 Eyes to Kill eye shadow 
Neiman Marcus told its Facebook fans that if they purchased the Armani Beauty products from the chat, they would receive a gift with purchase while supplies last.
Armani Beauty Facebook post 
"This program enhances the breadth and scope of the social media efforts of Neiman Marcus," said John Casey, founder of Freshfluff, New York. "The retailer could have simply posted branded summer foundation tips by Armani, or information about Armani's new eye makeup.
"This took the posting a step further by providing customers a chance to have a dialogue online with a beauty expert, get tips and in the process receive incentives for purchasing while chatting," he said.
"The free gift incentive was to prompt the customers chatting to purchase beauty products at the moment they were engaged with the retailer and the brand."
Talk is not cheap
It seems that Neiman Marcus could have extended the reach of this purchase-via-chat program with a larger social media push, email and a feature on an opening slide of its ecommerce site.
Many luxury retailers are pushing beauty purchases via multiple channels.
For instance, Saks Fifth Avenue positioned beauty items in an online event that gave consumers three shopping guides based on personality and style, which it pushed via email, social media and its Web site (see story).
In addition, Bergdorf Goodman focused on beauty in a 32-page niche catalog that showed fragrances, cosmetics and creams from luxury brands such as Prada, Chanel, Valentino and Tom Ford (see story).
Bergdorf probably sent the catalog by tradition, but could have also looked to attract consumers during its month-long beauty initiative with the Melanoma Research Alliance that consisted of in-store events and a social media campaign (see story).
Despite the lack of reach in Neiman Marcus' purchase via chat incentive, it offers a good starting point for the brand to translate its in-store experience to its ecommerce site.
"Chat has certainly been used for years by companies selling complex products or helping customers to configure their solution online," ShopIgniter's Mr. Tate said. "However, I do believe the kind of guided selling that Neiman Marcus is trying here represents an innovative approach.
"Fans and followers want and expect offers, especially exclusive ones, from the brands they engage with," he said. "Given the offline precedent for beauty product gift-with-purchase in stores, it seems a logical move here."
Chats welcome many mainstream consumers, but luxury brands should not be afraid to target affluent consumers this way.
"Trying to influence a sale via chat is nothing new, but luxury retailers have been hesitant because they are concerned that it might cheapen the buying experience," said Scott Delea, managing partner at Inflexion Interactive, Hoboken, NJ.
"Instead, I believe it enhances the experience and is a key component of providing great service to the modern online luxury buyer who expects to be able to get information and customer service anytime, anywhere," he said.
Also, Neiman Marcus is probably trying to position itself as leader in the beauty industry by involving Italian label Armani.
"Digital chats help a retailer like Neiman Marcus partner with an industry leader to boost its credibility and authority position in the beauty category," Freshfluff's Mr. Casey said.
"This digital chat initiative can work across product offerings," he said. "Therefore, if this particular chat was successful, Neiman Marcus might be wise to partner on future digital chats with brand leaders in other retail sectors including fashion, home and jewelry."
Final Take
Tricia Carr, editorial assistant on Luxury Daily, New York