Hermès, Versace, Neiman Marcus, Saks Fifth Avenue and other luxury advertisers chose placements beyond front-of-book in the 916-page September issue of Condé Nast's Vogue, likely to grab attention from readers who delved into the 120th anniversary content.
Ralph Lauren, Prada, Christian Dior, Gucci, Louis Vuitton, Fendi, Chanel, Burberry Prorsum, Dolce & Gabbana, Bottega Veneta, Marc Jacobs and other luxury fashion houses dominated front of book. However, placements from high-end retailers and labels that used many ad pages or ads intermingled with articles could be seen as an extension of the fall fashion content traditionally found in the September issue.
"The September issue of Vogue has long been considered the premiere exposure for fashion brands," said Elizabeth DeMaso, managing partner at Brenes Co., New York.
"Like a printed fashion show, each page of advertising and editorial showcases the newest collections and trends," she said. "For luxury brands, being included in this issue is critical to staying relevant to the core customers who review the book in search of inspiration.
"It is also a moment where decisions are made regarding where dollars will be spent."
Ms. DeMaso is not affiliated with Vogue, but agreed to comment as an industry expert.
Vogue was not available for comment before press deadline.
On the right page
The first ad in the September issue of Vogue is a four-page front panel fold-out ad for Ralph Lauren Romance fragrance for women.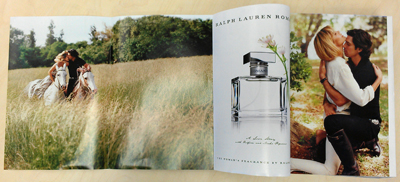 Ralph Lauren ad 
Next are two-, four- or six-page ads from Prada, Christian Dior, Ralph Lauren apparel, Estée Lauder, Gucci, Louis Vuitton, Lancôme, Fendi, Chanel, Burberry Prorsum, Dolce & Gabbana, Bottega Veneta, Tom Ford Beauty, Miu Miu, Marc Jacobs, Michael Kors, Donna Karan New York, Oscar de la Renta, David Yurman, Donna Karan fragrance, Diane von Furstenberg and Chanel beauty.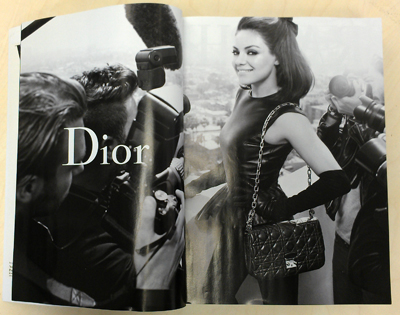 Dior ad 
Louis Vuitton seems to stand out with a second placement next to the first bit of Vogue content – the table of contents – that focuses on its classic trunks and fall footwear. The ad takes on the same feel as its train-themed apparel ad in front of book.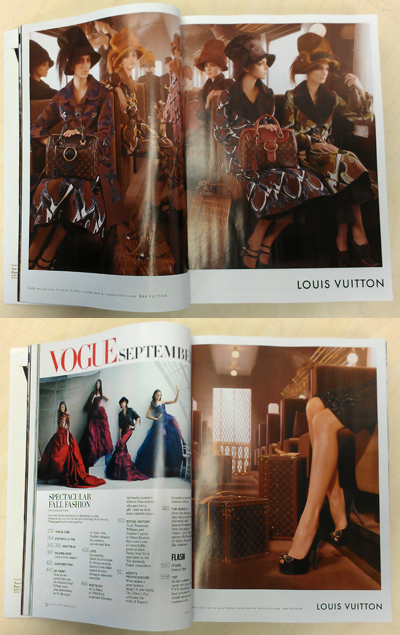 Louis Vuitton ads 
Ads from luxury marketers such as Bally, Bulgari, Belstaff, MaxMara and De Beers lead up to a 16-page ad from Nordstrom.
The retailer's ad stands out physically with un-glossed, thick pages. It displays in-house images of apparel, bags and shoes from brands such as Lanvin, Céline, Chanel, Christian Louboutin and Prada.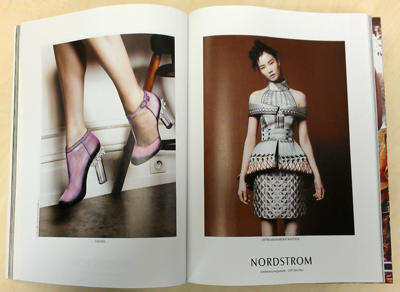 Nordstrom ad 
To follow are ads from Lanvin, Hugo Boss, Longchamp, Jimmy Choo, Van Cleef & Arpels, Alexander McQueen, Valentino, Burberry Body, Rolex, Tiffany & Co., Carolina Herrera, Net-A-Porter and Tod's.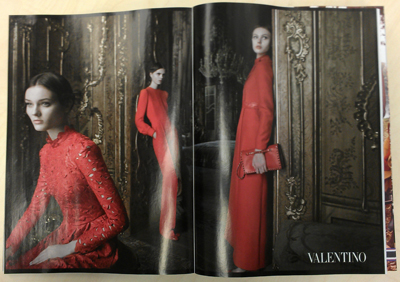 Valentino ad 
The next placement that could catch the attention of readers who are skimming the issue is an ad section from Saks Fifth Avenue. The 24-page ad is similar to Nordstrom's in that it is printed on thick paper.
Saks presents its fashion offerings from Dior, Burberry Prorsum, Valentino, Oscar de la Renta, Alexander McQueen, Prada, Chanel and other labels. The models are shot among gray and white sculptures.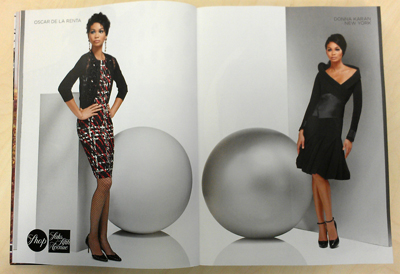 Saks ad 
Neiman Marcus also placed an ad section, but towards the back of the book. The thick, 15-page section presents apparel in sharp images with a vintage feel.
Neiman Marcus ad 
Meanwhile, a few other placements could help luxury advertisers stand out in the large issue.
Hermès appears intermingled with an editorial feature called "Nostalgia." It placed a half-page ad next to the first page of the article, a two-page spread in between the article and another half-page ad with the end of the article.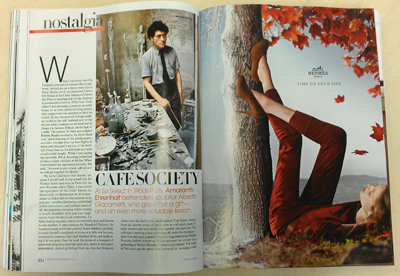 Hermès ad
Dior placed an ad on the back of an editorial section that is off-set from the rest of the issue with cardstock pages. The label's ad congratulates Vogue on its 120th anniversary.
Dior ad 
Versace's ad placement continues throughout an editorial called "The Models" that features models who have appeared in Vogue since the magazine's creation. The label's ads appear next to each page of the story, with a total of 11 ad pages.
Versace ads 
Barneys New York helps to tie-up the fashion spreads and features with a four-page ad on thick cardstock towards the back of the book. A model is shown twice in a pool hall and twice in an art gallery while posing in fall apparel offered by the retailer.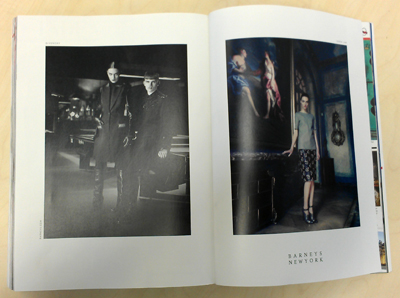 Barneys ad 
Smart move
Luxury advertisers are using the same tactics seen in Vogue in other publications to stand out among the flood of brands attracted to affluent-focused publications in the fall.
For example, Saks Fifth Avenue boasted a 24-page spread using thick-stock paper in the September issue of Condé Nast's W magazine. The ad detailed the new collections from brands including Jil Sander, Dolce & Gabbana, Dior, Ralph Lauren, Burberry Prorsum, Valentino, Robert Cavalli, Alexander McQueen and Nina Ricci.
Also in W, Hermès weaved itself throughout the story, "Social Studies: Four decades of W," an article that depicts the publication's last 40 years and the flow of society using images from past W issues (see story).
In addition, Neiman Marcus switched up the paper stock used for its ads in the September issue of Condé Nast's Vanity Fair.
It is also notable that most of the luxury brands are in the front of the book in Vanity Fair, while mainstream retailers inhabit the back pages (see story).
Vogue carries quite a few advertisers that fall into the mainstream category, but the September issue seems to hold luxury brands throughout since it is one of the most widely-read magazines of the year.
"With so many pages and advertisers, it is a time to stand out and differentiate to get noticed," Ms. DeMaso said.
"Like the shows themselves, each brand is looking for a way to creatively demonstrate its point of view for the season," she said.
"Everyone is looking to grab the reader, surprise and delight them, and artistic expression is key to doing that."
Final Take
Tricia Carr, editorial assistant on Luxury Daily, New York