Online retailer Net-A-Porter is boosting its exposure in China by partnering with the Upper House hotel in Hong Kong to offer guests a number of exclusive services.
Through this partnership guests can receive gift cards, complimentary express delivery from Net-A-Porter and Mr Porter, access to the style concierge service and more. The retailer is likely aiming to show off its services to Chinese consumers through this partnership.
"Different types of people are in hotels, there are business travelers and leisure travelers, and those people spend money in a different way than they do when they are home," said Marie Driscoll, CEO and chief consultant at Driscoll Advisors, New York.
"The fastest growth in luxury is travel," she said. "Instead of offering people travel, Net-A-Porter is offering a service for guests."
Ms. Driscoll is not affiliated with Net-A-Porter, but agreed to comment as an industry expert.
Net-A-Porter did not respond by press deadline.
Room service
With this partnership with Net-A-Porter and Mr Porter, guests staying at the Upper House are able to receive exclusive offers and make use of the retailer's delivery service.
Upper House penthouse room
For a limited-time, guests who stay at least two nights starting Sept. 1 will receive a number of services.
The partnership will give qualifying quests a special welcome gift, a complimentary room upgrade, complimentary daily breakfast for two at the hotel's Café Gray Deluxe, complimentary express delivery from Net-A-Porter or Mr Porter to the Upper House or another location and a one-month access to a dedicated style concierge service at Net-A-Porter or Mr Porter.
In addition, guests can choose between a $130 gift card or complimentary services such as happy hour drinks at the hotel's Sky Lounge or the Lawn.
Asian expansion
Net-A-Porter has recently been advertising in Hong Kong as a way to reach the Chinese market.
The retailer is targeting Chinese consumers with an out-of-home, takeover advertisement on a Hong Kong tramway vehicle as it tries to make inroads in one of the world's largest luxury markets.
Although a crowded city such as Hong Kong will have many outdoor advertisements, the wrapping of an entire train will help Net-A-Porter's ad stand out. However, marketers who use outdoor advertising should be cautious to not offend the local culture (see story).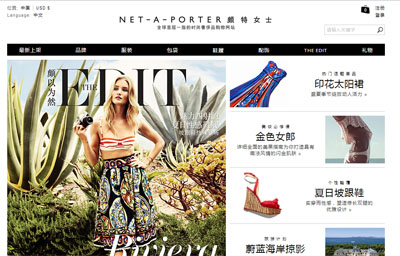 Net-A-Porter's Chinese site
Although, high-profile luxury brands consider China a top market for sales potential, but high-end retailers are in the earlier stages of entry into the country.
Retailers are slower to the game in mainland China, which should experience 7 percent growth in luxury goods revenues this year, according to a new report from Bain & Co. (see story).
Though high-end department stores lack a physical presence in the country's major cities, Chinese tourism and custom ecommerce sites are helping retailers catch up to luxury brands' awareness levels in the market (see story).
Net-A-Porter is likely easing into the Asian market by targeting consumers in Hong Kong, and the partnership with the Upper House Hong Kong is taking that to the next level.
"Hong Kong is a good entry point to the Asian market and to China," Ms. Driscoll said.
"The hotel partnership is a strategic alliance to put the retailer in front of wealthy travelers who spend money," she said. "And it is making it easy for Net-A-Porter."
Final take
Erin Shea, editorial assistant on Luxury Daily, New York