Ralph Lauren, Hermès, Barneys New York, Patek Philippe, Chopard, Gucci and Cartier are aiming for the ultra-affluent audience by advertising in the Mediterranean-themed October issue of American Express Publishing's Departures magazine.
Jewelry, apparel and accessories and travel and hospitality brands are seeking affluent readers with multi-page spreads. Departures is coming off of a series of increased ad revenue months and is expecting to raise its ratebase circulation in January.
"Readers hold onto this issue for years to come – it's a collector's item," said Steven Deluca, vice president and publisher of Departures, New York. "I can't tell you how many calls we get from readers all year long looking for past issues, whether they're traveling to China, India or Russia – they remember the issue and wish they had kept it as their travel guide.
"Ninety-eight percent of Departures readers own a passport and will travel abroad this year so our luxury travel content resonates with these affluent individuals in immeasurable ways," he said. "Our advertising partners know that we are delivering an audience who are primed to spend on many facets of their travel experience including five star accommodations, first/business class travel, and other luxury experiences."
Ad savvy
The October issue is 142.72 ad pages, down 5 percent versus the October 2011 issue, which had 150.38 pages.
Ralph Lauren Purple Label kicks off the issue with a four-page spread featuring its men's apparel.
Ralph Lauren ad
Next, Hermès is targeting male consumers through its "Time on your side" campaign.
Other apparel and accessories advertisers include Barneys New York, Phineas Cole, Devi Kroell, Ascot Chang, Gucci, Burberry, Canali and Bottega Veneta.
There are also a number of hospitality and travel brands including Waldorf Astoria, Corinthia Hotel, Boeing, Crystal Cruises and NetJets.
Additionally, there are a variety of watch and jewelry brands including Cartier, Chopard, Tiffany & Co., Van Cleef & Arpels, Chopard, Patek Philippe, Kwiat, Leviev and Piaget.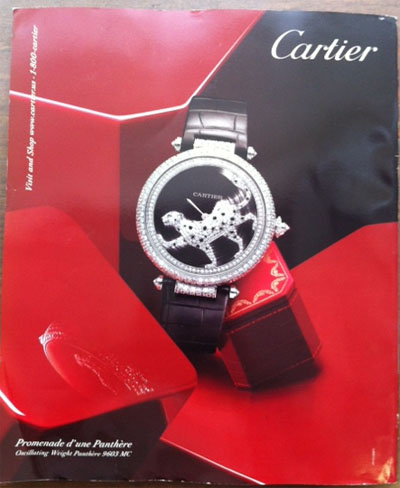 Cartier ad
Some brands are incorporating their ads into key features.
For example, Regent Cruises intertwined its ad with the cover story about the Mediterranean. When readers pull out the feature, the ad is on the back.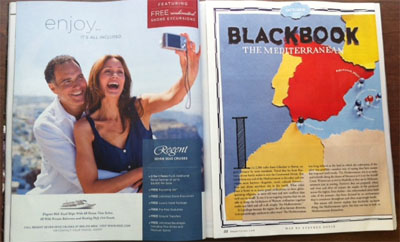 Regent Cruises
Also, The Peninsula Hotels used its new Peninsula Moments campaign to get attention from consumers reading about Sicily.
"Departures, and all of the American Express Publishing titles, have done a remarkably good job of relating and engaging their core customers," said Chris Ramey, president of Affluent Insights, Miami. "One of the strongest commonalities among the affluent is travel.
"Success is driven by knowing and leveraging the strengths of each medium," he said. "Conversely, failures happen when you do not dissect the differences."
"A multiple-page spread is an example of what publishing can provide that digital cannot. It is simply playing to the strengths of the medium."
On the up and up
Many luxury advertisers are using Departures to enhance their print marketing.
For example, advertisers including Christian Dior, Hermès, Giorgio Armani, Ermenegildo Zegna and Bottega Veneta helped to propel Departures 30 percent in ad revenue for its September issue.
Along with its ad revenue increase, Departures saw a 20 percent paging increase for this issue. New advertisers included Barneys New York, Paul Stuart, Net-A-Porter, Michael Kors, Tod's, Carlo Pazolini, Ritz-Carlton, Peru Tourism, Abu Dhabi Tourism and Raffles Hotels and Resorts (see story).
Also, The Luxury Collection, Trump Hotels, Bellagio Las Vegas, Conrad Hotels & Resorts and Celebrity Cruises took to the July/August issue of Departures to offer simple brand messages during the carefree summer months.
True to form, many high-end travel brands placed ads in the issue as well as automakers and lifestyle brands Louis Vuitton, Cartier, Tom Ford, Breitling, Lexus and Mercedes-Benz, adding to the luxury quotient of the travel publication (see story).
Departures increased 6.5 percent in ad revenue for the October issue versus the same issue last year and, January-October this year, the publication is up 17 percent in ad revenue compared to this period in 2011.
The combination of high-end ads and editorial seems to be working, since Departures recently announced an increase in its ratebase circulation starting in January.
The current Departures circulation is 875,000 and will increase 3 percent to 900,000. Furthermore, total circulation for the magazine increased to 1,111,424 for a six-month period ending June 2012.
The Departures audience is made of 1.1 million Platinum and Centurion card members from American Express with an average household income of $619,000
"Print marketing is important when you can properly target and engage your customers and best prospects," Mr. Ramey said. "We do not live in an either/or environment."
Final Take
Rachel Lamb, associate reporter on Luxury Daily, New York