NEW YORK – A Swarovski executive at Luxury Daily's Luxury FirstLook: Strategy 2013 conference said that coming off as an accessible luxury brand by being present on multiple digital channels will not dilute a brand's prestige in today's connected marketplace.
During the "Emerging Luxury Marketing and Retail Trends in 2013 – and Preparing for Left-Field Surprises" panel, executives from Breguet, Swarovski, Tumi, The Luxury Institute, Kargo and Affluent Insights discussed if mobile-, social- and Web-based marketing can strengthen or weaken a luxury marketer. Panelists agreed that it is a better idea to cautiously enter a channel and be a part of the conversation than to ignore any one of the channels altogether.
"As a brand, you have to be where [your customers] like to communicate," said Jane Pedersen, regional marketing manager for North America at Swarovski, New York
Socially accessible
Marketers must meet their consumers on a common ground. Most likely, today's savvy affluent consumers can be found on mobile, digital and social platforms.
Luxury is often thought of as accessible to few, but now digital platforms make brands more accessible to a larger portion of the population, per Ms. Pedersen.
The brand will be a part of the discussion no matter what. Marketers should meet consumers on the platforms where the conversation is taking place.
Before social can be used effectively, marketers must know themselves as a brand.
In addition, luxury brands should not be afraid to lose control. A brand will maintain more control by establishing a presence on digital platforms than it would without one.
Even if a brand does not want to use all of the features of a platform, that does not mean it should ignore a channel altogether.
Breguet takes a cautious approach to digital marketing, per Michael Nelson, brand president at Breguet U.S., New York.
The watchmaker takes note of what other marketers are doing and looks to test the waters.
For example, mobile commerce is not a fit for Breguet's strategy at the moment. Rather, the brand is looking to build relationships via the digital medium.
Luxury marketers that want to try new digital tactics should learn and analyze results as they go.
Tumi's digital strategy involves treating each platform as its own marketing medium while ensuring that the separate strategies evolve together, per Michelle Cutter, vice president of ecommerce and marketing at Tumi, New York.
Social clearly drives interaction and engagement. The travel accessories brand is aware of who its super-fans are and engages with them very frequently via social media.
This goes back to tailoring a brand's digital strategy to where its fans are active.
"All of the trends being talked about today are really happening," Ms. Cutter said. "There was tentativeness, but we just went all in and we saw fantastic results."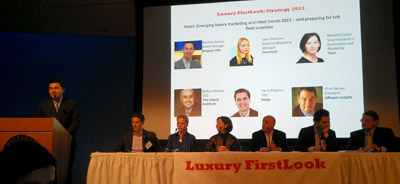 Panelists 
Popularity contest
Digital marketing is transitioning brands from giving off a sense of mystique to ubiquity, per Chris Ramey, president of Affluent Insights, New York.
Now the norm is that if a brand is not where its customers are, they do not know the brand exists.
Undeniably, digital mediums are key channels through which to share a story based on a set of products that a brand is trying to sell, per Harry Kargman, CEO of Kargo, New York.
But creating awareness across multiple platforms is essential to spreading the digitally-based brand story.
Many luxury brands are investing in upgrading their mobile site and expecting their best prospects to come across it.
It does not matter if affluent consumers are accessing the story on a mobile device, computer or in the store.
Instead, it is about how a brand engages that user in the story frequently using multiple media, while being cost effective and having the greatest impact.
Extraordinary brand experiences are only amplified by social media as are bad experiences, per Milton Pedraza, CEO of The Luxury Institute, New York.
The experience is more critical than the channels on which consumers can participate in it.
Marketers should be careful in leveraging their chose of digital channels, execute the fundamentals and deliver great experiences to gain success across digital, social and mobile.
"At the end of the day if [a brand] has the right mix, it will have results," Mr. Pedraza said.
Final Take
Tricia Carr, editorial assistant on Luxury Daily, New York