New York-based luxury retailers are celebrating having the Super Bowl in their hometown for the first time with football-inspired events of their own.
Bergdorf Goodman, Bloomingdale's and Saks Fifth Avenue have all created events and online content that cater to the out-of-town traveler. By creating a welcoming atmosphere surrounding the Super Bowl, these retailers will be able to harness some of the weekend foot traffic and create a lasting impression on visitors.
"Super Bowl 2014 marks the first year that the Super Bowl will be hosted in New York and New Jersey, the home to Saks Fifth Avenue's flagship store, and we are celebrating in a more elevated  way than ever before," said Thomas Ott, senior vice president for men's and home at Saks Fifth Avenue, New York.
"We look forward to catering to new customers traveling in for Super Bowl weekend with four days of custom in-store events and special cold-weather and festive merchandise," he said. "Saks Fifth Avenue will be the go-to destination for luxe shopping in New York City.
"Saks will welcome a large group of new, out-of-town customers to a series of events throughout Super Bowl weekend. We'll cater to every Super Bowl revelers' luxury needs and provide premiere customer service."
Sports fans
Bloomingdale's partnered with the Council of Fashion Designers of America and the National Football League to have fashion designers including Donna Karan, John Varvatos and Diane von Furstenberg decorate 48 football helmets with their aesthetic.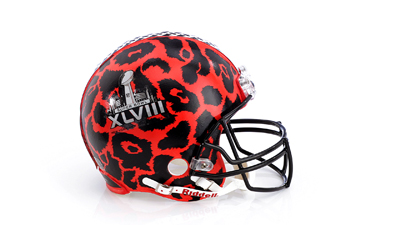 Diane von Furstenberg helmet for Bloomingdale's
The collection will be auctioned off on the Bloomingdale's Web site, with 100 percent of the proceeds benefiting the NFL Foundation, which provides grants to youth and high school football programs, as well as supporting health and safety projects like NFL Play 60.
Bloomingdale's unveiled the helmets at a sidewalk event on Jan. 15, complete with cheerleaders and treats for the crowd gathered from the Coolhaus ice cream food truck. The bidding began during the event, and will run through Feb. 4.
The helmets are on display in Bloomingdale's windows, giving fans a reason to stop by. Also, within its 59th Street flagship store on New York's Lexington Avenue, Bloomingdale's created a pop-up boutique for Super Bowl merchandise.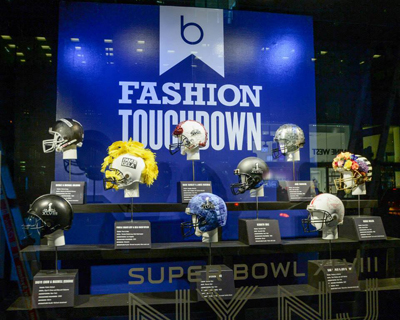 Bloomingdale's window 
As part of its festivities, Bloomingdale's is holding a sweepstakes to give away a football-themed prize package containing gear and a $1,000 gift card to the retailer.
To connect with its fans on social media, Bloomingdale's created the hashtag #FashionTouchdown.
"Bloomingdale's New York Heritage combined with the fact that Super Bowl XLVIII is taking place in our backyard gives us an opportunity to merge fashion and sports in a modern way," said Frank Berman, executive vice president of marketing at Bloomingdale's, New York.
"Through our unique collaborations, merchandise and special events, we are able to celebrate Super Bowl XLVIII in-store and online bringing the excitement of this iconic event to our shoppers across a variety of touch points, all while supporting a great cause.
"Since the auction launched and the 59th Street windows were unveiled last Wednesday, there has already been a fantastic response from the public," he said. "From bidding on the auction, buzzing about the program on social media, getting an up-close 360-view of the helmets on bloomingdales.com/superbowlhelmets, and enjoying our Lexington Avenue windows, this program is creating a great deal of excitement for people around the globe."
Saks will host a luxury tailgate at its Manhattan flagship during Super Bowl weekend from Jan. 30 to Feb. 2. The retailer's restaurants will serve a fine cuisine take on tailgate food, and the store will carry a selection of cold weather and sport attire.
Saks is spotlighting outerwear brands Moncler, Sorel and Canada Goose, presenting itself as the ultimate destination for warm attire. To further protect its consumers from  the cold, the retailer will set up a Swiss survival station with skincare brand Cellcosmet, which will feature products that fight the cold weather.
The retailer will also carry exclusive jewelry from David Yurman and a pop-up shop with Versace merchandise. Consumers can enter a drawing to win a David Yurman ring by unlocking a jewelry box.
Manicurist Jin Soon will be on hand to decorate nails in team colors.
Saks' celebration also features a philanthropic cause, with its sixth annual partnership with Off the Field, a charity run by the wives of current and former NFL players. Off the Field supports women, children and families in need.
The retailer will partner with the nonprofit on its annual private cocktail event on Jan. 30, as well as a Game Day Charity Fashion Show in Saks on Jan. 31. Saks will style 40 women for this event, which will benefit women's shelters in New York.
The same week, Saks is hosting an event with Richard Salgado of the Big Daddy Foundation. This event has notable fashion faces, with an Armani-sponsored VIP room and a Versace pop-up shop. The event will be attended by football stars Michael Strahan, Warren Moon and Jason Kidd.
Like Bloomingdale's Saks is running its own sweepstakes, with a grand prize of 1 million SaksFirst points and a VIP shopping experience in New York. Ten second place winners will receive 10,000 SaksFirst points and their own New York shopping trip.
Bergdorf Goodman is collaborating with New York tastemakers on a Pinterest board showing Super Bowl attendees from out of town where to dine and shop, and what to wear to keep warm stylishly. So far the retailer has included in-town insights from the Mandarin Oriental and the Four Seasons New York.
Included suggestions are downloading Uber to make getting around easier and eating at Balthazar restaurant in New York's SoHo district.
Pin from Bergdorf Goodman
Event coverage
Connecting a string of events to a large holiday or happening can boost foot traffic to a retailer.
For instance, department store chain Bloomingdale's will ring in the Chinese New Year with a month-long series of events in select stores inspired by Chinese culture.
The retailer will be setting up themed pop-up shops, giving away prizes and selling Year of the Horse apparel and accessories designed exclusively for Bloomingdale's. By hosting this event for the second year in a row, Bloomingdale's is able to both attract Chinese tourists and Chinese-American consumers, as well as give its devoted customers a reason to come in-store (see story).
"The Super Bowl is one of the largest media events every year," said Tim Griffin, senior consultant at Boston Retail Partners, Boston. "It makes sense that with its location in New York City retailers would want to capitalize on its grandiose stature and market to a much larger audience than they may normally reach. Over 100 million people tune in annually to watch the game, which also boasts the quintessential highlight-reel of advertising satire in tandem.
"Leveraging what products they have to offer and reaching such a large spectrum of the U.S. population is a no-brainer for the retail industry," he said.
"The target may be outside of their average customer as they will be reaching a broader base by involving themselves in the hype leading up to the game. While the events may not be sought out specifically by consumers for their relation to the super bowl, the incentives are apparent and should attract a fair amount of interest."
Final Take
Sarah Jones, editorial assistant on Luxury Daily, New York