BMW of North America is raising awareness for the all-new X1 by driving a vehicle to parks, beaches, forests and other recreational areas across the United States and asking consumers to fuel a $120,000 donation via Facebook.
The automaker is posting Instagram photographs from stops on the "Restore the Outdoors" cross-country drive on a Facebook application. To get nationwide consumers involved, BMW will donate $1 per "like" back to the pictured location of up to $10,000 for each stop.
"With this campaign, BMW is clearly making an attempt to identify with an outdoorsy, adventure-seeking audience that currently gravitates towards the Subaru, Jeep or Land Rover brands," said Elias Friedman, analyst at Siegel+Gale, New York. "The environmental message is certainly a trending topic.
"However, BMW is a brand that typically conjures thoughts of performance, luxury and thrill, so instilling attributes like rugged, off-road and intrepid will be no walk in the park," he said. "The campaign's timing is spot-on.
"As social media-savvy outdoor enthusiasts gear up to explore the great outdoors this fall, this road trip will inspire followers and recognize them for making an environmental impact."
Mr. Friedman is not affiliated with BMW, but agreed to comment as an industry expert.
BMW of North America could not comment before press deadline.
Parking at the park
BMW of North America's Restore the Outdoors "social good program" began Aug. 23 in Seattle. It will end Sept. 10 in New York.
The automaker created the program to give consumers a venue to protect natural habitats and reserves, per BMW.
An X1 vehicle displaying the Restore the Outdoors logo is stopping at 12 locations across the U.S. that include Discovery Park, Seattle; Forest Park, Portland, OR; Redwood National Forest, San Francisco; Topanga State Park, Los Angeles; Red Rock Canyon, Las Vegas; Indiana Dunes, Chicago; White Rock Lake State Park, Dallas, TX; Sam Houston National Forest, Houston, TX; Oleta River State Park, Miami, FL; Sweetwater Creek State Park, Atlanta; River Bend Park, Washington; and Tompkins Square Park, New York.
At each park, the car's driver is taking Instagram photographs and posting them on a Facebook app. Users can reach the app from the URL at http://restoretheoutdoors.com.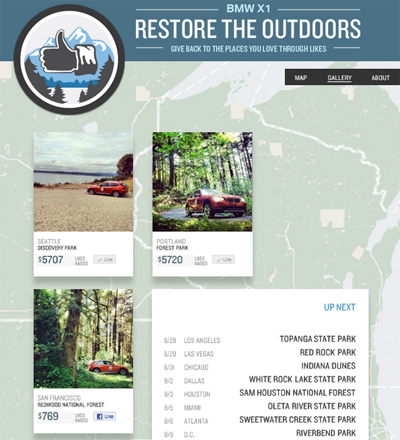 Facebook app 
The app contains an explanation of the program, a map of the completed drive and a gallery where users can like each image.
The automaker is also posting images on its Facebook Timeline. In addition, when users like an image in the app, they can opt to post about the program on their Timeline.
BMW of North America will donate $1 to the location depicted in the image for every "like" it receives.
The Restore the Outdoors drive coincides with the U.S. launch of the all-new BMW X1 this fall. The vehicle is a sub-compact sport activity vehicle that, per BMW, "blends the versatility and robustness of a BMW X model with a high level of agility and compact exterior dimensions."
On tour
Luxury automakers seem to use national tours to give consumers in a specific country a tailored brand experience.
BMW will likely appeal to consumers in each major U.S. market where it is stopping as well as gain exposure to environmentally-conscious consumers of all income levels.
Moreover, brands that incorporate social media components into live tours can get a larger reach from their efforts.
A few automakers are using this model to market vehicles via tours.
For instance, Italian automaker Lamborghini transferred its fleet of historic V12 models from the Lamborghini Museum in Bologna, Italy, to London for an outdoor moving exhibit at four locations including Duke of York Square on Kings Road, Finsbury Avenue Square in the financial district and Tower Bridge.
Consumers could follow the exhibit on a map on a microsite and participate in a photo competition hosted on Facebook and Twitter (see story).
In addition, German automaker Porsche partnered with Wenner Media's Men's Journal to tour the 2013 Boxster down the U.S. East Coast with Travel Channel host Dhani Jones.
On a microsite, consumers could view Mr. Jones' travel blog and videos, find more information about the Boxster, see an image gallery and fill out an information request form (see story).
BMW of North America will probably see increased traction on its social media pages since it is simple to participate in the donation process and, therefore, its tour will have a reach beyond the park stops. But, it could have used more social media channels.
"What BMW is doing right is leveraging Instagram's and Facebook's sharing features – an excellent use of a third-party app to create a compelling campaign – and tremendous applause for its social responsibility in helping troubled spots in the United States," said Ty Downing, CEO of Say it Social, Wilmington, NC.  "The brand is missing out on so many other tools to leverage this campaign such as Twitter and Pinterest.
"This particular car brand is very unique and, on top of that, a luxury brand, so leveraging as many other tools to me would be important to bring attention to a high-priced vehicle," he said. "I would have suggested full involvement of all U.S. dealerships and a reward system for double votes, or $2 donated if they not only like the BMW USA Facebook page, but share it on Twitter or Pinterest."
"Finally, there is zero engagement on Instagram right now compared to how many people 'like' the pictures of the three spots so far and, again, in my opinion, this is a fail unless it gets more engagement on the very tool it is using to power this campaign."
Final Take
Tricia Carr, editorial assistant on Luxury Daily, New York