With the number of fall/winter advertising campaigns being released, fashion marketers are using new methods to stand out from others, but they should remain true to their DNA to keep brand enthusiasts interested.
In today's constantly connected world, it seems necessary for marketers to push new products and collections through print, digital and social methods. However, some marketers are taking alternative routes to make sure that their brands stand out from the masses by using shoppable videos or Instagram.
"Remaining true to the core of your brand, while remaining relevant is the challenge with which all brands are faced," said Rebecca Robins, London-based director for Europe, the Middle East, Africa and Latin America at Interbrand and co-author of "Meta-luxury: Brands and the Culture of Excellence."
"As such, brands need to demonstrate both understanding of and loyalty to their customers and advocates, while engaging with new audiences and indeed generations to come," she said. "Connoisseurship, at its semantic origins, is about knowledge and being in the know.
"Brands that are preempting digital- and social-first initiatives are doing so in a way that's demonstrating inclusiveness of those engaged communities."
Fashion forward
Fashion marketers need to make sure that their promotions stand out from others while not losing sight of their brand's core values.
Digital and social platforms give brands a larger space to tell the story behind their campaigns, instead of just sharing images through a print medium.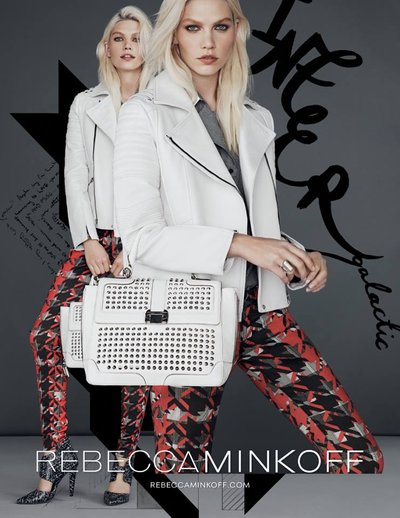 Rebecca Minkoff fall 2013 digital ads
These kinds of promotions can also get consumers involved in the conversation through Facebook posts, hashtags and contests.
"Digital and social aspects of advertising campaigns are able to provide the most interactive and engaging user experience," said Dalia Strum, professor at the Fashion Institute of Technology and founder of Dalia Inc., New York.
"These outlets allow brands the opportunity to focus on genuine digital story-telling that immerses their target market in content generating, playful experiences as well as encouraging co-creation and conversations for the brand," she said.
"This strategy is becoming the next level in brand communications."
First, before brands can engage with their consumers via digital and social promotions, marketers need to figure out what platforms their target audience uses.
Once a platform is established, marketers can then figure out ways to push a new collection while capturing the attention of consumers.
"The questions that brands need to ask is where are their customers and how are they best placed to engage with them?" Interbrands' Ms. Robins said.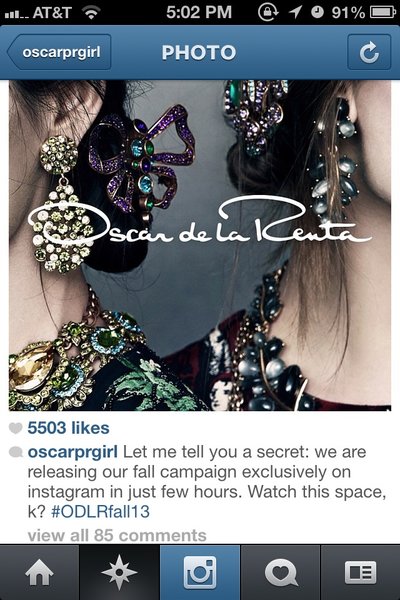 Oscar de la Renta's Instagram fall/winter campaign release
New frontiers
A few brands have taken their campaign promotions to the next level while still remaining true to the brand's core.
For instance, German label Hugo Boss aimed to bolster sales and awareness of its summer 2013 collection through a shoppable video for its Shanghai Affairs campaign.
The label bundled many products into the video with full shots, logical transitions and plenty of time for consumers to decide on a purchase all while maintaining a marginally plausible scenario. Even if consumers do not wildly clutch at the video's offers, it still provides a strong outlet for advertising and demonstrates to consumers that the company is staying abreast of digital trends with original content (see story).
In addition, U.S. label Oscar de la Renta got ahead of the competition by releasing its fall 2013 campaign on social-mobile platform Instagram instead of waiting to show it off in September magazines.
The brand used its Instagram account to release exclusive content July 24 for followers to view before seeing it in the fall fashion magazines. Giving supremacy to Instagram shows that the brand aims to be a pioneer on the social media front (see story).
Furthermore, apparel and accessories label Rebecca Minkoff boosted digital promotions for its fall 2013 collection to target its younger, digital-savvy customers.
The label placed a large emphasis on its digital promotions for this collection, which it has also been sharing on social media. Promoting new collections through digital platforms can help brands reach target consumers in a cost-effective way (see story).
By using platforms in different ways, brands can keep consumers interested in new campaigns and have their promotions stand out from others.
"Engaging with consumers across offline and online is simply the way in which we do business today," Ms. Robins said.
"Those brands that will thrive and succeed are those that underpin this at a strategic level across their business and that do so seamlessly across every touch point," she said.
"Leading brands today assert their leadership not only by excelling in what they do, but equally in excelling in their unique way of doing it."
Final take
Erin Shea, editorial assistant on Luxury Daily, New York