Beauty marketer Lancôme is leveraging its three-year partnership with St. Jude Children's Research Hospital through Génifique Day on which the brand will donate $7 with the purchase of select Génifique product bottles.
Lancôme is pushing in-store and online purchases on Génifique Day Oct. 19 through a donation to its charity partner as well as allowing consumers to spread the word via a Facebook application. Many luxury marketers are using the halo effect of charity alignment to reach their target audience of high-net-worth consumers who are likely to appreciate the effort.
"Not only does this approach allow us to give back to a significant partner, it allows our customer to get involved beyond simply purchasing a product," said Stacy Mackler, vice president of public relations and communications at Lancôme , New York. "This approach is authentic.
"The ability to share the in-store brand experiences through social media only enhances our customer engagement with our products and with the efforts behind the fundraising," she said.
One day at a time
On Génifique Day and at select Lancôme counters during the month of October, the brand is donating $7 per Génifique purchase to St. Jude. 

Lancôme is looking to align the wellness factor of its Génifique products with the day- and month-long programs, per the brand. It is also looking to get consumers involved in its St. Jude partnership.
"We took the opportunity to focus on wellness and to capitalize on the positive messages of feeling one's best and all of the things that contribute to that," Ms. Mackler said. "This is about so much more than selling beauty products for a cause."
Products that include a St. Jude donation include Génifique Youth Activating Concentrate, Génifique Eye Light-Pearl and select gift sets.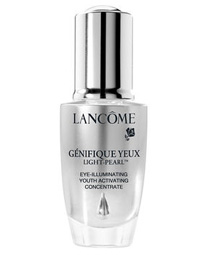 Génifique Eye Light-Pearl
Meanwhile, Lancôme is encouraging consumers to spread the word about Génifique Day through a Facebook app. Users can create and share virtual photo booth strips that state the time when they feel their best.
Charity case
Many luxury marketers use their own charity alignment to market products as well as the brand lifestyle.
For instance, Montblanc is upping its corporate social responsibility through a Facebook app where fans can buy bracelets with profits going towards the Texas Children's Hospital.
The "Wish Lantern" app acts as a microsite on the brand's Facebook page where consumers can buy bracelets, send messages with the Wish Lantern feature and showcase their support. This is part of an ongoing effort involving Montblanc and the Texas Children's Hospital (see story).
In addition, U.S. fashion house Oscar de la Renta is aligning with national Breast Cancer Awareness Month through a digital shop that offers some of the label's pink-colored items with 10 percent of net proceeds being donated to a charity.
The label is preserving its typical price point and product quality within the e-shop likely to keep up the brand image while targeting all types of female consumers (see story).
Also, high-end watchmaker and retailer Tourneau created two timepieces to support the Red Campaign's fight against AIDS and chose digital to spread its charitable message to consumers.
The Red Campaign watches are variations of the brand's TNY timepieces with black-and-red faces. Fifteen percent of proceeds from watch sales are donated to The Global Fund to fight AIDS, tuberculosis and malaria in Ghana, Lesotho, Rwanda, Swaziland, South Africa and Zambia in Africa (see story).
"I believe it is smart for companies to pursue opportunities to reflect the emotions and shared values of their customer base," said Karen Kreamer, president of K2 Brand Consulting, Overland Park, KS. "Lancôme's support of St. Jude helps consumers connect their own personal beliefs with the brand they purchase.
"I would view the overall goal being to broaden perceptions of the Lancôme brand beyond simply a luxury beauty brand and into the health and wellness arena," she said. "Evolving these perceptions helps consumers to view their purchases in a different light as an important part of their health and wellness goals rather than a splurge on another beauty product."
Final Take
Tricia Carr, editorial assistant on Luxury Daily, New York