French cosmetics brand L'Occitane en Provence is targeting consumers through a direct mail campaign for its Immortelle Precious Serum that includes the results of a consumer test by Hearst's Marie Claire readers, a product sample, a free gift offer and a link to schedule a free in-store mini facial.
The trifold mailer acts as a product pamphlet and entices recipients with quite a few offers starting with a persuasive-sounding product description. Marketers that use small mailers will likely catch the attention of affluent consumers as long as they give calls to actions and continue to use the channel sparingly.
"Mail is an important channel for luxury brands because it is a way to make a personal connection to the consumer," said Courtney Albert, brand strategiest at Parker Avery, Atlanta.
"It is no secret that less and less of our professional and personal correspondences are carried out using mail, with more being conducted electronically," she said. "However, I think people still enjoy and sometimes expect to receive an invitation through the mail.
"There is the perception attached that they are one of the lucky few or considered a VIP versus the mass email blast."
Ms. Albert is not affiliated with L'Occitane, but agreed to comment as an industry expert.
L'Occitane did not respond before press deadline.
The right formula
The front of the mailer shows a bottle of the Immortelle Precious Serum set against a pale blue sky. A funnel filled with immortelle flowers, an ingredient in the product, sits on top of the bottle.

Also on the front, the brand describes the bottle as "nature's youth elixir" above a quote from a Marie Claire reader. It tells that there is a sample inside.
Inside, the trifold mailer shows a product description on the left page.
The results of the Marie Claire independent reader trial are presented on the middle panel. The brand highlights findings such as 85 percent of readers said that they would purchase the serum.
The right panel of the mailer contains the sample below the funnel filled with immortelle flowers.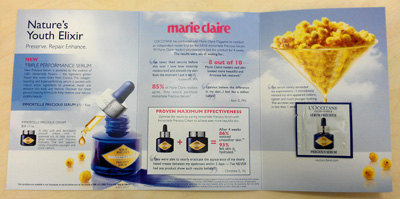 Mailer 
On the back, the brand describes the free gift that consumers will receive when they spend $65 or more. It includes a vanity case filled with sample-sized contains of L'Occitane's Brightening Cleansing Foam, Precious Eye Balm, Precious Serum and Precious Cream.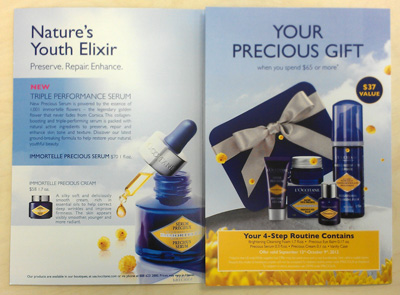 Mailer 
Next to the address label of the mailer, the brand tells recipients to "mark your calendar" to come to L'Occitane boutiques Sept. 27-30 to receive a mini facial. It also shows a link to find a nearby boutique.
On the mail label, the brand lists stores that are near the recipient's address. In New York, these include boutiques in SoHo, Bleecker Street and the Flatiron district.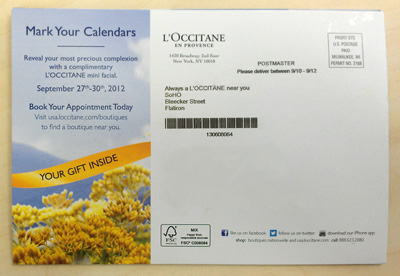 Mailer 
Meanwhile, L'Occitane is also pushing the Immortelle Precious Serum through digital channels such as a contest.
Mail-oriented
Luxury beauty marketers are not using mail as often as they used to, so it can be a pleasant surprise for consumers.
"Direct mail continues to be an effective method for reaching beauty customers," said Elizabeth DeMaso, managing partner at Brenes Co., New York. "Using it as an event invitation as L'Occitane has invokes a feeling of inclusion and familiarity.
"After endless years of receiving junk mail, the current onslaught of email offers reaching our inboxes has actually freed up our mailboxes," she said. "Ironically, direct mail is one of the few ways to cut through the clutter and get your message noticed today."
Other beauty marketers use mail to reach target consumers.
For instance, New York department store Bergdorf Goodman is pushing its in-store and online beauty event through a direct mail pamphlet that encourages consumers to shop and view lifestyle content on social media and its blog (see story).
The retailer also sent a niche catalog that showed fragrances, cosmetics and creams from luxury brands such as Prada, Chanel, Valentino and Tom Ford earlier this year (see story).
Additionally, fragrance and candlemaker Jo Malone took over the Beauty Blooms Bloomingdale's spring mailer last year with an independent fold-out sleeve promoting its new tea fragrance blends (see story).
Mail can help marketers achieve a few goals including driving consumers to stores and ecommerce hubs. However, if it is used too often, it may lose its luster.
"Affluent consumers are somewhat more apt to buy into a brand that uses mail, but brands have to consider the consumer's thinking around sustainability and engage them in the forum that they feel most comfortable and support," Parker Avery's Ms. Albert said.
"For example, a brand would not want to bombard a consumer with so much mail that eventually it is considered junk mail," she said. "Instead, it should be approached as an unexpected communication, reserved for special events."
Final Take
Tricia Carr, editiorial assistant on Luxury Daily, New York