Department store chain Saks Fifth Avenue is partnering with American Express Publishing's Departures magazine to raise awareness for its hand-tailored fall menswear collections through an advertorial and event in Bal Harbour, FL.
The advertorial called "The Artisans" appears exclusively in the December issue of Departures. Saks also partnered with the magazine to host an event last week to draw male consumers and showcase brands such as Canali, Corneliani, Kiton, Ralph Lauren, Saks Fifth Avenue Private Label and Tod's.
"Saks, Bal Harbour, is particularly well-suited for this promotion," said Chris Ramey, president of Affluent Insights, Miami. "The mall has a heavy Latin vibe that is fashion-conscious.
"Conspicuous consumption is alive and well at Bal Harbour and the mall also sits close to luxury hotels including the Trump International Beach Resort," he said. "Bal Harbour Shops remain the nation's most productive mall as defined by sales per square foot.
"According to Shopping Centers Today magazine, it reports $2,555 per square foot."
Mr. Ramey is not affiliated with Saks or Departures, but agreed to comment as an industry expert.
Saks and Departures were not available for comment before press deadline.
Art of the craft
The special advertising section in the December issue of Departures hones in on the menswear offered at Saks. It brings to light the craftsmanship behind each piece.

The advertorial titled "The Artisans" leads with this line: "An artful combination of the world's most beautiful fabrics and the time-honored tradition of fine hand-tailoring is key in the men's collections at Saks Fifth Avenue this fall."
The front of the special section tells readers to turn the page for "a sampling of these exquisite handcrafted collections."
Advertorial 
The advertorial reads as a magazine feature. It first introduces Saks' men's department through a reading.
Next, the content focuses on menswear brands offered at Saks.
The first brand feature story on Canali explains its Italian heritage, use of fine textiles and apparel available at Saks. Accompanying images show how a Canali jacket is constructed.
Similar features on the following pages focus on Corneliani, Kiton, Ralph Lauren Black Label, Saks Fifth Avenue Private Label and Tod's. Each piece describes the history of the brand and the making of its products.
Advertorial 
Meanwhile, Saks and Departures hosted a menswear event Nov. 7 in Bal Harbour, FL.
The two-hour evening event was part of a week-long series of private shopping experiences within the "Destination Departures" program. The Saks event was held at the Bal Harbour Shops.
The event was called "An Evening of Fine Craftmanship." It showcased the brands featured in the advertorial.
The evening was hosted by notable Miami residents such as Arin Maercks, Hernan Arriaga, Jason Rubell and Michael Simkins.
Cocktails were provided by Bar Lab, Miami Beach, FL. DJ Shlomi played music for the attendees.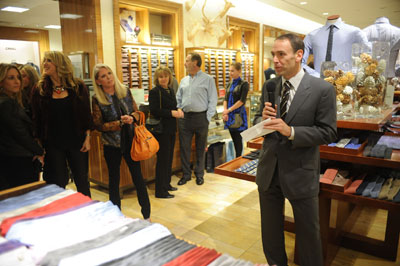 Departures vice president and publisher Steven Deluca at An Evening of Fine Craftmanship
Media influence
Luxury marketers seem to partner with high-end publications to tap the media's reach among the affluent audience.

For instance, jeweler Cartier is the inaugural partner for the BrandVoice effort by Forbes. The campaign allows brands to tell their stories through custom video content on the publication's site.
Cartier is running three videos from its "Cartier EntrepreneurVoice: Make Your Move" effort that features prominent entrepreneurs. The videos show one-on-one interviews that involve an aspiring entrepreneur and established entrepreneur discussing key lessons, challenges, epiphanies, mentors and inspiration (see story).
In addition, watchmaker Breguet increased brand awareness through a solo sponsorship of American Express Publishing's Departures Blackbook iPad application.
Departures' Blackbook serves as a resource on travel, art, culture, food, fashion and design Breguet's sponsorship included multiple ads featuring different products with videos, images and social media connectivity (see story).
Saks is likely riding high on Departures' popularity among the affluent residents of South Florida. Departures is sent exclusively to 1,080,000 American Express Platinum and Centurian card members.
"This is a brilliant collaboration between two iconic brands desiring to serve their clients," Mr. Ramey said. "Miami is part of the travel circuit for Departures' readers.
"Departures is going directly to where its readers are, wish they were, or know they are going to be," he said. "The timing is perfect – it is turning cold up north and Miami is getting hot."
Final Take
Tricia Carr, editorial assistant on Luxury Daily, New York