Footwear label Brian Atwood is partnering with department store chain Bloomingdale's, Condé Nast's Vogue and fashion bloggers to host in-store events to celebrate the new B Brian Atwood handbag collection.
The events are being held in September at certain Bloomingdale's locations. Hosting an in-store event supported by well-known influencers and social media is likely to help the retailer boost foot traffic in store locations.
"Bloomingdale's is the perfect partner to exclusively launch B Brian Atwood handbags," said Amy Rapawy, senior vice president of marketing at Jones Group, New York.
"The retailer is a great supporters of the brand and telling the B Brian Atwood story in emotional and connective ways," she said.
"The exclusive launch partnership brings the handbags to life in many dimensional ways including events, social media amplification and in-store experiences."
The Jones Group owns B Brian Atwood.
360-degree event
Brian Atwood has been promoting the events through its social media channels through a branded hashtag #BBAHandbags, a number of posts with images and Facebook events.
Facebook event
Currently the brand has two events scheduled, one at the Bloomingdale's flagship store in New York Sept. 11 and another at the Bloomingdale's Century City location in Los Angeles Sept. 19. Both are from 6-8 p.m.
The event in New York will feature blogger Helena Glazer of Brooklyn Blonde and the Los Angeles event features blogger Jennifer Grace of Native Fox.
These two events are the only ones that Brian Atwood has listed so far.
The brand has taken to Twitter to promote the events as well.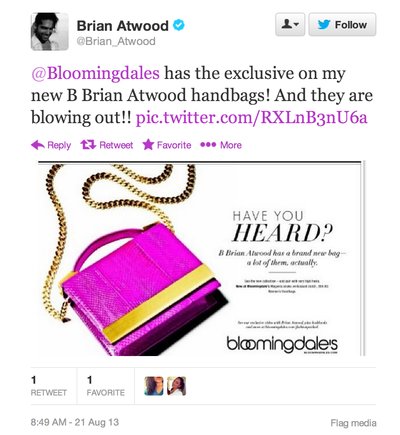 Tweet
In addition to helping Brian Atwood gain exposure, the event also helps Bloomingdale's solidify its status as a retailer that can engage a younger generation of customers.
"The benefit to Bloomingdale's is quite clear, as this is no longer your mother's luxury department store," said Dave Rodgerson, senior management consultant of retail strategy and change at IBM Canada, Toronto.
"Events like this and the social media coverage are very much targeted to the digital natives that are expecting their retailer to create an omni-channel experience they can access from one of many mobile devices," he said.
Furthermore, having a fashion blogger at each event is likely to expand the online exposure.
"First, the blogger can create a pre-event buzz that generates interest and anticipation for the event," Mr. Rodgerson said.
"Second and perhaps more importantly, the presence of the blogger will create a more immersive and interactive environment for the event itself," he said.
Come on in
Bloomingdale's has previously partnered with other brands for in-store events and has used multichannel promotions to drive consumers into stores.
For instance, the retailer looked to draw affluent males to retail locations lasat fall with pop-up shops created in partnership with BMW Motorcycles and Condé Nast's GQ, likely to make the female-centric shopping experience more tailored for men.
It is affluent women who are known to spend hours in retail stores, but Bloomingdale's seemed to be encouraging men to browse in stores with a few strategic pop-up shops (see story).
In addition, Bloomingdale's incorporated technologies and an SMS contest into its semi-annual Hot event in a partnership with Microsoft that likely boosted its appeal to a younger audience.
The 11-day event began Sept. 6, 2012 and combined mobile, social media, television and physical components. Bloomingdale's used smartphone engagement to complement an otherwise 360-degree approach to attract attention from younger consumers who might only interact with the brand via its ecommerce site and social channels (see story).
Bloomingdale's is likely to see greater digital traction for its events by incorporating multichannel efforts to create a 360-degree experience. By partnering with Brian Atwood, the brand is more likely to generate heightened digital buzz.
"Brian Attwood is a great designer to collaborate with Bloomingdale's for this type of event," Mr. Rodgerson said.
"He casts a long digital shadow, incorporating Instagram photos into his tweets and coordinating the links between his home page and each of the social media channels that he uses to connect with his fans," he said.
Final take
Erin Shea, editorial assistant on Luxury Daily, New York 
Brian Atwood partners with Bloomingdale's, Vogue for in-store handbag events