Upscale department store Bergdorf Goodman has adjusted to consumer fragmentation across communication channels by tightly integrating its print, direct mail, online and mobile strategies to push its fall 2010 collections.
In a modern marketing ecosystem where consumers are getting their information and making purchase decisions across an ever-widening spectrum of platforms, channels and media, retailers must offer as many touch points as possible while maintaining a cohesive, branded experience throughout. Bergdorf seems to have designed its fall marketing strategy with exactly that reality in mind.
"When you look at the way [luxury retailers] reach and connect with consumers today, the old model where consumers are loyal to one channel of distribution has gone by the wayside," said Pam Danziger, president of Unity Marketing, Stevens, PA. "Marketers need to be reinforcing relationships across all channels, because that's how consumers are shopping.
"Bergdorf is owned by Neiman Marcus, and Neiman has done a whole lot of work in understanding this cross-channel mix and bringing the channels together into a unified marketing strategy," she said. "I think Bergdorf is taking advantage of that learning."
Bergdorf Goodman is a luxury department store known for its elegance and customer service.
Product cross-pollination
Insight into how Bergdorf connects with consumers across channels can be gleaned from one particular example: Its approach to marketing shoes.
Bergdorf has a number of different print publications – most notably a magazine/catalog that gives a broad overview of the season's selections, as well as two additional catalogs focused on fall trends and shoes.
Bergdorf Goodman Fall 2010 Shoe Book catalog
Consumers can sign-up to receive print versions of these catalogs or access them online on Bergdorf's Web site.
The department store also has a mobile application called Today's Shoe where consumers can shop for high-end footwear (see story).
Bergdorf Goodman's Today's Shoe application for the iPhone
Additionally, the company sends out daily emails to its email database, oftentimes promoting footwear.
Myriad options
The scope of the cross-channel integration is best illustrated through a hypothetical:
A shoe aficionado sees a pair of Manolo Blahniks in the Fall 2010 Collections Magazine or BG Shoe Book catalog on the Bergdorf Goodman Web site – thus piquing her interest.
Because this consumer has shopped at Bergdorf before and has an account on their Web site, she receives an email promoting the same pair of shoes.
Additionally, she sees a banner ad at the bottom of the email promoting Bergdorf's iPhone application downloads it and buys the shoes from her phone.
Conversely, she might see the email and noticed that Manolo Blahnik is appearing at Bergdorf  promoting his fall 2010 collection, attend the event, then buy the shoes in-store.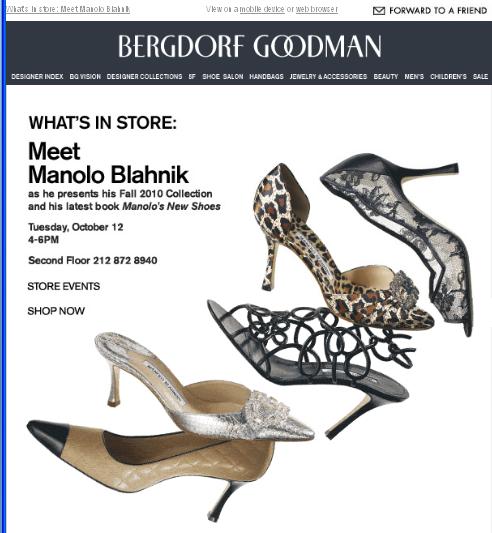 Blast message sent to Bergdorf Goodman's email database on Oct. 10
"[Luxury retailers] are juggling all different kinds of balls," Ms. Danziger said. "All of these different channels have different ways of connecting with the consumer, but the consumer is the end goal of all these marketing efforts.
"It's a matter of understanding the consumer and messaging consistently and effectively through different channels," she said.
"You need to recognize the strengths and weaknesses of each channel, using them to cross-promote but keeping an eye on the prize, which is the consumer."
Personalization
Converting window shoppers into customers is a challenge, and easing them down through the bottom of the purchase funnel is a challenge in itself.
However, luxury brands build their businesses around the idea that consumers will not just shop once, but will be customers for life.
One notable aspect of Bergdorf's fall marketing strategy was how it targeted valued customers through traditional mail.
The department store sent out an invitation to certain long-time customers on Sept. 27, inviting them to a special event at its flagship location with Christopher Chong, creative director of Amouage.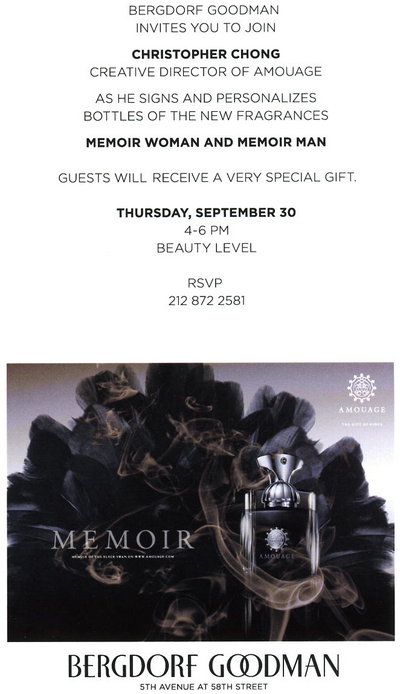 Mr. Chong signed and personalized bottles of Amouge's Memoir Woman and Memoir Man fragrances.
In another case, Bergdorf mailed certain customers a postcard promoting a fragrance by Clive Christian claimed to be the most expensive in the world at more than $375 for a 50 mL bottle.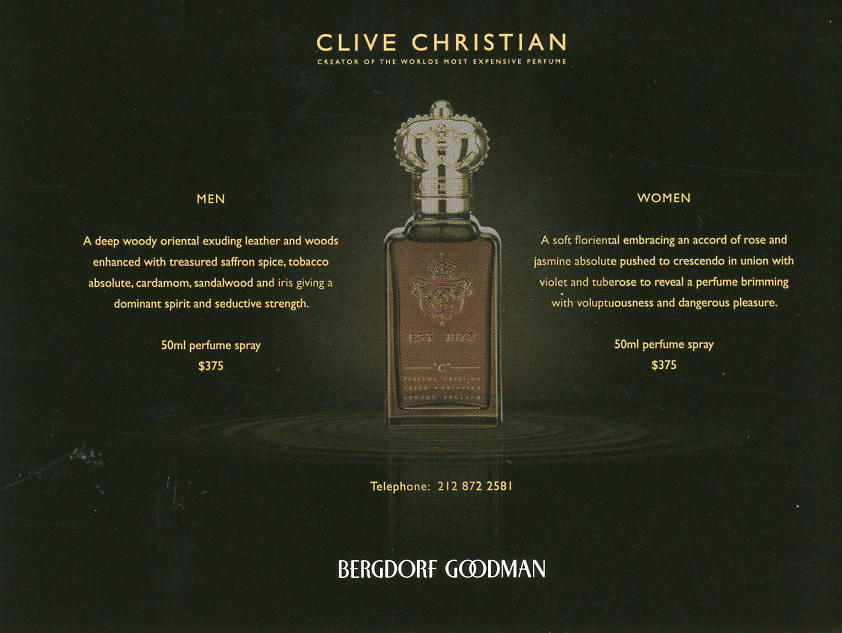 The envelope also contained a sample of the fragrance for recipients to try out.
Some correspondences even come addressed by hand:
"Bergdorf always tends to score very high on customer experience surveys," said Milton Pedraza, CEO of Luxury Institute, New York.
"Whether their channels are seamlessly coordinated or not, they seem to work together very well because customers have given Bergdorf very high marks over the years on delivering a very positive customer experience," he said. "It only has one store, but they have people all over the world who are clients.
"Bergdorf deals with complexity very well even though it has a smaller footprint than everyone else."
Final Take
Peter Finocchiaro is editorial assistant at Luxury Daily, New York