Luxury marketers should not overlook large-scale outdoor advertising since the mass-marketing channel is also a way to single out a label's target audience in global markets with attractive  images and subtle calls to action.
New technologies and the transparency that luxury brands are inhibiting on digital channels can leave their target consumers bombarded with marketing messages. Since not as many luxury brands use outdoor advertising, marketers can catch target consumers off guard with compelling imagery on building wraps, billboards and other strategic large-scale placements, experts say.
"With the size and color [of outdoor ads], glamorous products look better larger than life," said Brad Porter, CEO of B.E. Porter, Beverly Hills, CA.
"Return on investment cannot be paralleled in any other medium and with today's technology, the ability to create high-end, perfect color representing products impeccably lends itself to advertising beautiful products," he said.
"The fact that it takes no effort to see it, view it, feel it and imagine what I would look like with it on me or me in it, outdoor advertising is not a bad thing."
Larger than life
Though outdoor advertising is not as prevalent in the luxury sector as print, digital and mobile efforts, some marketers are using the channel.
For instance, Italian brand Ermenegildo Zegna is the first advertiser to place a large-scale building wrap on the One Peking building in Hong Kong, likely to target affluent consumers in the emerging market.
The menswear label is displaying its logo and an ad image that takes up most of one side of the building.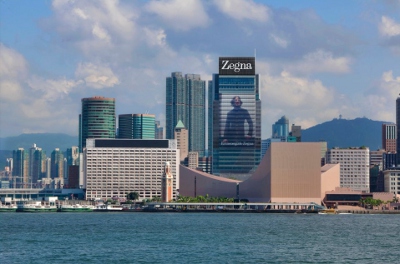 Zegna outdoor ad 
Additionally, in an effort to hook super-affluent consumers, Swiss watchmaker Audemars Piguet is using the highly-trafficked 34th Street Heliport in New York to display with what it calls a custom "domination program."
The brand secured exclusive placement on both interior and exterior signage including five back-lit interior static duratrans, a digital monitor, an exterior vinyl building wrap featuring the Royal Oak Offshore 44mm model and four Royal Oak wall clocks in the terminal (see story).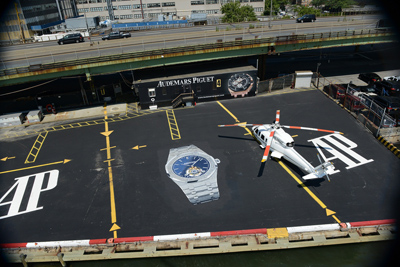 Audemars Piguet heliport placement 
Burberry is also grabbing attention from its target audience through large outdoor displays recently.
The British label reached out to commuters and tourists at New York's iconic Grand Central Terminal by placing out-of-home ads inside the train station that showed a look from its spring/summer 2012 menswear collection.
The large digital screens were approximately 10 feet above the floor of the station's main concourse and showed an image of actor Eddie Redmayne in a navy suit holding a rain jacket and umbrella on large.
The ad panes flash between a few different marketers, with Burberry being the only luxury brand featured at the time, and appeared between train track entrances (see story).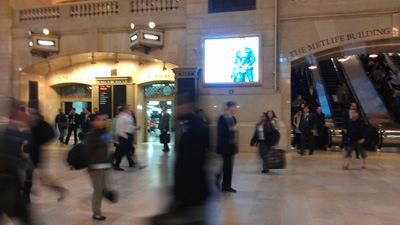 Burberry out-of-home ad 
Burberry took its out-of-home strategy a bit further than other marketers through its large-scale event series focused on fashion, weather and the combination of physical and digital channels that could redefine the brand experience going forward (see story).
Burberry event
The outdoor medium can be right for luxury marketers if it is used sparsely and powerfully.
There needs to be a balance between raising brand awareness to aspirational consumers and inspiring affluent consumers to buy into the brand.
"If you are a niche luxury brand or your audience is ultra-high-net-worth consumers, then even, highly-targeted out-of-home ad is probably not the best channel," per Chuck Mascola, president at Mascola Group, New Haven, CT. "But if your brand is relevant to lower-income affluent consumers and the aspiring affluent, outdoor is likely a viable option for your media mix.
"No matter what outdoor medium you use, there will always be more waste than with other, more targetable media," he said.
"Luxury brands in particular run the risk of being overexposed and seeming commonplace."
What a sight
Similar to all marketing channels, there are pros and cons for luxury marketers that use outdoor advertising. Benefits and drawbacks can differ in each sector.
Travel brands can get a boost from outdoor advertising, per Mr. Mascola. Messages are likely to evoke desire while consumers are going about their daily lives.
"When you are sitting in traffic, no message hits home more than one that makes you think 'man, I wish I were there right now,'" Mr. Mascola said.
Luxury automakers can also use the channel to go up against competitors since not many of these brands use large-scale outdoor ads.
Also, automakers that seem less-obtainable to the general public can use out-of-home advertising to their advantage (see story).
"Automotive has been an industry that has not been marketed heavily outdoor this year, as in recent years, and I believe higher-end automotive can do more in that way," B.E. Porter's Mr. Porter said.
Also, fashion and accessories and retail marketers are seen on the channel more frequently than other brands. Outdoor advertising gives them the opportunity to enhance campaign images through a large display medium.
However, there is not much creativity from these brands currently used on the channel, per Mr. Mascola.
Luxury marketers in this sector should look to stand out in ways not used before, but that do not dilute the brand image.
It could also be beneficial to bridge the gap between a brand's digital channels and its large-scale advertising with mobile calls to action. One way to do so without taking away from an image is via digital watermarking.
"The next fashion brand to do something really interesting in this medium will probably have a leg up on their competitors," Mr. Mascola said.
Overall, the most important aspect of an outdoor ad is simplicity.
"The simpler the message, the better it works out of home," Mr. Mascola said.